Start-Ups underwater and other highlights
View(s):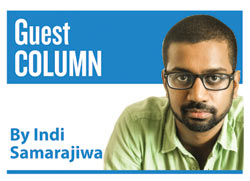 This week in start-up news we'll cover how start-ups responded to Sri Lanka's recent floods, a new start-up competition with 3 million in prize money, and some interesting news from around the world. During our recent floods, many start-ups helped out. These included PickMe, ReadMe, Roar, Takas, and YAMU (where I work).  PickMe – a taxi hailing app – expanding their services to include boat and even airlift pick-ups. Their app was used for 150 successful rescues by boat and three by air.
What was remarkable was that they modified a complex app basically overnight, created awareness of the service and then delivered. ReadMe – a technology magazine – set up a relief command centre of sorts to collect information on the locations that needed aid and what they needed. This information was surprisingly hard to find in one place.  Roar – a news and content platform – live-blogged the latest on the flood and relief efforts. While it was hard to find this information in one place on mainstream media, Roar used their editorial platform to collect and explain the news.
Takas – an ecommerce website – opened up their platform to enable people to donate relief. This meant using their shopping cart to enable the donation of relief items and their payment gateway to process payments. They also used their distribution ability to collect and deliver aid.  YAMU – a food and culture platform (where I work) – curated a list of places to donate, enabling people to find reputed ways to help.  These were just some of the start-ups involved; there were countless private efforts on Facebook and other social media (Like #FloodReliefLka- Volunteers and Flood Sri Lanka Switchboard).
There were also many organizations and companies that got involved as well. None of this diminishes the hard work of the people at the Disaster Management Centre or countless Grama Niladaris, local government officials, and people in the military and national government. It just goes to show that start-ups were sometimes able to react in a faster and sometimes more efficient way, and that there are perhaps lessons that bigger institutions could learn from them.
Start-up contest with money
Colombo has seen many hackathons, accelerators, and other start-up contests over the last five years, however, few of them have actually paid out money. The John Keells X (JKx) Open Innovation Challenge actually offers 3 million in cash to two winning teams – with no strings attached.
The winner gets 2 million and second place gets 1 million. If they want they can negotiate further funding and collaboration with the Keells group, but none of that is required. This approach is notably different from other similar ventures where contestants put in time and energy pitching with no guarantee of actual cash.
The amount of winnings here is actually enough for a small team to quit their jobs and actually begin working.  Applicants are able to pitch anything, preferably something related to one of John Keells Holdings existing business interests. This is a rare instance of a corporation encouraging people to disrupt them without restrictions. Applications close on August 10, 2016. As a disclosure, I am an Independent Director of Keells Food Products PLC, but had nothing to do with this venture.
Global News
In global news, there were wins and losses for Sri Lankan-born entrepreneurs abroad. Suranga Chandratillake saw a company he invested in – Magic Pony – get bought for up to US$150 million by Twitter. On the other hand Chamath Palihapitiya saw the Golden State Warriors lose the NBA finals. Many were calling this a basketball team built by venture capitalists and they had proven dominant in the regular season with their novel strategy of relying on three-pointers. In the end, however, they lost to LeBron James and the more traditional Cleveland Cavaliers.