'LookApp', a new innovation location based mobile app opens up online business platform
By Raj Moorthy
View(s):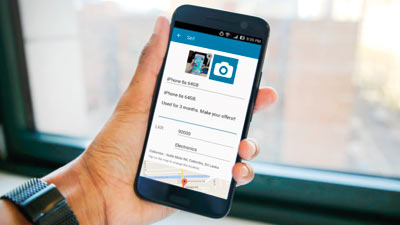 Start-up mobile app 'LookApp' has come up with a new innovation of doing business online from wherever you are in the local market. This location based app is designed to buy and sell brand new as well as used items from the location where the mobile phone is.  This start-up app was set up by a foreign investor and the model is mainly designed for people looking to sell used items, said Suvethan Paskaran, LookApp Marketing Executive told the Business Times. He said, "Today people are looking for smart ways to buy and sell things at a lesser cost. The app is designed only for mobile phones and at the moment it supports only android mobile phones. We are working to get the app supported to the iOS mobile phones as well, which is in the pipeline," he added.
Once the app is downloaded to the mobile phone, the user has to create an account to sell or buy things through the app using the mobile number, name and email address. Anyone who is looking for anything to buy will get all items filtered within close proximity based on the location where the mobile phone is, basically within a 2 km range. This range increases to find out the location of the product the buyer is looking for. On the other hand anyone willing to sell brand new or used items can upload them in 30 seconds including all information about the product such as the price, colour, guarantee and image of the item.
A buyer can bargain for any product by commenting at the bottom of the product and both the buyer and seller can negotiate a deal then and there . Also private chats can be opened up for business negotiation among the two parties. The app is not involved in the business negotiations between the buyer and the seller. The app only sets up the platform for people to showcase their used or brand new products to sell in a smart way.  Mr. Suvethan said the app went live two months back and more than 5,000 users both sellers and buyers have created accounts as of today.
Most of the items are used products that come under the categories of fashion and accessories, home and garden, electronics, movies, books and music, baby and child, sports, leisure and games cars and motors, services and many more. The app is free to anyone to download, buy and sell items while some privacy of information is considered important too. No information of the buyer or seller will be disclosed on the app unless the user gives access to mention his/her details. No emails or phone number will be shared on the app. When the business negotiation takes place between the buyer and seller, they can share their personal information via private chat and location to pick up the product.