Those who live by the Dhamma will be protected by it
View(s):

Some people appear to have forgotten our country's past and even their own past. People have become ungrateful. Though they have become rich outwardly they have become poor inside. This is due to their forgetting the past.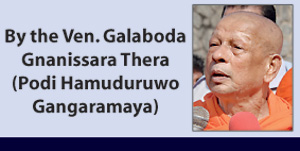 Three years ago we discussed and began publishing articles in the Sunday Lankadeepa to educate people on correcting our faults and going forward. Though some expressed their satisfaction about these articles, many seem to have forgotten to benefit by them. Though I decided to discontinue publishing these articles, at least temporarily, a lot of readers requested me not to do so. Thus I will continue to write.
As stated in the article last week, it would be good to find out what benefits have come from the articles I have written.
Some time ago, the country was on fire due to terrorism in the North and the South. We started the Sri Jinarathana Technical College in 1979 with just two students. The aim was to help and rehabilitate children whose education had been disrupted and thereby they had become a problem to their parents and society. Today we have 60-70 education programmes, including computer studies, mobile phone repairs and electronics. We also extended these programmes to temples and other institutions in other parts of the country during the past three decades.
In 1986 I inaugurated a Secretarial course for about 7,000 students in Nupe, Matara. This had modern facilities. But this centre has been neglected and animals have taken up residence. Those who were educated there and have good jobs now, appear to have forgotten the place which made them what they are. No one is there to appreciate or thank us for these facilities. More than Rs. 150,000 was spent for a month to pay salaries and provide facilities. While thousands of students who were moulded there seem to have forgotten it, there has been no effort to revive it. That is our habit. Those whom we allowed to set up business units there, have taken us to the Conciliation Boards.
I went to help voluntarily but my efforts were of no avail. The same could happen to our country. Last week, I brought this to the attention of Prime Minister Ranil Wickremesinghe and Foreign Minister Mangala Samaraweera, who is a Matara District MP.
There was a major shortage of books for doctors, engineers and accountants those days. I had discussions with President J.R. Jayewardene and duty free facilities were provided to get down books and magazines. The intellectuals gained by this without having to go abroad. Not many people are grateful for what we did but in line with the Buddha Dhamma, we should not be concerned about such ingratitude.
Getting books tax free also helped the printing industry involved in book publishing. Now we are going for digital technology, and there is little purpose in talking about how we got books.
Mothers and Fathers bring up their children with the greatest difficulty, but when they are old, many of the parents have to seek refuge in Elders' Homes. Ingratitude often comes when people become more learned and climb higher in society. The elders' home culture has evolved in our country mainly due to ingratitude. Even the clergy, including some Buddhist monks, are in such homes. In short ingratitude is rampant and it might increase.
After discussions with President Jayewardene, we obtained a grant of Rs. 1,000 a month for fruit growers. At that time under the UNP government, facilities were granted and garment factories were opened up. But due to internal problems the economy suffered. When President Ranasinghe Premadasa resumed office, he revealed that the Treasury did not have even Rs. 5 million.
At one time, I was a Pirivena Education Consultant for the Ministry of Education. I proposed that Pirivena Education be given to students from Grade 1 to 5. But successive governments did not act on it. If this had been done, our present generation would have been more disciplined and virtuous.
In the agriculture field we have brought together a team of professionals to advise on the use of fertilizer. The knowledge about the use of carbonic fertilizer, its production and development is available. The knowhow is available for sale to the private and public sector. We hope to appoint a board of specialists, including senior citizens, who will be able to advise about fertilizer problems, unemployment and education. Those who have the experience and knowledge could apply to Gangaramaya.
The late Arthur V Dias was known as Kos Maama. He planted jak trees around the country and provided much service. Those who benefited soon forgot Kos Mama also.
After that generation passed away, most of the children sold the jak trees to timber mills. We respect our rice as we respect the farmer who grows it. If we examine any of our products, the cultivator gets only 25% to 30% of the price. The middleman gets the balance. Middlemen do not realise the trouble taken by cultivator. Therefore, it is good to remember and live by the saying: "Dhammo Have Rakkhati Dhamma Chaari" (He who lives by the doctrine will be protected by it.)
Please share your views with the Ven. Galboda Gnanissara Thero,
Gangaramaya, 61, Sri Jinarathana Road, Colombo 02