Making Traditional Masks
By Dhananjani Silva
View(s):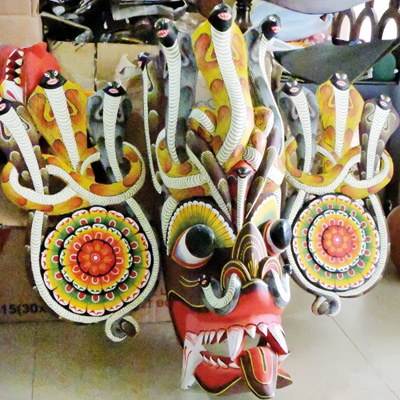 Traditional 
Sri Lankan masks played an integral part in the ancient days as they were used for various purposes such as for healing rituals, comic plays, theatre, dance and festivals.
As these rituals of our ancestors are fast diminishing from our present society, these masks are now used for decorative purposes or kept as exhibits in private collections by both locals and foreigners. Ambalangoda — a coastal town in the Southern Province is still well-known for traditional mask carving and mask performances.
Meanwhile the Funday Times came across a traditional Mask Village in Horana. In the past, a few families in the Horana area have also engaged in traditional mask making. Today, there are some individuals in the village who still continue to practice this industry.
Mask carving is quite a complex process which requires a great deal of skill and patience.
The timber used for the purpose is known as vel kaduru — a tree which is found close to paddy fields or marshy lands.
The process begins when the tree trunk is chopped into small logs — generally into four, six or eight inch logs, depending on the size of the mask. The wooden logs are then kept for drying in the sun for a couple of days to take the sap out.
The tools of the trade include cross cut saw, hand axe, chisel and paint brushes.
At the beginning, the outline of the mask is drawn on the log using the hand axe. Afterwards they are kept on a stall by the fireplace for a few days for seasoning. This is important to keep the masks free of insect attacks.
Carving of the mask begins afterwards. Carving is done using the chisel. During the carving process the log is transformed into an intricate design by the carver with various facial features and expressions to create the characters that come in folklore such as Nonchi akka and Lenchina, or the mask figures used for various healing rituals.
Once this is done, the masks are kept in the sun for drying for a few days before smoothening its surface with sandpaper.
After this point on, the artists who are specialised in colouring/drawing the masks, take over. They first apply a base paint on the mask — mostly a yellow shade before painting the masks using various other colours to suit different characters.
Ears of the masks are made separately and these are attached to the masks in the end.
Pix. by Athula Devapriya