Blessings of Navam Perahera: Prelate speaks out on elephant issues
View(s):

A perahera is a blessed and sacred event. On a Navam Poya Day, the Lord Buddha appointed his two chief disciples. The Navam Perahera is held on this day to invoke blessings on the country for happiness, peace and success.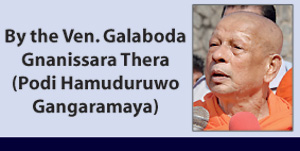 Many have forgotten the economic hardships we faced in the 1970s. Peraheras in Colombo were stopped. Artistes sold their musical instruments to tourists who took them away. It was in the aftermath of such a crisis that the then Prime Minister Ranasinghe Premadasa in 1979 took the initiative to start the Navam Perahera with the full backing of the then President J.R. Jayawardane. The then Youth Affairs Minister Ranil Wickremesinghe took the full responsibility to conduct this and still continues to do so. People of all faiths and cultures joined in. For the purposes of crowd control and good order, seating arrangements were made for people to sit on tiers, chairs and benches. Instead of bamboo and arecanut trees for the occasion, thousands of new trees were planted.
Though the elephants were caparisoned in decorative attire, the mahouts were poorly dressed. So they were also given good attire for the occasion. Every year their families were provided with sewing machines, roofing sheets and other necessities. Some of those who looked after elephants were addicted to liquor and drugs. They were rehabilitated. Gold coins were presented to the families. Artistes were paid while other participants were given gifts and requirements for their families.
There was a time when the prisoners carried various banners and torches at the Perahera.
Terrorism prevailed then. Schoolchildren and even the elephants could not be brought to the Perahera. There were threats to artistes. But the Navam Perahera continued. When we were about to have the Navam Perahera one year, the Central Bank was bombed by terrorists. Part of the Perahera funds was given to those wounded by the blast — and the Perahera that year was held on a smaller scale. When the crowds for night decreased due to the terrorist crisis, we started day perahera also. Despite all these problems, the Navam Perahera continued. President Premadasa became a victim of the terrorists. He had his last 'Gam Udawa' programme at Mihintale. We conducted a Navam Perahera from the town to Mihintale hill, gave alms to 1,500 monks, so that all that merit could go to him.
At one time, we had 167 elephants including 27 tuskers in the perahera. I am not sure how many elephants would take part in today's Navam Perahera. I am not sure whether we will have at least three elephants to carry the relic casket. I can see that some powerful groups which are spending dollars and talking about cruelty to animals are slowly winning. Some of these people who are talking about cruelty to animals are having horse and kangaroo meat at their meat stalls abroad. We don't sell elephant meat here in Sri Lanka. Some of the short-sighted officials in our Wildlife Department cannot live without the meat of Sambhur, deer and other rare animals. It is an offence to kill dolphins. But Dolphin flesh is used as the bait to catch fish as it is their favorite meal. What do the organisations involved in prevention of cruelty to animals say to this?
The experts who preach about being kind to animals go to observe whales down south. The vessel taking them are supplied with dolphin meat cooked according to a Japanese menu. Some People who preach against cruelty to animals are involved in this. Some so-called devotees going to Kataragama ask for Sambhur, deer and even crocodile meat. This is the behaviour of some people who talk about prevention of cruelty to animals. The ox and the bull appearing in our moonstones are on the brink of extinction. It will soon be a reality. Buffalo meat is banned by law. But it is freely available at butcher's shops. Those days we had licensed abattoirs in Colombo. Today we don't find them in Colombo. But meat shops abound. From where do they get the beef? Where do they have the slaughter houses? On this Navam Poya day let us think about these issues. I am appealing to the Sinhalese, Buddhists, and Hindus. Please refrain from eating beef and mutton. Our lucky sign is the cock, the bird on our oil lantern. Let us refrain from even eating chicken.
It is time that we make use of the moonstone ox to lead our Navam Perahera. Let us all join hands to rescue this country from the NGOs. It is known that some who are talking about human rights have got together to influence our younger generation in the wrong ways by making use of Face book and other social media. Let us not be puppets. But rise and fight those who are misleading our younger generation into evils like drugs and pornography. Unless we do this we may not have a culture and a nation of our own.
During the time of Navam Perahera, let us realise our weaknesses, and overcome them them and make every effort to be good citizens, treating everyone with peace and magnanimity. Let us maintain good health. Let us cut down on non-essential food and drinks and refrain from alcohol and drugs. Let us build our own moral values to safeguard ourselves. Let us give up petty ideas and be magnanimous to those of other religions. If you have any ideas about protecting our younger generation, do write to us.
The Navam Maha Perahera will take place tonight and tomorrow night, starting at 7 p.m. It will be telecast live. I appeal to those who come for the Perahera to be disciplined and act in a spirit of devotion.
If you sacrifice one meal a month and donate the amount saved, we can conduct cultural events every month, in addition to the Navam Perahera. Those willing to contribute are invited to write to us. This is one way through which we can inspire younger generation to preserve and protect our culture and arts for the future. Let us have our weddings and funerals at a simpler level. Maintain peace with all, avoiding litigation. This way we can save time, money and prevent animosity.
Send your suggestions to Gangaramaya, 61, Sri Jinarathana Road, Colombo 02.