Inspiring others to take up an ancient martial art form
By Dhananjani Silva
View(s):
Young Nilmini Amarasinghe is a combination of talents – with a career in engineering on one hand, she has a thirst to discover the warrior in her.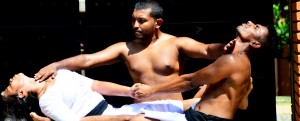 This 26-year-old first took up Angampora at the age of 10 when she was introduced to an Angampora guru by her uncle. She stopped training after one year, to focus on her studies, but since then has decided to re-connect with her childhood passion.
This time Nilmini teamed up with her brother Ravi Madushanka, to follow Angampora training under Guru Piumal Edirisinghe, a Senior IT Engineer who serves as the current Managing Director of Sri Lanka Traditional Indigenous Martial Arts Association (STIMA) – a collaboration of gurus and students of Angampora.
To encourage youngsters such as Nilmini to follow Anampora training and thereby become stakeholders of sustaining this traditional art, the Light of Asia Foundation, an organisation that promotes spirituality, collaborated with STIMA to introduce a course in Angampora training.
Their mission is further supported by Somiruwan Ranaweera, an individual who has conducted a research thesis on martial arts who came on board to provide his inputs to the training course.
Speaking about her experience, Nilmini says the initial few days were a huge challenge. As she walked in to the Angampora class, she feared that she would not fit in with the rest of the students.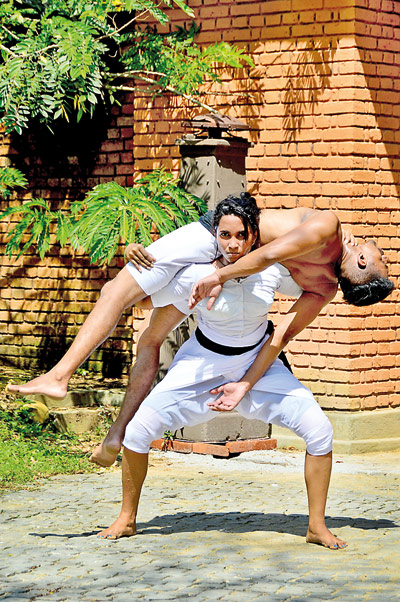 "Being the only girl in the class, I felt awkward…unsure if I would be able to do this…scared that I will get beaten up," she says adding that guru Piumal recommended that she fight with her brother first and switch partners later on.
"That helped me get over the fear. I did my best to defend myself. There were so many body aches and pains for a few days, (laughs) but once you get the hang of it, you feel very confident and it eventually made me want to fight back with equal stamina," she says.
Describing her learning process Nilmini says she started with footwork movements and gradually proceeded to condition the body and learn the techniques before she went into weapons training.
Nilmini who has gone past the basics into the weapons stage, is well aware that Angampora is a vast subject one can master only with years of experience. Nevertheless, she is determined to do so.
What she likes best about Angampora, is engaging in actual fighting and self-defence. She also considers it a privilege to learn something that has been a part of the local culture.
Learning Angampora helped her with her career goals too, she says adding that it helps her take up any challenge, at work.
"Anyone taking up Angampora, despite people's misconception about the risks involved, should take a few lessons to experience, first-hand, what it is like.
Society responds in many ways – some think it is brutal where as some look up to you and admire your courage. However, as a girl I take pride in the fact that I showed the world that females are not weak as men think we are," she says.
"There are small girls who have come up to me during public performances to say that I have inspired them to learn this art. It makes me happy to know that I am motivating others," says Nilmini who had a public performances with the STIMA.
STIMA is made up of individuals from different fields: IT, medical, engineering, designing, banking etc, who work tirelessly to safeguard, preserve and promote Angampora at national and international level.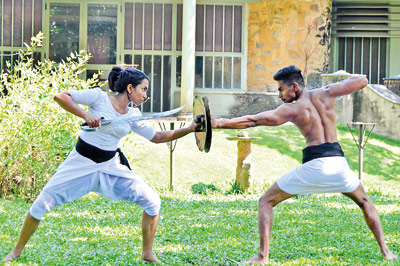 Angampora is an ancient form of traditional martial art passed down from the Yaksha tribe. However, it was Sage Pulasthi – the grandfather of King Ravana who in the medical profession used his knowledge and incorporated the aspect of fighting using pressure points, says guru Piumal.
He says Angampora is divided in to three categories – angam (bare hand fighting), illangam (fighting with weapons) and mayangam (black/white magic).
Angam is further divided into offensive/defensive techniques, wrestling, fighting nerve points and grips/locks while Illangam involves 21 weapons including a sword, long stick, dagger, belt sword and the battle axe, guru Piumal adds.
Under British rule the martial art form was considered a threat. Subsequently, it began to fade when the Angam madu (schools where Angampora was taught) were destroyed and gurus who practiced the art were killed.
Thereafter Angampora became a subject taught in secret, guru Piumal said. - Pix by Indika Handuwela
Interested in taking up Angampora? The classes are conducted at the Light of Asia Foundation Akuregoda Road, Battaramulla,on Saturday.The course is open to locals and foreigners, without any age restrictions.Students will be enrolled for training following a selection process. More details can be obtained via the foundation website www.lightofasiafoundation.com or 0779385200.