Evening of Japanese Classical Music at Alliance Française DE COLOMBO
View(s):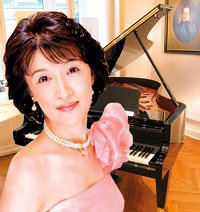 Alliance Française de COLOMBO will present an evening of Classical Music by the Japanese Pianist Chiho Akaishi, Rioo Kurato (Baritone) and Chikai Kurasawa (Soprano) on Friday 4th March from 6.30 to 8.00 pm at the Alliance Francaise Auditorium at No.11, Barnes Place, Colombo 7.
The Japanese Trio will perform some of the top classical songs composed by World Famous French Composers, Claude Debussy, Jacques Ibert and Charles Gounod.
In addition to that, they will sing a few Japanese songs and also a few songs of the famous Belgian composer Eva Dell' Acqua.
Entrance is free by Invitation. Contact Alliance Francaise de COLOMBO office on 2693467 or 2694126 at N° 11, Barnes Place, Colombo 7 from Wednesday 24th of February 2016 to obtain Invitations.