Showing off or neigh (nay)?
From a Young Reporter
View(s):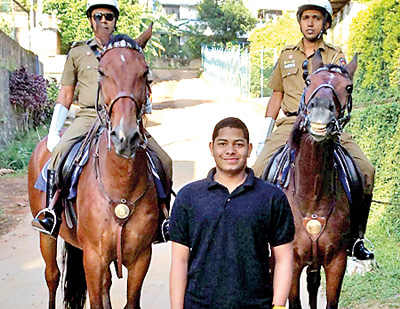 Through the early morning mist and the spray of water, I looked upon the couple of majestic horses silhouetted by the Kandy Lake. I was intrigued when my glance fell upon the two riders in matching khaki uniforms atop these magnificent creatures. I realized that they were a part of the Mounted Division, and wondered, like any average person would, why so much effort was put in for just a show, right? Wrong.
You might have seen these spirited creatures used as ceremonial mounted escorts and at other ceremonies, or jauntily trotting down your streets, apparently doing nothing, but if there was anything I learnt from my visit  to the stables of the Mounted Division,  it was that all this 'horse-play' was part of a bigger picture.
It all began way back in 1921 and the foundations for an established mounted force was laid by the British. The Mounted Division served under the command of the Europeans until  Sri Lanka gained independence in 1948, and has thrived since then.
Today, as I walked through the entrance of the stables at the end of one of the two shifts for the day, I was greeted by a farm-like smell, pleasant smiles and exuberant whinnies from a team of well groomed, young horses. Most of these horses were from France and Switzerland, I learnt from their descriptions, and they had arrived here after undergoing suitable training, since the police found it inconvenient to do all the training back here. And the fact that these were definitely not for show surfaced here.
A horse's height enables its rider to a higher vantage point, than your average patrol vehicle, helping to see over crowds and spot trouble. These squads are used to control crowds at processions and sports events, where the public tends to get a little too spirited. Also, such squads are used as 'high visibility patrols' which aims at making the public aware of the presence of the police, which helps to deter crimes to a great extent. They may also be used to patrol parks and wilderness areas where vehicles may be impractical and inconvenient.
So the next time you see a team of horses 'parading' around, just remember that these police officers are working just as hard, for, controlling something with a mind of its own is no easy task, and that they don't need armour to mount their mighty steeds and be the knights of today.
Bilaal Marikar
Trinty College, Kandy