Kids Essays
View(s):

Myself
My name is Shehan. I am five years old.
I live in Kotte. I am in Year 1G. I have only one brother.

Shehan Jayasekara (Year 1)
Horizon College Int., Malabe
---
Should animals be kept in zoos'?
Animals add beauty to the environment. They must be protected for the future. There are many types of animals in the world. They are terrestrial animals, arboreal animals, soil animals and aquatic animals.
Most animals are kept in zoos'. I think there isn't any benefit of keeping animals in a zoo. My idea is that we should keep animals freely or to release them into the forests. The animals may feel like they are imprisoned and they should have their freedom. Though we think it is ok for them to stay in cages, they feel sorrow.
Animals must stay freely, but leopards, tigers, lions and other harmful animals must be kept in a jungle where they cannot harm others and where hunters can't hunt them. I think giving a warning to hunters may be a solution for this.
So let's protect the animals who add beauty to our environment.
Devanga Chandrasena
(Grade

Sussex College, Nugegoda
---
My new class teacher
My new class is Grade 2E. My class teacher is Mrs. Janakaa Jayawardana. She is pretty. She has short hair.
She helps us a lot in our studies. I love her a lot.
Sanuthi Chandrakumar (Grade 2)
Musaeus College
---
My dog
My dog's name is Pinky. It is cute. It is brown in colour. It has a long tail. It likes to eat meat. It is an omnivore.
It has a long tongue.
It can run fast. My dog plays with me. I love
my dog Pinky.
Fazlen Jiffry (5 years)
Kaduwala
---
National heroes who gave freedom to Sri Lanka
The ones who struggled to bring freedom to Sri Lanka from the British rule and helped the country become independent are considered as National Heroes and they are commemorated every Independence Day.
A few of the most famous heroes who fought bravely for our motherland and its freedom from 1815 to 1948 are Keppetipola Disawe — a prominent leader of the Uva rebellion, Weera Puran Appu — one of the notable personalities in Sri Lanka, D. S. Senanayake — the leader of the Sri Lankan Independence movement, Anagarika Dharmapala — a major reformer and revivalist of Ceylonese Buddhism and an important figure in its transmission, Sir. Ponnambalam Ramanathan — one of the cleverest people in Sri Lanka, Venerable S. Mahinda Thera — one among the greatest Sinhala poets.
Because of these brave people, we gained independence. "May our heroes be successful in the next life."
Vinuth Siriwardana (11 years)
Vidura College, Colombo
---
Let's give up the use of polythene
The environment is a gift given by Mother Nature. The environment consists of many things such as the atmosphere, land, plants, animals and water bodies. There are many ways which pollute the environment. Destruction of forests is a main thing. Polythene too is a main thing which pollutes the environment.
A large amount of polythene is added to the environment in one day. It takes around more than 20 – 30 years for polythene to decay. Polythene is used everywhere. When we go to a shop to buy goods they are given in polythene bags. Many people who work, take their meal in a lunch-sheet and after that they throw it in the bin. Finally all this polythene adds to the environment.
One day when I dug a small pit to put my dead fish, I saw a packet of tea. The manufacture date on the tea packet was in 2003. It has been 13 years but still the packet hadn't decayed.
We have an environment like this today as our ancestors have protected the environment with much care. It is our duty to protect the environment for our future generations.
When you go to a store, take a cloth bag to put in all the goods. Use a good lunchbox to take your meals. Then we can keep a good environment for our future generations. So everyone should get together and give up the use of polythene!
Sanara Kothalawala (12 years)
Yasodara Vidyalaya, Colombo
---
The coconut tree
Like the Jak tree, coconut is a versatile tree. Every part of it is used for some sort of usage. Coconut is a palm, it does not branch out. Coconut is compulsory for cooking. Mothers scrape coconut and squeeze with some water to take milk and use when preparing curries and milk rice.
Now coconut milk is sold as powder in packets too. Coconut husk cushions the nut when it falls down on the ground. Therefore coconut husk protects the inner seed. Coconut shells are made into ladles and curious items.
We all know that the coconut husk also gives us coir. Coir products are brooms, rugs, carpets and brushes. Coconut fronds are woven into cadjans which are used to thatch roofs. Ekel broom is made up of the ekel of the coconut leaf.
The trunk supplies timber rafters for roofs. Everybody knows that young coconut is a tasty beverage among foreigners and locals. Even the tender leaves are used for decorations in the traditional ceremonies.
Finally, we can say it is difficult for us to think of a life without coconuts.
Thilini Tharuka (Grade 9)
Sanghamitta College, Galle
---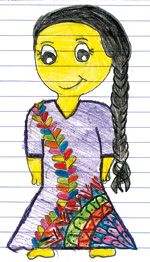 My best friend
My best friend is Sakurika. She lives in Kirindiwita.
She has two brothers. She is in Grade 4. She is a very good girl.
She likes to eat rice. She likes to drink milk.
She plays with me. I love my friend very much.
Methupama Wijeratne
(Grade 4)
Holy Cross College, Gampaha
---
I'm a pencil
My name is Linc. I'm made of wood. You can see me in many colours. Children use me to write and draw. You can see me in shops. Children keep me in their pencil boxes. Children use me every day. No one can go to school without me. I'm the best pencil ever.
Udara Weerasekara
(Grade 3)
Vidyaloka Model School,
Hingurakgoda
---
My sister
My sister's name is Dulakshi Umesha Athugala. She is 16 years old. She studies at Royal International School, Kegalle. She is in Grade 11. Her favourite colour is purple. Her favourite food is pizza.
Her best friend is Himasha.
She helps me a lot in my homework activities. She has long hair. My sister and I play together. It is very interesting for me. In our leisure time we both draw pictures. My sister can draw well.
She likes to help others and share things. Her ambition is to be a bank manager.
I love my sister very much.
Nathasha Athugala (Grade 5)
Royal Int. School, Kegalle
---
My country
My country is Sri Lanka. It is an island in the Indian Ocean. My country's president is Maithripala Sirisena. The prime minister of
Sri Lanka is Ranil Wickremasinghe. The capital of Sri Lanka is
Sri Jayawardenepura Kotte.
Many people of many religions live together in my country, such as Buddhists, Hindus, Muslims and Christians. There are many rivers, mountains, forests and waterfalls. There are many beautiful beaches also.
I love my beautiful Sri Lanka.
I am proud to be a Sri Lankan.
Rashida Risdy (7 years)
Bambridge Int. School
---
Athletics
Athletics is a word that many of the boys like. Yes, athletics is world famous and has many uses and abuses too. The most obvious use of athletics is in connection with physical health. Athletics hardens the muscles, expands the lungs and makes the body strong and fit. They may not be necessary for manual workaholic men; but for students like us and for people of sedentary occupations,
a certain amount of exercise is essential; and such exercise is best taken in the shape of games and athletic sports.
Manly sports like football and cricket, give a man pluck and courage. Naturally timid boys should play such games to become manly.
Moreover, they teach self control. No man can be a good athlete, who does not control his appetite. He cannot eat or drink what he likes, sleep as much as he wants or he'll become 'soft'. Athletics not only hardens his muscles, but strengthens his will power.
Athletics teaches men how to work together. Innovation, team spirit and professionalism are developed in man, by athletics. Athletics also makes an individual more disciplined and adhere to the rules and regulations.
So, I conclude by saying,
"Athletics produce espirit de corps".
Chamadhi Atapattu Arachchi (14 years)
Lyceum Int. School, Ratnapura