Lanka's role in solving Maldivian crisis
View(s):
Nasheed was in Colombo hotel from Sunday to Thursday meeting with top Western envoys, but picture of Sirisena meeting a fake
Sirisena holds secret talks with Namal amid speculation of a deal to drop investigations in return for party control
Constitution-making runs into stumbling block; debate on PM's resolution put off; Rajapaksa and others may propose amendments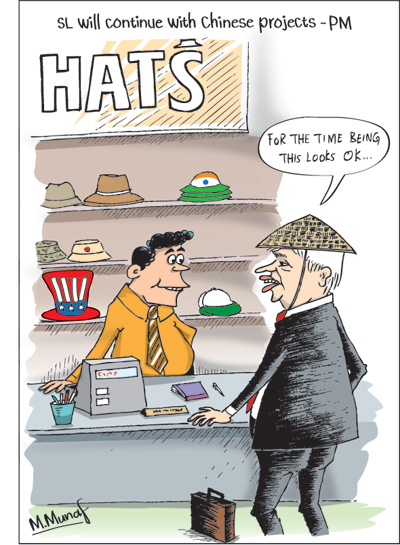 It was well choreographed, but the play did not keep to the script last Saturday. US Secretary of State John Kerry was trying to reach out to Maldivian President Abdulla Yameen on the telephone from Austria. It was to praise him for releasing his predecessor Mohamed Nasheed to go for medical treatment in Britain. Nasheed had been banished to an island jail to serve a 13-year sentence, after a trial which Kerry said in Colombo last year was not fair.
Kerry had flown into Vienna from Washington DC for consultation with Iranian Foreign Minister Javad Zaraf and European Union High Representative Federica Mogherini on the 'peaceful nature' of Iran's nuclear programme. President Yameen was otherwise frenziedly busy at his office overlooking the crispy blue ocean in Male.
Hugo Swire, Britain's Minister of State in the Foreign and Commonwealth Office, arrived in the Maldivian capital on Saturday. Contrary to what he was made to believe whilst in Colombo, former President Nasheed, he found to his dismay, had not been released. Concerned by the developments, he kept ringing Sri Lanka Government leaders to ascertain what had gone wrong. That took time. The link man minister Karunanayake, a close friend of Yameen, was on a flight returning to Colombo after taking part in an event in Beijing.
Before Swire's departure, Foreign Minister Mangala Samaraweera had briefed him on the mediatory efforts he conducted together with colleague Karunanayake in Male. Samaraweera met President Yameen and pleaded for the release of Nasheed on "medical grounds" during a two-day visit that began on January 13. Then, his mission was kept a secret though later the Male Foreign Office was to claim it was on an invitation to the two from their Foreign Minister.
By the time the ministerial duo returned to Colombo, President Yameen's decision to release Nasheed at 12 noon last Saturday (January 16) had reached them. An over-enthusiastic Swire, who was privy to this, had then tweeted thanking the Sri Lankan Foreign Minister for ensuring "stability in the region." The tweet was to cause concerns at the highest levels of the Maldivian Government. It was cutting across what they were to announce via twitter on Saturday evening. A Male Foreign Ministry tweet said the Government had granted permission to Nasheed to travel "to UK to undergo surgery at his request." As a Male Foreign Ministry source, who spoke on grounds of anonymity, confessed, "What has stability in the region got to do with Nasheed undergoing surgery?" A face saving device for Yameen, though his predecessor's claim of a back ailment was correct, had misfired.
The concerns exacerbated after the Sunday Times revealed exclusively in the front page lead story that ministers Samaraweera and Karunanayake were mediating for Nasheed's release. The report noted that President Yameen would make a decision. Within hours of the news reaching Male, supporters of Nasheed's Maldivian Democratic Party (MDP) were to charge that the Male Government was buckling down to international pressure to release Nasheed. They claimed that medical reasons were being touted as a pretext. That was loss of face for the Maldivian leader who had come under severe international criticism for cracking down on his opponents. At one point, even Sri Lanka joined this chorus.
In a counter move, pro-Yameen groups said Nasheed should not be released from prison. One of his ministers claimed that Nasheed had spat at the face of a jail guard. Home Minister Mohamed Naseer was to publicly remark that the surgery could be carried out by a hospital in the Maldives and there was no requirement to allow him to travel abroad. The Medical Board of their Department of Corrections had not approved a request for treatment overseas, it was pointed out. However, Attorney General Mohamed Anil had recommended treatment abroad on the basis that he was a former President. At least for Saturday, the release was called off causing uncertainty all round. Word went around that Nasheed would continue to remain in the Maafushi island jail, a half an hour's motor launch ride from Male.
These developments were to infuriate President Yameen. In terms of a previously arranged plan, the Sunday Times learnt that the release was to be dubbed formally as being necessitated by medical reasons – a means by which his bete noire was to be removed from the political scene in Male, at least temporarily. That was face saving enough and would have helped his people and the world believe the actions were a humanitarian gesture. Of course, Nasheed did have an ailment in the back though its gravity or the need for surgery is yet to be medically established. He had weeks earlier made a verbal request to travel abroad for treatment. Some Yameen supporters even believed Nasheed may not return though a "pledge" of sorts had been made where he had (through his brother) agreed to serve the remaining part of his sentence when he is well and returns. This is through a signed guarantee. However, the question whether he would, remains a crucial issue. Some of his supporters argue he would be better positioned to "do more for MDP" from London than from an island jail. They liken the situation to Ayatollah Khomeini, the cleric who directed a revolution in Iran whilst being domiciled in Paris.
There was a hive of activity both in Colombo and in Male last Sunday. In Colombo, Ministers Samaraweera and Karunanayake, who returned early that morning, were in touch with US Ambassador Atul Keshap and Swire who was at the Jen Hotel in Male. Karunanayake was also speaking to President Yameen and Foreign Minister Dunya Maumoon and giving updates to US Ambassador Keshap and British State Minister Swire. By then, the Maldivian Government had veered towards accepting reality notwithstanding the accusations of the MDP that the exercise was pre-planned. Foreign Minister Maumoon was busy with officials formulating Nasheed's travel documents and flight details. Extra care was being taken to ascertain whether there was a connecting flight within a short time after Nasheed arrived in Colombo. This was to deny him time to come to the City and make a media event of his travails. They soon realised that there was no such flights on Sunday and there was an urgency to release him that day itself. Hence, with the concurrence of the Government in Colombo, Nasheed was told that no media events should be held in Colombo. It was explained that it was the wish of the Government of Sri Lanka.
There was still another issue to be resolved. Who would sign as guarantor that after undergoing treatment, Nasheed would return to the Maldives and serve the remaining sentence? At first, the name of his father was suggested. He was however found to be feeble. In terms of Maldivian practice, a guarantor who testifies on behalf of a convicted person cannot leave the country. In such an event, he or she is required, to transfer such a guarantee to a person acceptable to the authorities.
In view of the prevailing urgency, the requirements were relaxed. Signing on behalf of the former President was his brother Ibrahim Nasheed. He accompanied the former President on SriLankan Airlines flight UL 104 from Male to Colombo. They checked into suites at the Colombo Hilton. The first callers separately on Nasheed were US Ambassador Keshap and British High Commissioner James Dauris, envoys of the two countries that were at the forefront of efforts to seek his release. Colombo-based diplomats from the European Union followed. Several requests from the media for interviews were politely turned down. They were told that they did not wish to embarrass the host country, Sri Lanka.
Earlier, after US and Britain sought the help of Sri Lanka, Samaraweera and Karunanayake had obtained approval from Prime Minister Ranil Wickremesinghe to be the mediators. It came after the Premier had obtained approval in turn from President Maithripala Sirisena. It was later on Sunday, that Secretary Kerry had telephoned President Yameen to thank him. He also spoke briefly to the former President on the telephone.
Nasheed and his brother boarded an Emirates flight (EK 349) at 2.55 a.m. on Thursday from Colombo to Dubai and took connecting flight EK 0029 to London. At the Heathrow Airport he and his brother were received by Nasheed's British-based human rights lawyer Amal Clooney at Terminal 3. It was just the week before that Clooney was in Washington D.C. lobbying politicians there. Among those whom she met were Senator John McCain, Patrick Leahy and Republican presidential aspirant Mark Rubio. Also present at the airport was her co-counsel Jared Genser, a veteran human rights attorney and founder of Freedom Now.
During his brief stay in Colombo, supporters of Nasheed had tweeted a photograph of the former Maldivian President purportedly calling on President Sirisena. An old picture has been used for this act of mischief and drew a denial from Foreign Ministry officials in Colombo. In a cruel twist to the Nasheed episode which highlights the political culture of the Maldives, Mohamed Ashmalee, State Minister for Finance and Treasury of the Maldivian Government, said in his facebook account; "Please go back. Land in the middle of the Ocean." Ashmalee is also Chairman of Dhiragu, the state owned mobile phone operator in the Maldives. In a surprise move, the company dissociated itself from the remarks.
That was how Sri Lanka played peacemaker for Britain and the United States in the Maldives. It will soon be the turn of those two countries, among others, to step up efforts for peacemaking in Sri Lanka, a journey that portends to be much longer than a mere hour long flight to Male.
Constitution-making on hold
The developments in the Maldives came as the National Government's moves to fast track the process for a new Constitution for Sri Lanka has been placed on temporary hold. A debate on the resolution for this purpose, moved by Prime Minister Ranil Wickremesinghe, due in Parliament on Tuesday, January 26 has been cancelled. A new date is yet to be fixed and House Leader Lakshman Kiriella did not propose one when Speaker Karu Jayasuriya chaired a meeting of party leaders last Tuesday. As revealed last week, the delay is because Premier Wickremesinghe wants to discuss amendments moved by different political parties to his resolution. One such amendment by the Mahinda Rajapaksa-backed 'joint opposition' has sought to include provisions that the entire House sit as a committee. In the original resolution reference is made only to the establishment of a Constitutional Assembly. Another is the exclusion of the word "new" from the original resolution. Talks are to begin after Wickremesinghe returns from the World Economic Forum in Davos, Switzerland today.
Rajapaksa said last week that the Opposition had suggested that the process of constitutional change should be within the provisions of the present Constitution and the Standing Orders of parliament. Though he is in favour of his supporters taking part in the constitution-making process, Rajapaksa has made clear his position on a number of key elements. During a speech at the Abhayaramaya Temple in Colombo, as a news release claimed, Rajapaksa declared, "It is only through a referendum that certain entrenched provisions of the Constitution can be changed and if a whole new constitution is presented to the people at a referendum, many of the entrenched provisions can be changed in one fell swoop. People have suspicions that provisions inimical to the unitary character of the Sri Lankan state may find their way into the new constitution if it is passed as a single document. We must ensure that the whole constitution-making process is not hampered due to these misgivings." With reference to the 13th Amendment, he noted that the Indian constitutional system should first be examined before any change is made. This is because devolution of power was through the Provincial Councils.
Despite Rajapaksa's statement, President Maithripala Sirisena has named former President's loyalists in the Sri Lanka Freedom Party (SLFP) too to a Committee on constitutional matters. The committee comprises Nimal Siripala de Silva, Mahinda Samarasinghe, Anura Priyadarshana Yapa, Susil Premajayantha, John Seneviratne, and Rajapaksa loyalists Pavithra Wanniaratchci, Bandula Gunawardena and Keheliya Rambukwella.
Namal-Sirisena talks
Bringing in Rajapaksa loyalists into the committee is part of ongoing stepped-up efforts by Sirisena to consolidate his leadership in the SLFP, a task in which he has failed so far. Weeks earlier, he had an informal meeting with Hambantota District lawmaker Namal Rajapaksa after an intermediary arranged it. Sirisena invited him to work together. Namal was to point out that every member of his family faced five to six investigations from state agencies. A source familiar with the dialogue said Namal lamented that his father cannot move that freely due to security threats and had to maintain his dignity amidst different forms of humiliation. Sirisena was to make it clear that his conversation was with Namal and did not involve his father who had served his terms.
This unpublicised dialogue appears to have had its sequel in a different way. Mahinda Rajapaksa who is on a district-by-district tour as a prelude to the formation of a new political party and an alliance with others thereafter was posed the question by key supporters — would he retire from politics if all investigations against him and members of his family were withdrawn? The same question was posed to Basil Rajapaksa who was together with brother Mahinda in Kalutara on Friday. Both insisted there was no truth in such claims and declared that they would not sacrifice politics and be silenced by the offer to halt investigations. Namal himself told friends that he never gave that impression during the meeting with President Sirisena but "only defended the family's position" and the "unfair treatment they were receiving."
Even before the constitution-making process has begun, political parties are making their positions known. Rajapaksa stated his views in the news release issued last week.
TNA wants federal system
Tamil National Alliance (TNA) leader Rajavarothayam Sampanthan, the Tamil media reported, told a meeting in Kilinochchi that they were for a "federal system." However, he told the Sunday Times, "I said maximum devolution is not possible within the framework of a unitary state. It has legal and constitutional connotations." He added that "we have made our position quite clear in our 2015 manifesto."
With reference to "Tamil people and the present constitutional amendments," the TNA manifesto says:
"We, the Tamil People of Sri Lanka are a distinct People in terms of relevant International Conventions and Covenants. We as a People want to continue to live in our country in peaceful co-existence with others, with dignity and self-respect, with freedom and liberty and without fear, as equal citizens free from majoritarian hegemony.
"We as a People are thus concerned about our historical habitats, our Collective Rights that accrue to us as a People and as a Nation and our entitlement to exercise our right to determine our destiny to ensure self-government in the Tamil Speaking North-East of the country within a united and undivided Sri Lanka.
"The present constitutional arrangements in this regard have proved to be inadequate and unsatisfactory. They favour the majority and impose majoritarian hegemony on the Tamil People. Democracy in a plural society cannot function effectively without a constitutional framework that provides for equity, equality, justice, peace and security. It is in this context that we face the forthcoming Parliamentary Election.
"The TNA firmly believes that sovereignty lies with the People and not with the State. It is not the government in Colombo that holds the right to govern the Tamil People, but the People themselves. In this regard the Thirteenth Amendment to the Constitution of Sri Lanka is flawed in that power is concentrated at the Centre and its Agent, the Governor. Our political philosophy is rooted in a fundamental democratic challenge to the authoritarian state. We made a significant contribution towards the achievement of these objectives on the 8th of January 2015 in the whole country. Our political programme is therefore rooted in the needs and aspirations of all people including the Tamil Speaking Peoples for justice and equality."
The TNA has handed in amendments to the UNF Government's resolution and a delegation will meet Premier Wickremesinghe upon his return to discuss issues. New dates for a debate in Parliament are to be determined by Speaker Karu Jayasuriya after the Premier's dialogue is complete.
Embilipitiya episode: Revelations
At last Tuesday's meeting with party leaders or representatives, Speaker Jayasuriya heeded a request by the Janatha Vimukthi Peramuna (JVP) for a two-day debate on the incidents involving the Police in Embilipitiya. It will begin on February 28.
The interim report of a senior Police official overlooking the division, now before Police Chief N.K. Illangakoon tells the story of what happened in Embilipitiya. For reasons of clarity, some parts have been edited. The senior officer notes, "….it seems there has been a common idea in concealing or distorting the facts by the mobile patrol team…"
According to this report, on January 4, a mobile patrol led by a Sergeant, with two constables and a driver had arrested Vidanagamage Sampath Perera at 10 p.m. in connection with a case of alleged sexual assault. Over an hour later Abeywardena Sunil alias Ruwan had been taken into custody for alleged indecent behaviour under the influence of liquor. As the two suspects were being taken to the Embilipitiya Police Station, the telephone operator there had radioed the mobile patrol. He had conveyed a message from the Assistant Superintendent of Police (ASP) in charge of the area that there was a loud noise from the High Court area where loudspeakers were being used. The mobile was directed to check it out.
The mobile patrol first went to the Police Station, handed in the suspects and left around midnight to check on the ASP's message. They found there were no loudspeakers in the area. They learnt that there was a party underway at the Mendis Building some distance away at New Town Road, Pallegama. Four police officers who got off the vehicle were confronted on the steps of the Mendis building. According to the mobile patrol officers there was a dispute after they were told to control the sound while the persons in the Mendis building say that it was a dispute after the police officers demanded liquor. However, the exact reason for the assault on the police officers has not been disclosed.
During the confrontation on the stair case and the landing of the stair case someone had grabbed the T56 weapon of a police officer and later his colleague had spoken to someone known to him there and got back the weapon. Thereafter, the Sergeant had fired two shots into the air. The crowd had moved away. The Sergeant had used his mobile telephone (number given) and called the operator at the Embilipitiya Police Station (number given) and informed that officers of the mobile patrol have been assaulted.
Since there was a delay in (additional strength of) Police officers reaching the place the Sergeant had called the operator again using his mobile phone. A Police team led by an Inspector left the Embilipitiya Police Station and reached the location where the Police Sergeant was present. This was after off duty police officers were woken up from their barracks and were asked to join the team in civvies. The Sergeant had told the Inspector about the incident. The statement by the Sergeant does not say that he was being assaulted when the Inspector arrived. His statement only says that due to an assault, he suffered from a head pain and shock.
According to the statement of Sittachcharige Achintha Madushantha, a member of the 'Delight' musical group who provided music at the Mendis building party, a police jeep had arrived between just past midnight and about three to four minutes later the two parties were seen clashing. Policemen were present. Two gun shots were heard. The fighting spread into the building. Since there was a possibility of the musical instruments being damaged the equipment was packed and taken down the staircase and placed in the lorry parked on a by lane. Thereafter there was silence. He says the police came up and he heard the sound of glass breaking and something falling.
At this point Madushantha had been close to the lorry. About ten minutes later- i.e. around 12.50 am – he had come closer to the location where the police were present. Later he came to know that it was Sumith Prasanna Jayawardena who had died.
Note: A witness whose statement was recorded on Friday alleged that Jayawardena had been pushed from the upper floor by a Police official whom he identified. Police said they were investigating the claim.
Analsying the above facts it is clear that the mobile patrol had arrived there only once. The police officers in their statements have said that the mobile patrol arrived on two occasions, but in the investigations it was revealed that the mobile patrol had arrived near the Mendis building only once. There is no indication that the Police Sergeant has been assaulted. Accordingly, the statements that the Police Sergeant and a constable were assaulted inside the Mendis building seems to be false…..The death of Sumith Prasanna Jayawardena who was present at the party was caused by the action of the Police support team who entered the building. Since investigations are pending no conclusion can be drawn regarding the cause of the death and further investigations are necessary."
Yesterday Police Chief Illangakoon directed the Criminal Investigation Department (CID) to take over the investigations. A team led by ASP Shani Abeysekera has undertaken the task. It may be recalled that The Editors' Guild of Sri Lanka protested strongly against the Police seizing the notebooks of provincial reporters covering the magisterial inquiry into the death of Jayawardena. The notebooks were returned, with some with pages removed. The Police Commission is now probing this episode and the entire incident.
There were high pressure moves afoot by sections in the police and politicians who are interested in playing down the Embilipitiya incident. Such a move would only go as a counter to the pledge by the ruling parties during elections to ensure transparency and restore law and order. These pledges appear to have become downgraded as priorities since bigger issues, particularly in the economic sphere, looms large.