Politics bedevils solution to Palk bay poaching
By Namini Wijedasa
Navy's duty to protect marine resources and enable Lankan fishermen to pursue their livelihoods observing maritime laws in a sustainable manner, says senior Naval officer
View(s):
On October 1, Navy boats were patrolling the seas when they came across – a common occurrence now – Indian bottom trawlers poaching off Sri Lanka's Point Pedro coast.
When the Navy approached the intruders to round them up, however, one of the trawlers turned sharply into a Dvora and damaged its hull. This week, a spokesman described it as an "aggressive manoeuvre".
"In order to arrest them, we have to go close to convey our orders," said Captain Akram Alavi. "They have no radio on board so it must be done by word of mouth. They initially didn't listen to us and then did an aggressive manoeuvre.
We take it as intentionally damaging our craft." It was akin, he described, to suddenly cutting into a car that was overtaking you.
Worryingly, it happened again – this time, on October 26. As a result, two Dvoras of the Sri Lanka Navy had to go in for repairs.
The trawlers and their occupants were rounded up. A report was filed with the Attorney General's (AG) Department and the Ministry of Defence.
But in less than a fortnight of the second incident, to commemorate Deepavali, the boats were released to the Indian authorities along with the fishermen. In exchange, the Indians freed some Sri Lankan fishermen in their custody. This was the price of international relations.
The Navy takes its own task seriously enough. Its press releases state that it renders assistance to "prevent illegal activities at sea to protect the marine resources belonging to the country and enable Sri Lankan fishermen to engage in their livelihoods in accordance with the country's maritime laws in a sustainable manner without harming the fishing resources".

"The Navy will continue to do this, despite the fact that they (boats and men) are repatriated," Captain Akram asserted. There will be no full stop to it."
A cursory glance at the numbers proves that there will also be no full stop to the Indian incursions into Sri Lanka's territorial seas.
In recent months, the frequency of trespassing has reduced from about 120 days of the year to 100 to, presently, 63. But the problem is still a long way from resolution.
What also causes grave concern is that the methods of fishing employed by Indian intruders have evolved from bad to worse.
M.C.L Fernando is Sri Lanka's Director General of Fisheries. He says that, while poaching has been going on for decades, in recent years Indian fishermen have graduated from bottom trawling – which is bad enough – to pair trawling. The first involves one boat; the second, two.
Both methods scrape the seabed, scooping everything from the sea including spawn, corals and other life forms. In the end, the fishermen only take what they want.
The rest is flung carelessly back into the sea where it either settles uselessly on the seabed or floats aimlessly. Sri Lankan fishermen often pick up lifeless debris along the shoreline.
"The Central Government in New Delhi wants to stop this but Tamil Nadu politics are the problem," said Mr. Fernando. "It is reluctant to take a decision against Tamil Nadu."
Earlier this year, he held talks with Indian authorities in New Delhi. "They know it's harmful and they know they are violating our territory," he recounted.
"But they proposed that Sri Lanka gives them a chance to gradually reduce the number of days (of poaching) from 120. We do not agree, not even for a single day or hour. This is illegal, unreported, unregulated (IUU) fishing."
The Indians have routinely suggested a gradual reduction of days of poaching. D.M. Swaminathan is Sri Lanka's Minister of Rehabilitation, Resettlement and Hindu Cultural Affairs.
A few months ago, he escorted visiting Indian fishing leaders to a meeting with President Maithripala Sirisena. "They asked for three years' time to divert to another vocation."
Sri Lankan officials do not consent to such time-buying, and the reason is clear: "If we allow them to take our resources, what is the return for Sri Lanka?" asked Mr. Fernando. "They have no answer to that."
Mr. Swaminathan points out, as many do, that the issue is politically explosive. As soon as Sri Lanka takes or suggests decisive action, "there are fireworks in Tamil Nadu".
This happened again in late November, with the detention of 15 more Indian poachers along with three fishing trawlers near Delft Island in Jaffna and north-west of Talaimannar in Mannar.
Tamil Nadu Chief Minister Jayalalithaa Jayaram fired off an epistle to Indian Prime Minister Narendra Modi noting, to cite The Hindu newspaper, that it was "highly disheartening" that the only means of livelihood of several fishermen have been left without care and expose to adverse weather conditions.
She said "it was "imperative that the issue of the release of these boats is taken up with the highest levels of the Sri Lankan administration and the immediate release of these boats is ensured".
Ms. Jayaram made several questionable claims in this letter, says Steve Creech, an independent fisheries consultant who has been working on the issue for more than a decade. One of them is that, "the fishermen were fishing in the Palk bay, which historically is their traditional fishing waters".
Mechanised trawlers, Dr. Creech asserts, are not traditional Indian fishing vessels and, thus, have no right to fish in traditional Indian fishing grounds.
Secondly, trawler workers are not traditional fishermen. They are daily wage labourers employed by trawler owners. Finally, Sri Lanka has the prerogative to take action.
"Of course, we have a sovereign right to that part of the sea," says Nirmala Chandrahasan, author of the book "Maritime Boundaries in the Indian Ocean: Sri Lanka and the Law of the Sea".
"It is under the sovereignty and jurisdiction of Sri Lanka, which has every right to take action. The (Indian) State Government must make it clear that this is not part of the traditional fishing grounds. Maybe they did fish here but once the seas are divided, this is treated as territory of another State."
Mrs. Chandrahasan saw a problem in which legislation was being applied to execute Sri Lanka's legal right. At present, immigration laws are invoked to catch Indian poachers and to detain their boats, the latter for a prescribed, limited period of time. The more applicable legislation, however, is the Fisheries (Regulation of Foreign Fishing Boats) Act, No 59 of 1979.
"They (authorities) catch them for illegal entry and send them back," Mrs. Chandrahasan said. "But under the Fisheries (Regulation of Foreign Fishing Boats) Act, you can seize the boats." This would prevent the legitimate arrest and detention of poachers from being painted as a "human problem".
"The boats are owned by businesspeople and the workers operating them are not responsible," she continued. "It becomes a human problem when they are locked up and their families protest.
This is not an immigration matter. They are not trying to come here without visas. Keep the boats and the equipment. Don't release them unless the owners come and pay a fine. When ammunition is directed at the owners, they might act otherwise."
Sri Lanka now is moving one step closer to implementing the Fisheries (Regulation of Foreign Fishing Boats) Act. Mr. Fernando said Cabinet approval has been granted to introduce an amendment strengthening the fines and other penalties imposed by the law. A committee is to be set up to draft the changes.
Other remedies have been suggested. The Tamil National Alliance (TNA), which shunned the subject of Indian poaching for the longest time, has started to speak out in recent months.
It gave crucial impetus to the issue particularly as the TNA is perceived to be close to Tamil Nadu politicians as well as New Delhi.
"The fishing societies requested us to take this up," said M.A. Sumanthiran, TNA Jaffna District Parliamentarian. "They met us after the election in January and, again, about two or three weeks ago, and repeated the request."
Last month, Opposition Leader and TNA head R. Sampanthan, also spoke strongly during an adjournment debate proposed by the Janatha Vimukthi Peramuna Parliamentarian Vijitha Herath.
"The Indian fishermen, Sir, are crossing the Sri Lankan international boundary and they are coming into Sri Lankan waters and fishing as they please," Mr. Sampanthan observed.
"That itself was a violation of the law." This promoted hostility between people of India and Sri Lanka and "it is not in anybody's interest for the situation to continue", he maintained.
Mr. Sampanthan suggested that the Indian Navy or Coastguard join the Sri Lankan Navy in jointly patrolling the international boundary to prevent trespassing.
This proposal, when floated in the past, was rejected by India. Today, it has met with no formal response.
Mr. Sumanthiran, meanwhile, has resubmitted a Private Member's Bill to make bottom trawling an offence in law rather than by regulation (as is the case now).
"It proposes to completely ban its use because it is widely accepted that it damages the sea bed," he told the Sunday Times. "The current regulations do not really have the bite of proper provision in law.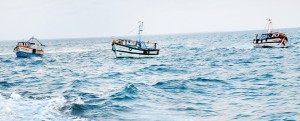 If the law itself declares the practice an offence and it continues to happen, anyone can compel the State to enforce the law by a Writ of Mandamus, etc."
It is the second time Mr. Sumanthiran is introducing the Bill. "The last time when I introduced a Bill in the last Parliament, it stopped bottom trawlers coming into our area because India advised its fishermen not to cross the maritime boundary," he maintained.
"I believe this will put an end to the issue because, if bottom trawling is banned, there will not be much interest in coming onto our side."
The fishing dispute should not affect international relations because "even India concedes this is a very damaging method of fishing", Mr. Sumanthiran pointed out.
"There cannot be any objection for imposing a ban on something that very seriously damages the environment. Both countries should jointly ban it."
During the debate, the JVP pushed strongly for implementation of the Fisheries (Regulation of Foreign Fishing Boats) Act, No 59 of 1979. The Sunday Times asked Attorney General Y.J.W Wijayatilake why he did not offer advice to this effect.
Sobhitha Rajakaruna, Deputy Solicitor General (Administration) replied on his behalf saying: "…these issues have been already raised in SC/Special Leave to Appeal Application No: 85/2015 which is presently pending in the Supreme Court.
The Hon. Attorney General and several other officers have been cited as respondents in the said application. In the circumstances it would be improper for the Hon. Attorney General to express an opinion in relation to the questions asked by you…."
The case referred to by the AG's Department was first heard in the Court of Appeal. It was filed as a Writ of Mandamus by the Fishermen's Cooperatives Society Union leaders from Mannar, Kilinochchi and Jaffna.
Their lawyers argued that using the Immigration and Emigration Act was inappropriate if Indians were being arrested for illegal fishing.
It was dismissed immediately as the Judge said the Court of Appeal could not instruct the AG in this matter. It was held that the AG must have the discretion to decide how to prosecute fishermen arrested for illegally fishing in Sri Lankan waters.
The fishermen have now appealed to the Supreme Court and the case is pending. The next Court date is January 20, 2016.
Thiyagaraja Waradas is a lecturer at the International Relations Department of the University of Colombo and a longtime researcher of Indian poaching.
He is critical of the AG's Department saying, "the way they handle the issue is inappropriate". "The Immigration and Emigration Act is not the proper law to sue under because these fishermen don't come here for a holiday without a visa," he said.
"Their objective is to engage in IUU fishing. There is a dedicated Act for this issue and that is the Fisheries (Regulation of Foreign Fishing Boats) Act."
"When there is a dedicated Act, under what condition does the Immigration and Emigration Act overrule the Fisheries (Regulation of Foreign Fishing Boats) Act?" he asked.
"It is like you take someone who committed a rape and sue for something like robbery. What about mens rea?"
There is danger in the Attorney General continuing like this, Mr. Waradas warned. "There is a serious misconduct of the law by the AG's Department," he emphasised. "That is wrong. It is not good governance."
But those in legal circles argue that, in all countries of the world, there are certain matters that are handled, not as legal issues, but as relations between States – for instance, the exchange of prisoners. There is no law that says prisoners can be exchanged. But it happens.
It is no secret that the Indian High Commission "comes down hard on all sides" when Indian poachers and their trawlers are detained. "They put pressure on the Foreign Minister, even the Prime Minister," a political source said. "Clearly, the AG is also under pressure."
And, so, India and Sri Lanka continue to carry out an "exchange programme" on an uneven ratio. It's not uncommon to find five Sri Lankan fishermen sent back in exchange for 50 Indians. This poaching, the source claimed, is like prostitution. You cannot ban it; only control or monitor it.
No even handed approach to problem Illegal, unreported and unregulated (IUU) fishing is described by the European Union as a practice that "depletes fish stocks, destroys marine habitats, distorts competition, puts honest fishers at an unfair disadvantage, and weakens coastal communities, particularly in developing countries"."The EU," says its Fisheries web page, "is working to close the loopholes that allow illegal operators to profit from their activities".

Indian poaching in Sri Lankan waters is clearly IUU – even under the above definition. But the European Union, which has banned Sri Lanka's fish exports to the EU over allegations of IUU fishing, has not taken similar action against India.

The Sunday Times this week raised questions regarding this with David Daly, the Ambassador and Head of the Delegation of the European Union to Sri Lanka. We are awaiting a reply.

India's bottom and pair trawling in territorial waters has greatly depleted stocks of fish and other marine life. "Fisheries resources are very badly damaged," said M.C.L Fernando, Director General of Fisheries. "Before the war, we had 48 percent of fish catch from the North. Now it is down to 18 percent."

For three days of the week, Sri Lankan fishermen are forced to stay ashore for fear that the massive trawlers from India will damage their nets.

It is on Monday, Wednesday and Friday that the Indians flock in. Admittedly, it is less now—down from 120 days of the year to 63.

"You can't stay it's completely stopped but it's reduced," said N.M. Alam, President of the Mannar Fishermen's Cooperative Societies Union. "Those days, 1,000 or 1,500 came to our seas. Now it's sometimes 100 to 200. "

For Sri Lankan fish workers, this is still too many. Dilan Fernando is the Secretary of the Seafood Exporters' Association of Sri Lanka which has actively campaigned against Indian poaching.

He has 600 workers in the Jaffna, Kilinochchi and Mannar Districts picking crab meat for export. "The crab is caught in the Mannar Basin," he said. "Three days of the week, our fishermen can't fish. Our export volumes have dropped."

Earlier this year, Mr. Fernando joined other fisher societies to conduct a massive postcard campaign.

Thousands of postcards declaring "Stop Indian trawlers fishing illegally in Sri Lankan waters" were sent to President Maithripala Sirisena, Prime Minister Ranil Wickremesinghe and a long list of others including officials in the European Union based in Belgium and in the IUU Fishing/Seafood Fraud Task Force based in the United States.

The campaign was organised across Mannar, Kilinochchi and Jaffna. Mr. Alam was encouraged by participation in Mannar. He is keen to see the poaching end. In November, he visited a group of Indians who were detained by the Sri Lankan Navy and were shocked to find four minors among them, employed as labourers on trawlers.

They were Camillus Perisho (17), Anthony Rajappu Denistan (17), Arokeyathase Jeevan Trizer (15) and Saeayarajah Mariya Renith (16).
If this isn't IUU, what is?
Solving issue needs creative thinkingForeign Minister Mangala Samaraweera says the bilateral fishing issue will be one of the main problems that Colombo takes up at the India-Sri Lanka Joint Commission in January 2016."This is a problem that has been going on for a long time," he told the Sunday Times. "It is really something which needs creative thinking. Confining to looking at it or solving it through legal means alone will be difficult."

The Minister, who has a cordial relationship with his Indian counterpart, Sushma Swaraj, said there was a genuine effort by the Indian leadership to solve the issue. "It involves two countries with excellent relations with each other," he observed.

"At the same time, it also involves two of the poorest communities of the Palk Strait whose livelihoods are threatened by actions each side takes. It needs creative thinking and political will to settle the issue once and for all."

There were large pressure groups on both sides obstructing the process, the Minister maintained. He acknowledged that large, Indian bottom trawlers were scraping the seabed away.

"They are owned by powerful South Indian politicians who, in turn, stifle any efforts by the Indian Central Government (to solve the issue," he said.

Mr. Samaraweera said "there were reports" of Sri Lankan Navy boats being damaged. "But then Indian authorities were complaining that some of our fishing trawlers were arrested (in their seas) with sea cucumber, which is illegal. Finally, both sides point fingers at each other and justify their position."

There has to be a joint effort, the Minister stressed. "I still believe it can be sorted out," he said. "In the Joint Commission between India and Sri Lanka at the end of January, this will be one of the main issues we hope to talk about.

The Indian External Affairs Minister Sushma Swaraj is due for the Joint Commission. What we really need is to talk sensibly about some permanent solution which would protect the interests of both parties."