No Santa in the Budget for shoppers and shopkeepers
By Anushiya Sathisraja
View(s):
Shopping complexes decked in bright lights and seasonal decorations are not drawing the usual Christmas shoppers because of new taxes that have seen prices of readymade garments going up and the general rise in the cost of living.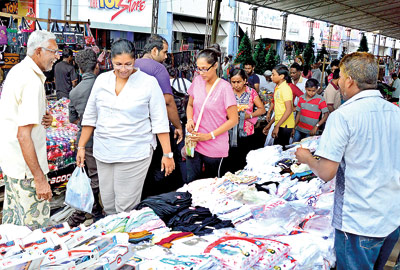 Shopping malls in Colombo have introduced annual seasonal raffles, sales and discounts to attract consumers. But, most traders say that the purchasing power of the consumer appears to have been reduced compared to previous seasons.
Pettah Textiles Merchants' Association spokesman M. Manohar said the cess imposed on imported textiles items in the 2016 budget would have a negative impact on readymade clothes. The cess ranges from Rs.75 to Rs. 200.
"Around 50 garment containers are held up in Customs as clearing would be costly. Before the tax was imposed we paid around Rs. 8 million for a container. But now we need to pay more than Rs. 10 million per container.
"The stocks already imported by the importers will be subjected to the new tax rate imposed by the budget and this will cause heavy losses to textile importers," Mr. Manohar said.
Sumathi Sandarasekaran, owner of a reputed clothing store on Main Street Pettah, said that with many new shops coming up in the area even big establishments had seen a drop in sales after the budget proposal. People think that only the small traders were affected by the duties.
"I have seen many people buy materials rather than readymade garments. Suppliers are demanding higher prices for their products, so we are forced to raise our prices to ensure we too make a profit".She said taxes were higher this year and many entrepreneurs were making a loss.
"Although business is picking up, there is more competition within the market now. Many traders travel from Colombo to the north and east so that people in those areas don't have to travel to Colombo for special occasions like Christmas for their shopping. This has affected our business to some extent," she said.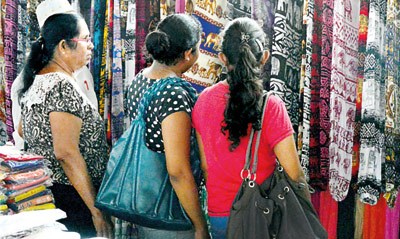 T. Nishanth, a garment owner in a Colombo suburb, said the taxes have had an adverse effect on his sales. He said customers used to come to his shop due to the low priced items compared to other places.
However, he said, the taxes on textile items have forced him to increase his prices and customers have complained.
On the other hand, customers say even though there is a wide range of choices they are unable to spend as much as they would have liked to because of the high cost of living.
Jaffna resident Ragahvi Chandran (21) who was shopping on Main St said that new shops and stalls hadcome up for the season. However, she said, the choices were limited and the prices comparatively high.
N. Thileepan (36), a father of three said, his Christmas shopping was going well. "Our purses get empty during the season, but shopping is good for the children and they really enjoy shopping at the mall.
"I own a small textile shop in Borelesgamuwa and our sales seem to be good going by the sales last week. I believe that Christmas sales are much better than the previous year".
Umesh Ranganath, a children's clothes shop owner at shopping complex in Colombo, said the seasonal business was not bad. But the volume of sales was less than last year's after the effects of the tax increase.
"I don't know why people are not in the Christmas mood yet. There are fewer people in my shop compared to previous years".