Less is more as vendors stretch veggies to meet budgets
By Anushiya Sathisraja
View(s):
Vegetable vendors, desperate for sales as steep prices keep customers away, are looking for new ways of making a sale.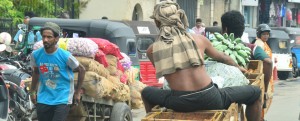 The public is used to vegetable prices fluctuating but the continuous increase in prices due to chilly weather and untimely rains has become a matter for real concern.
One vendor, 36 year-old Ranpalee Munasinghe came up with an innovative idea when she realised that people were not buying cabbages at Rs. 200 a kilo.
"I buy the outer leaves of the cabbage for Rs. 230 a gunny bag and then I slice the leaves into small pieces, and make packets of 300-450g each in small bags and sell them for Rs. 50-65 as my mother did," she said.
Demand for her small bags was high, with most consumers looking for cheaper vegetables, she said.
Lalithadevi Thiyagaraja, 55, a resident of Modera said that vegetables being sold at lower prices were of bad quality. "The fresh ones are extremely expensive.
My husband is the only breadwinner in the family. What we can afford is very little with the cost of living increasing. There should be a proper plan of cultivation to avoid such shortages and price hikes," she said.
She said most of the high-priced vegetables are from the upcountry, where last month's rain caused havoc and destroyed most of the vegetable plots.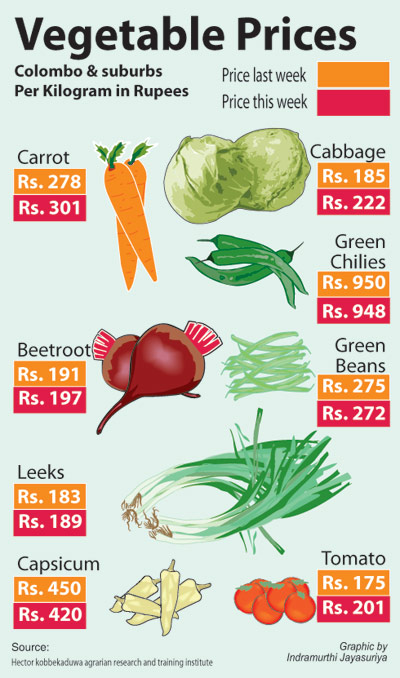 "Most of the vegetables affected by rain rot easily," a vegetable seller at Pettah's Manning Market for more than half a century, Priyankara Sandun, said. "We find it very difficult to get good-quality carrots, leeks, cabbages and snake-gourd. Carrots are extremely small."
He said cabbages were not from the upcountry but mostly from Puttalam and this was quite evident when it was being cooked.
The smell and the fumes that emanate while cooking was similar to the smell of poisonous pesticides used by farmers. Farmers are known to spray substantial amounts of pesticide on cabbage from the time they are planted until they are harvested.
Food outlets are finding it difficult to reduce vegetable servings. S. Sathasivam, 65, who owns a fast-food shop in Kotehena, said he was foregoing profits to keep the business running.
"The price of lettuce has gone up and we are finding alternative green-leaf vegetables to put in a burger. Customers will look for alternatives if I use lettuce and increase the price," he said.
The popular lunch packet has been hit hard. Cheaper vegetables such as manioc have replaced expensive ones like beans. Quantity has been reduced or rates increased by Rs. 10-15 a packet.
"I usually put three to four vegetable curries in a lunch packet but with the rise in vegetable prices I look for only low-priced vegetables such as pumpkin and snake-gourd and I've cut the quantity of vegetables in the packets", Mayori Gunaratnam, a lunch-packet seller buying her vegetables at Manning Market said.
A visit to the markets this week showed desperate vendors trying to sell old vegetables by removing outer leaves to make them look wholesome and fresh. Vendors were misleading consumers by calling out prices relating to 250g instead of the usual rates per kilo.
Carrots are fetching at Rs. 301 a kilo while per-kilo prices for cabbage were Rs. 225, green chillies Rs.1,000-plus, limes Rs. 645 tomatoes Rs. 200, drumsticks Rs.600-plus, luffa Rs. 166, capsicum Rs. 350-600. Prices of brinjal, ladies fingers and winged beans (dambala) have also increased because of the weather.
Hector Kobbekaduwa Agarian Research and Training Institute (HARTI) research officer W.H Dumunida Priyadarshana said farmers were not studying market forces, focusing on the single crops they always grew instead of cultivating vegetables that were in demand.
He said the Government should make arrange for refrigerated storage and transport of vegetables because distributors say current transport facilities were inadequate vegetables became quickly spoiled.
HARTI states that compared to last year, beans have increased by 37 per cent, carrot by 40 per cent, cabbage by 52 per cent, and drumsticks and limes 103 and 117 per cent respectively.
The Meteorology Department warned that showers or thundershowers will develop over most parts of the island after 2 p.m. today. Heavy falls (about 150mm) are also likely at some places.
Atmospheric disturbance persists over Sri Lanka. There is a possibility of strong winds during thundershowers and the public is advised to take adequate precautions against lightning activity.
Upcountry farmers in tight spotBy Shelton Hettiarachchi

In Nuwara Eliya, the cheapest vegetables are plantain flowers and kekiri (cooking melon). Prices of other vegetables have soared and quantities are fast decreasing, and farmers say it will take another couple of months to cultivate and harvest new crops.

Potatoes currently cost Rs.110-115 per kilo, carrots Rs. 210, cabbages Rs. 130, leeks Rs. 125, broccoli Rs. 500, salad leaves Rs. 240, radishes Rs. 50 and beetroot Rs. 110.

The quantity of vegetables arriving at the Dambulla Economic Centre is diminishing. Prices there are Rs 1100 for chillies, Rs. 450 for malu miris, Rs. 280 for bitter gourd, Rs. 220 for snake beans, Rs. 340 for carrots and Rs. 140 for ridged gourd (watakolu).

Some farmers said they were in debt to middlemen and had no option but to sell their products to them at these prices.