Kids world
View(s):

Anagarika Dharmapala

Anagarika Dharmapala is one of the most revered Buddhist leaders of modern times. He dedicated his entire life for the cause of Buddhism and the Sri Lankan Nation. He was also recognized as a great national hero and the pioneer of the national and religious revival of modern Sri Lanka.

Anagarika Dharmapala, whose original name was Don David Hewavitharane, was born in Colombo on September 17, 1864, to a wealthy Buddhist family. His parents were Mudaliyar Don Carolis Hewavitharane and Mallika Dharmagunawardane. David was the eldest in the family.

He had three younger brothers named Edmund, Simon and Charles and also a younger sister.
He later became the manager of 'Sarasavi Sandaresa', a weekly newpaper. At the age of 25 years he became known as Anagarika Dharmapala, which means 'Dharmapala the Homeless'.

He founded the Buddhagaya Maha Bodhi Soceity (Maha Bodhi Society). He visited the Theosophical Society in Adyar, Madras in India and constructed the Mulagandhakuti Vihara in Saranath.  Anagarika Dharmapala, the greatest apostle of Buddhism in modern times, passed away on April 29, 1933 at Saranath, Benares. His last words were, "Let me be reborn… I would like to be born  again twenty five times to spread
Lord Buddha's Dhamma."

Shainaz Thahir (16 years)
Wellampitiya
---
My cousin brother
My cousin brother is Kavish. He is eight years old. He has a little sister called Malsha. He goes
to Sunrise College in  Abu Dhabi.
He is in Grade Three.
He is very kind. I love my cousin brother.
Dinethmi Gunawardena
(7 years)
Musaeus College
---
I am a pencil
I am a pencil.
I am thin and long. I become short with use. My point breaks easily.
I must be used carefully.
My colour is black and red.
Shevan Fernando
(Grade 3)
S. Thomas' College,
Mt. Lavnina
---
A trip I enjoyed
Last school vacation my family wanted to go on a trip. We decided to go to Leisure World in Kaluaggala. We arrived there early in the morning. There were two sections called
Dry and Water. I swam in the baby pool, rode in the swan boat, went in the train and also the electric car.
I enjoyed the trip to Leisure World very much and will never forget it. I hope to go there again.
Nethuli Edirisinghe (7 years)
Holy Family Convent, Colombo 4
---
My pet
My pet is a parrot. My pet's name is Pato. He likes to eat mangoes. He is green in colour. He has wings. He is very beautiful. It lives on a tree. It can talk. It is very playful.
I love my pet very much.
Dulshi Tharuka (Grade 3)
iGate College, Thalawathugoda
---
How we celebrated our Golden Jubilee
The Sujatha Vidyalaya Golden Parade and Mini Carnival was organized to celebrate the
50th Anniversary of our school. It was held on August 1, 2015. The Golden Parade started from the Athulathmudali ground to the BRC ground.
The management of the school, the principal, vice principal, teachers, students, past pupils, parents and administrative staff participated in the parade and mini carnival. My parents  and I also participated.
I visited many stalls in the mini carnival and bought various things. I participated in many games. I enjoyed this day very much.
I am proud to be a Sujathian.
Chanuthi Kithulgoda
(9 years)
Sujatha Vidyalaya, Nugegoda
---
My Loku Amma
My Loku Amma is my mother's elder sister. Her name is Mrs. Jeewani Surangika. She is a housewife.
My Loku Amma is very kind and good. She buys me clothes and books.
She likes to eat wade. She likes to drink fruit juice.
I love my Loku Amma.
Methuli Kotudura
(7 years)
Samudradevi
Balika Vidyalaya
---
My garden
I have a beautiful and big garden in our house. There are lots of plants and flowers. Birds and squirrels come to our garden and butterflies come to drink nectar from the flowers. There is a mango tree and a guava tree.
My brother and I enjoy playing and watering the plants in the garden.
Rahma Rushdie
(Grade 2)
Royal Institute, Colombo
---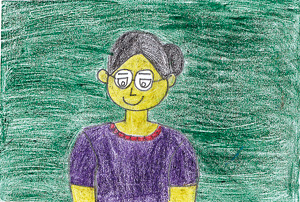 My Grandma
My grandma lived in Kandy when she was a kid. The place where she lived was a beautiful and calm place.
She likes to eat milk-rice. When she was a kid, her school was Badi-ud-Din Mahmood Girls' College.
Her best friend was Maryam. Her ambition was to become a teacher. So she worked hard and became a teacher.
My grandpa first met her at her house. My grandma is kind and loves me a lot. I love her too.
Fathima Fazmil (Grade 4)
Kandy Royal Int. School, Kadugannawa
---
Junk Food
When we say the word food, what comes to your mind? Buns, cakes, biscuits, pizzas etc. Most of you think of these foods.
You eat these foods almost every time.
But do you know the result of eating them?
Well, these foods are called 'Junk Food'. Junk food is 100% unhealthy for our body. Most junk food contains fat and sugar.
But most people eat it.
Every day for the school break, many children bring junk food to school daily.
It is not good. There are lots of problems when children eat them. Children who regularly eat junk food are fat and unhealthy. They get sick all the time. Some have cholesterol, pressure, diabetes etc.
All this is because of eating junk food.
You can eat a little bit of junk food but not daily. Once a week may be alright but you need to eat healthy food like fruits, vegetables, grains, leaves etc. Now at present many children suffer from various diseases because they eat too much junk food.
So please do not eat too much junk food. It is not good for you and your body. One day you will fall sick. Try to minimize the fats in your diet and increase the vitamins. Then you will be able to live a healthy and long life.
Dhanushi Piyaratne (Grade

Lyceum Int. School, Wattala
---
My Seeya
My Seeya's name is Lakshman Welikala. He is a very kind gentleman with a heart of gold. He celebrated his 70th birthday on September 27, 2015.
Seeya has taught me a lot of things. He has taught me English and Maths. I enjoyed playing with him. He is a good artist and has taught me how to paint.
Now I am in Australia and I really miss Seeya. May God Bless him and I hope to see him soon in Australia.
Geeshani Bibile (7 years)
Berwick Primary School, Victoria
---
My mother
"Love is another word for mother".
My mother's name is Shamrin. She is 41 years old. She helps me in many ways. She does a lot of work like washing clothes and cooking. She likes to eat rice and curry and drink fruit juices. She likes to cook different types of food. The food she makes is so delicious. My mother loves to cook.
She has curly hair. She is fat and she is fair.
She went to Muslim Girls' Central College.
She gets angry very quickly, mostly when I do naughty things. Even though she punishes me,
I know it is for my own good.
I call her in different ways like, Mama, Mummy and Ammi. For me she is the best mum in the world. I love my mom and my mom loves me too.
Taqy Ahamed (Grade 4)
Lyceum Int. School, Panadura
---
A trip to India
We woke up early in the morning and went to the airport. We got into the plane and were in the plane for three hours. We got down from the plane at the Baranasi Airport and got into a bus.
The bus took us to Buddhagaya. On the next day we went to worship at Buddhagaya. We observed sil
on that day. The next day we went to worship at Lumbini. We stayed in India for a week. The trip was wonderful.
I thank my parents for taking me to India.
Udara Weerasekara (Grade 2)
Vidyaloka Model School, Hingurakgoda
---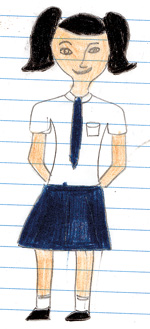 The person I admire most
The person I admire most is
Dulmi Manisha Rathnayake.
She is very kind and clever.
We are inseparable friends.
I admire her most because of her
good qualities. There are many things that I admire in her. She is a talented girl. She has a soft voice. If I have a problem, she helps me with my problem. She is smart, loyal and brave.
Her favourite subject is Science because her ambition is to become a doctor one day.
Sometimes she is crazy and mad. She can dance gracefully. She is a bright girl. Sometimes we both think the same things but sometimes different.
She is afraid of dogs. She can do modelling well.
I love my friend.
Kenuli Karunakalage (Grade 6)
Royal Int. School, Kegalle