After the Budget, alarm bells for President, PM
By Our Political Editor
View(s):
Despite giving posts and other inducements only half of the UPFA MPs support Sirisena
Former President down but not out; possibility of opting for a new Opposition party
Ranil also runs into series of problems over Budget and unkept promises: But focus is much on mid term economic strategy
Wednesday's two thirds majority vote for the second reading of the budget in Parliament portended good signs.
It is a salutary forerunner to abolish the executive presidency and introduce a new Constitution. Numbers in Parliament for its passage is not at issue at least not now. Prime Minister Ranil Wickremesinghe is to move a resolution in Parliament next month for the House to sit as a Constitutional Council for this purpose. That is the good side. There is also a not so good aspect, with alarm bells ringing for President Maithripala Sirisena and Prime Minister Ranil Wickremesinghe.
It seems louder in the case of President Sirisena who was elected in January this year. He has focused considerable time and effort to consolidate his leadership of the Sri Lanka Freedom Party (SLFP). Yet, the voting has made clear the SLFP is split down the middle and his efforts so far, despite many an incentive offered, have come a cropper. The formidable faction made up of ministers and deputies among others who owed their allegiance to former President Mahinda Rajapaksa, now accept Sirisena's leadership. At least unofficially, the voting makes clear that the rest are functioning under the proxy leadership of the former President. They openly defied Sirisena and voted against the budget. The question now remains whether he would take action against the rebels within the party as he threatened to do but party stalwarts discount the idea on the grounds that he would not want to 'ruffle too many feathers.' Some say this may see more pressure on Rajapaksa and his family members now under investigation over many issues including alleged criminal activity, corruption and misrule.
Rajapaksa's Parliament speech
On the other hand, an event that went somewhat unnoticed was Rajapaksa's speech at the committee stage discussions on Friday on the allocation for the Ministry of Defence. If he had made in-depth comments on the budget in a news statement, following a reported meeting at the Abhayarama temple, this speech itself was focused on matters of defence and security. He accused the Government of "hastily releasing hard core terrorists without regard to the nation's security due to political pressure from certain interested quarters." The Prevention of Terrorism Act (PTA), he said, was being used to imprison members of the military. "If any investigation is to be carried out into the conduct of military personnel, the Government has a duty to deal with the issue under the laws applicable to the military or under the ordinary law of the country. That is a basic courtesy that we have to extend to members of the armed forces who sacrificed so much for the country." He claimed that "foreign government officials had visited our country and made demarches to Sri Lanka's leadership about withdrawing the military from the Northern Province."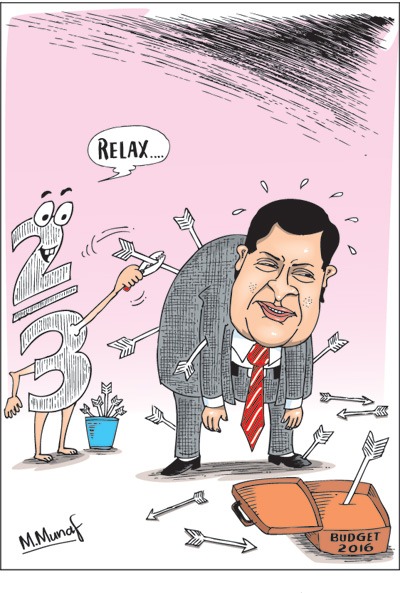 Alluding to the visit of Samantha Power, US Ambassador to the UN, to the Eastern Naval Area headquarters in Trincomalee, Rajapaksa said "officials of foreign organisations have been permitted unfettered access to Sri Lanka's military installations" and declared this was "reminiscent of the situation that arose after the Millennium City betrayal in 2002." Strong words indeed. How, groups loyal to him in Parliament would react when the Government introduces legislation to set up special High Courts to probe alleged war crimes is introduced in this backdrop remains a critical question. Will half the UPFA veer away and not offer support though it will not see the legislation being defeated?
The sparring between the former President and the incumbent was noticeable. Sirisena said that his children did not use helicopters for their travel and that he never took large delegations on his official visits abroad – direct hits at Rajapaksa, who in turn said that many of those who run down his administration, including his cabinet ministers did not open their mouths then – a direct hit at his former Health Minister Sirisena.
For all intents and purposes, the SLFP law makers come within the umbrella of the United People's Freedom Alliance (UPFA). They contested the August 17 parliamentary elections under that banner. Of a total of 95 UPFA parliamentarians elected in August, half or 46 MPs have not fallen in line with Sirisena's appeal. They include eleven MPs from partner parties. To add to that Mahinda Rajapaksa, Manusha Nanayakkara, Janaka Bandara Tennekoon, Lohan Ratwatte, Premlal Jayasekera, Siripala Gamlath and Geetha Kumarasinghe were absent during voting time.
Those from the UPFA who voted against the budget were: Rohitha Abeygunawardena, Mahinda Yapa Abeywardena, Dilum Amunugama, Dullas Alhapperuma, Mahindananda Aluthgamage, Chandrasiri Gajadeera, Udaya Gammanpila, Dinesh Gunawardena, Bandula Gunawardena, Padma Udayashantha Gunasekara, S.M.Chandrasena, D.V.Chanaka, Sisira Jayakody, Piyal Nishantha de Silva , Mohan Priyadharshana de Silva, Ranjith de Zoysa, Wimalaweera Dissanayake, Weerakumara Dissanayaka, Salinda Dissanayake, Vasudeva Nanayakkara, Dr Ramesh Pathirana, Sanatha Nishantha Perera , Jhonston Fernando, S. Premaratna, Tharaka Balasuriya, Vijith Berugoda, S.C. Muthukumarana, C.B.Ratnayaka, Prasanna Ranatunga, Prasanna Ranaweera, Roshan Ranasinghe, Keheliya Rambukwella, Chamal Rajapaksa, Namal Rajapaksa, Gamini Lokuge, Janaka Wakkumbura, Pavithra Wanniarachchi, Vidura Wickremanayaka, Shriyani Wijewickrema, Kanchana Wijesekara, Thenuka Vidanagama, Wimal Weerawansa, Kumara Welgama, Jayantha Samaraweera, Shehan Semasinghe, Indika Anuradha Herath. Besides them, JVP MPs who opposed the Budget were Nihal Galappatti, Dr Nalinda Jayatissa, Anura Kumara Dissanayake, Bimal Ratnayaka, Sunil Handunnetti and Vijitha Herath.
Soon after he became President in January, Sirisena assumed the mantle of the SLFP leadership. This was after Rajapaksa ceded the position in keeping with provisions of the SLFP constitution which requires the President of Sri Lanka, if he is from the party, to be the leader of the SLFP. Ironically for him, it was Rajapaksa who saw to the amendment in a bid to keep his arch rival Chandrika Bandaranaike Kumaratunga away. Sirisena gave ministerial positions to some of the SLFP members, some even close allies of Rajapaksa, in the 100 day Government. In the interim government ahead of the August parliamentary elections, he sacked the UPFA's General Secretary Susil Premjayantha and the SLFP's General Secretary Anura Priyadarshana Yapa. He picked one of his confidants from Anuradhapura, Duminda Dissanayake to be the SLFP General Secretary. Yet, under pressure, before the sacking, in June, he had to allow Rajapaksa to contest the Kurunegala District as a UPFA candidate and be the main player in the polls campaign.
With the elections over, Sirisena was on the second phase to consolidate his leadership of the SLFP. Contrary to public assurances, Sirisena gave national list appointments to defeated UPFA candidates and even appointed some of them as ministers or deputies. This caused a major dent in his popularity with those who voted for good governance, something he promised the people. Just last week, three more defeated candidates and a former Pradeshiya Sabha Chairman were given positions which did not exist before. Like appointing Sarath Amunugama, Minister of Special Duties, these are posts of "Special Project Directors." Jagath Pushpakumara, a defeated candidate at the August elections has been named Uva Province Project Director. Eric Prasanna Weerawardena another defeated candidate has been named as Special Project Director for the Central Province and Shantha Bandara, yet another as Special Project Director for the Wayamba (North Western) Province and Premasiri Munasinghe, former Chairman, Praadeshiya Sabha in Tamankaduwa (Polonnaruwa Distict) Special Project Officer for Polonnaruwa District. The functions of the four new officers, on top of the role by the local and provincial councils are yet to be defined in detail. However, the foursome will receive official cars, free petrol, driver and personal staff.
The purpose behind all these measures was to win the hearts and minds of the SLFP members while edging out those from the UPFA. This hearts and minds operation, which in the recent weeks saw offers of free vehicle, driver and petrol to Rajapaksa loyalist MPs to obtain their support appears to have failed. The corollary of this is the fact that Mahinda Rajapaksa is down but not out. His allies in Parliament are not only keeping him politically alive but have delivered a strong message to Sirisena. Thus the challenge before him is whether to continue with his carrot only approach and spare the stick or shift strategy and use both. This is because of the non-availability of avenues for a rapprochement, particularly in the light of the positions Sirisena has endorsed for the Government to adhere. One such key instance is the US backed UN Human Rights Council resolution in Geneva. This was co-sponsored by Sri Lanka. Rajapaksa's statement in Parliament on Friday is a harbinger of things to come. Moreover, a compelling time frame is the upcoming local council elections next year. It is as important for Sirisena as it is for Rajapaksa. For the former, that would be to stay on top as leader. For Rajapaksa, the question is whether he opts for a new opposition front that is in the making.
Though less loudly, the alarm bells for the United Front for Good Governance (UFGG) led by Premier Wickremesinghe are cause for some concern. Like their name implies, the UNFGG pledged yahapalanaya or good governance where the people would be consulted over issues ahead of action. Understandably, budget proposals until made public cannot form a subject of public debate. Yet, some of the proposals appear to have triggered heated reactions from different players in the state sector. The fact that responses came devoid of any consultation with them only aggravated the situation. A case in point is the withdrawal of duty free vehicle import permits. At first, a cash offer of one million rupees in lieu of a permit was made. When protests began to rise, a second suggestion was made to allow them a maximum of two permits, once in ten years, for two vehicles. At present their entitlement is a permit every five years.
Finance Minister's dilemma
Finance Minister Ravi Karunanayake is in a dilemma. "How do I raise money to meet Rs 864 billion for capital expenditure? The issue of permits is a huge revenue loss," he told the Sunday Times. Karunanayake noted that under valuation and other malpractices are taking place in the import revenue collection and in motor vehicle registration. He said yet the Government would offer state sector officials, as assured by Premier Wickremesinghe, two ten year permits. He also said that a different scheme was being worked out to provide vehicles to members of Parliament.
A study by the Ministry of Finance has revealed 3,187 motor vehicles were imported under concessionary permits by public officials from January to August this year. It also reveals that from 2010 to August 2015 a total of 35,963 vehicles were imported by state sector officials. This included 211 duty free vehicles for which special approval was given by former President Rajapaksa who was also the Minister of Finance. Some of the statistics revealed in the study show the enormity of the losses to the state. A sampling:
During the three year period from 2012 to 2014, a total of 25,433 vehicles (on average 8,477 vehicles a year) have been imported by permit holders.
In comparison, during this period, 98,706 private cars (on average 32,902 cars a year) had been registered at the Registrar of Motor Vehicles (RMV) by permit holders and others.
From August 2012 to August 2015, a total of 32,287 vehicles have been imported under the permit scheme at a CIF value of Rs 84.5 billion. Total amount of duty collected from these imports was Rs 63.8 billion (75 per cent of CIF value) and duty foregone was Rs 147.4 billion (175 per cent of CIF value).
Accordingly, on an average duty foregone per vehicle was Rs 4.56 million, the study notes. It adds: "Most of the officials get some money required for private purposes like buying a land, constructing a part of the house, to pursue children's education and even in important events in their life like a child's wedding " through the sale of permits.
GMOA token strike
The budget proposal to withdraw duty free permits to doctors saw members of the Government Medical Officers Association (GMOA) stage a day long token strike on Thursday and the GMOA threatened further trade union action.
The strike did cripple health services countrywide with the worst affected being the outpatients departments. The move prompted President Sirisena to invite a GMOA delegation to his office in Parliament for talks. Though both Premier Wickremesinghe and Finance Minister Karunanayake were conspicuous by their absence, associated with Sirisena was Health Minister Rajitha Senaratne. From the issue of duty free vehicle permits, GMOA's demands had extended to other areas too.
GMOA Secretary Dr Nalinda Herath said their delegation had pointed out that some of the perks given to doctors when President Sirisena was the Health Minister have now been taken away. He said they voiced their concern on several issues including possible threats to doctors in Sri Lanka if the CEPA (Comprehensive Economic Partnership Agreement) with India was adopted. Diploma holders will come to Sri Lanka to serve as doctors, he said. Dr Herath said other concerns were about the conversion of the existing pension scheme to a contributory one for those joining the public sector from January next year. He said they also discussed the increased taxes on Hybrid and electric cars. President had agreed to summon a meeting in which the Prime Minister, the Finance Minister and other officials would be present, he added. The meeting is likely to take place on December 10 or thereafter. He said, however, the GMOA Executive Committee reserved the right to resort to trade union action if the doctors did not get favourable responses to their demands.
Besides the token strike by doctors, the public sector was also hit as senior staff members belonging to 19 different trade unions went on a 'work-to-rule' campaign. Among those who took part were the Sri Lanka Administrative Services Union, Sri Lanka Education Administrative Service Union, State Sector Engineers' Union, Sri Lanka Accountancy Services Union and the Labour Commissioners Union. Several meetings scheduled by state sector institutions, some with the public coming over to Colombo from the provinces, were cancelled. The Sri Lanka Policy Planning Services Association said one such meeting that was put off was with a delegation from the Japan International Co-operation Agency (JAICA) to discuss the contours of an agreement to assist Sri Lanka in the education sector.
In hindsight, it is clear that since the August elections the UFGG Government has not been in a position to keep track or monitor the political impact of many issues. It began with the different promises made ahead of both the presidential and parliamentary elections. Main among them is the commitment to deal firmly with mega corruption deals and misuse of power with little or no effort being made to bring such cases to courts. The unemployed have been offered jobs but unexpected opposition is now building up in the state sector. Perhaps, most of the Government's attention has remained focused on the aftermath of the Geneva resolution and fast tracking the issues raised in it. More so with the next UNHRC sessions due in March next year.
In the eyes of the people, the GMOA token strike came in for considerable criticism. So much so, their leadership was to retract their position that their action was not just a case of protesting the withdrawal of duty free vehicle import permits, a privilege and not a right, but other serious issues affecting the state sector. The GMOA received negative coverage as all media seem to have taken the side of the plight of innocent patients who were held to ransom by the GMOA trying to hit the Government. This notwithstanding, the transport for the public, remains a critical issue. Last month Civil Aviation and Transport, Minister Nimal Siripala de Silva came up with a proposal for a "train and bus integrated" service. In a memorandum submitted to the Cabinet of Ministers, he said "The Sri Lanka Transport Board (SLTB) has used few numbers of buses for bus-train integrated service under the prevailing situation of scarcity of buses. Further, the SLTB buses should be arranged for transfer of passengers during the period of closing the railway station section by section for repairs of railway line from Maho to Omanthai."
Minister wants serviceable buses in operation
He said it was "necessary to buy 500 new bus engines and 500 new gear boxes for TATA and Leyland buses of SLTB to put serviceable buses back into operation." He wants to put to use a part of the remaining US $ 40 million of Indian Line of Credit for this purpose. It was only weeks earlier Finance Minister Ravi Karunanayake alleged that there were serious irregularities in the import of buses in the past.
Minister de Silva has admitted in his cabinet memorandum that the "present decline in the train service" could be seen during the past few decades, particularly in freight services. He points out that "outdated and insufficient infrastructure facilities of Railways and undertaking rolling stock have been the main cause for this situation and consequently it has become very difficult to provide a comfortable, safe and efficient train service to commuters."
De Silva adds "This situation has resulted in train delays, cancellations and accidents. Further, integrated services of buses and trains could not be implemented successfully due to the difficulties in maintaining an adequate fleet of buses and therefore passengers have to face inconvenience in numerous ways. Since, more than 50 per cent of the Locomotives had exceeded their 30 year life span, maintenance and service had become extremely difficult. The reliability of the train service has become low because of old and outdated machines and running expenditure is increasing day by day parallel to the increase in usage of fuel. More than 150 passenger compartments have exceeded 33 years' service life by now and another 400 passenger compartments 24 years' service life. Besides the scarcity of locomotives and compartments of railway service, it is not possible to run even one extra train when passenger congestion is maximum. In addition, the railway signalling system has not yet been upgraded in some urban areas and is more than 50 years old. Frequent signal failures have increased train delays.
Therefore, the Transport Minister has recommended the purchase of six Diesel Multiple Units with air-conditioned passenger compartments (one coach set should comprise two engines and 12 passenger compartments), ten Diesel Electric Locomotives, 160 passenger compartments, 30 fuel tank wagons and 20 container carrier wagons. Three different lines – from Anuradhapura to Omanthai, Maho to Anuradhapura and the upgrading and development of the Kelani Valley Line are also to be undertaken. This again will be through the utilisation of the balance amount in the Indian Line of Credit.
Minister de Silva has said that US $ 40 million from the loan obtained as a Line of Credit from India still remains unutilised. Other than the rehabilitation of railway routes and purchase of a large volume of engines/gear boxes, the Transport Minister also wants to conduct a detailed feasibility study for the improvement of the Kelani Valley Line. Already, Colombo's streets are choking with too many vehicles on roads. That includes some which have been imported on duty free permits. The worst hit by this is public transport which the Transport Minister now admits is not working well, particularly the trains.
On the political front, for both President Sirisena and Premier Wickremesinghe, the challenges in the coming weeks and months are manifold. Sirisena has pledged to abolish the presidency (after his term expires), revert to an executive prime ministerial system and secure a victory for his party under his stewardship at the forthcoming local council polls. Yet, he has only a half of his SLFP MPs backing him now. For Wickremesinghe, it is different. He is focusing on economic development issues to place his party in an unenviable position when it comes to these elections.