Helping everyone to live within means
View(s):

I could not write my article last week as I had to go to Vietnam. I attended a funeral of a close associate of mine in Hanoi, the second largest city in Vietnam. My first visit to Vietnam was about four years ago. There is a vast difference between the Vietnam that I saw during my first visit and the one I saw this time.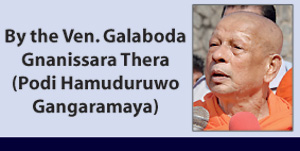 When I went last, the airport was small with only few amenities. Today it has all the required facilities. Roads have been redone. They are clean and attractive. They have built several new highways. The walls on either side of the roads have been beautified with mosaics done with pieces of marble. New lamp posts have been set up. The fields that were seen neglected four years ago have been well cultivated with rice and vegetables. Within a short time, Vietnam has developed fast. The people who ate one vegetable are now eating healthy food. They work 10 to 12 hours at a stretch instead of 6 to 7 hours they did earlier.
As I was reflecting on the two visits, a lady walked in with a plea to help her village. She is staying in Manampitiya East, on the way to Dimbulagala close to Batticaloa junction. She said: "Hamuduruwane, most people in our village earn a living by harvesting cane. It is now illegal to do so. But as we have to survive people do this on the sly. They also resort to sand mining. But their daily income is not worth the labour they put in. Only the businessmen become rich. Some do inland fishing, but because of the present floods this too cannot be done."
She was not asking for big things. She showed me a list from a few students at Manampitiya Maha Vidyalaya and the primary school of Nissankamalla Pura. The schools lack basic facilities. She produced a list of children needing shoes and books. She said I should check on the veracity of her plea before any help is extended.
I felt this to be strange. Anybody coming to our temple comes asking for help for oneself or for someone known to them. This was a different story. So I took the list to my hand and tried to give this lady her bus fare, but she refused. Gangaramaya was developed through the help of its benefactors and devotees. Therefore, we are unable to help anyone who comes asking for assistance. But on numerous occasions we have helped, taking into consideration the circumstances.
In our country many people ask loans and aid. Some people dressed in a monk's robe and carrying the begging bowl beg for alms. No one takes the trouble to check whether they are real monks. It is known that some do a lot of unwanted things clad in a yellow robe. The police and the Grama Niladharis should keep a check on this. Today it is a common sight to see elderly women with a cane bag in hand begging for alms at traffic lights. Begging is a big business. Elderly and sick persons from faraway villages are brought to the city and made to beg for a meager daily wage. If we were to write about the business of begging, it will be a long story. It is also well known that along with begging, drug peddling and prostitution are rampant. We wonder whether the law enforcement authorities know about this.
Not only do they misuse the yellow robe, some people use the Christian cross for their evil deeds, tarnishing the image of Christianity. So I believe the people of all religions should get together to fight as a group against these manifestations.
Those days many young women came to the city to work in garment factories. Today, there are only a few garment factories in business and a large number of young women find work in shady businesses which operate under the guise of salons and spas. Some young women join dancing groups or work as therapists. They do what is not expected of them. Women who should be future mothers are involved in these activities at the expense of their morals. Who is monitoring the type of work that is given to women? Who is monitoring the institutions that lure these women for prostitution? It is a known fact that some of the so-called Ayurvedic centres and spas offer women for unwanted activities. The law is largely silent. There is both good and evil in TV, the mobile phone and Facebook. But some cannot differentiate between the good and the evil.
Recently the salaries of the public servants were increased. But many people are not public servants. There are self-employed people who have to work hard to earn a living. Since the salaries were increased the Government had to impose taxes to recover part of the money. This has hit the small businessmen and the self employed. Are we to wait for another election to have a look at this? There should be uniformity in dealing with everyone. If the public servant is benefited, so should the others. We don't see this happening. People need to buy at least certain basics such as rice, sugar and dhal. If taxes are removed from these essentials or even reduced, it will help ease the situation to some extent.
I am suggesting that we do away with the taxes imposed on the day-to-day essentials of the poor, school books, school equipment and basic medicines. Otherwise, the Government must give at least a reasonable tax relief. If this is done, there is no need to increase salaries. People ask for an increase in salaries because of the increasing prices of essentials. It is not proper to increase the salaries and let the taxes to drive the prices up, if the economy is doing well as claimed.
Today, almost every house has a fridge. But in some houses, we cannot find even a bottle of water in the fridges though they are on 24 hours a day. They buy a fridge just to show off. Those who washed clothes by hand can still do so. But since others have washing machines, they also buy washing machines.
There is a talk going around these days that an increase of salaries is imminent in the private sector. But are they doing work in keeping to the salary that they now draw? If we take the masons or for that matter any worker, how many of them are doing an honest job of work? Since Sri Lankans are asking for higher salaries, some plantations and even garment industries have hired foreign labour with or without visas to do their work. Has a census been done on this? This is a great danger. The country has allowed such loopholes to appear.
I have to tell you that some young men and women enter the Gangaramaya Temple clad improperly, holding hands as if they are going to the beach. When I see them I ask them to leave. I maintain strict discipline here. So those who are in charge of discipline of the country must also do so likewise. Only then can we maintain and develop our country. If you have any comments and suggestions please write to:
Ven. Galaboda Siri Gnanissara Thera, Gangaramaya Temple, 61, Sri Jinarathana Road, Colombo 02.