Cub Pack Holiday 2015 – Wattala Ja-Ela Scout Association
View(s):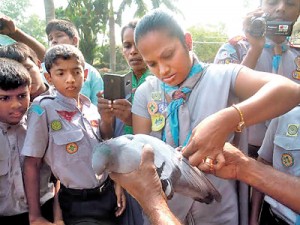 The Cub Pack Holiday 2015 which was organized by the Sri Lanka Scout Association Wattala Ja-Ela district branch was held at Lyceum International School, Wattala. Cub scouts of different schools participated in fun activities, such as outdoor challenging activities, entertainment activities, educational and awareness programmes, excursions, talent show etc.
Adventure, water activities, obstacle race, nature and energy conservation, team games, science & technology, intellectual and craftsmanship were the main categories under outdoor challenging activities. The first time in scouting history a message from the chief commissioner was received by a pigeon, and cub scouts also got an opportunity to send messages by pigeons. This was an exciting event for them.
The main objective of this cub pack holiday 2015 was learning by doing and the physical, intellectual, social, emotional and spiritual development of cub scouts.