Sasha's Green Carpet
By Shireen Senadhira
View(s):
On a lazy Sunday afternoon Sasha lay on a new green carpet in the upstairs salon of her home with a book. She had a gooey toffee in her mouth, and munching happily opened her book and began reading.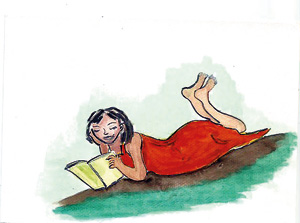 After some time, she felt as if the carpet was curling its borders upwards. "Green carpet," she said, "why are you doing this?
"I must move about a little otherwise
I will get stiff lying all day and night."
Sasha giggled. "But, you are a carpet and you must lie on the ground day and night."
"Yes, that's quite right but sometimes I think about my friends, the other carpets, hanging on the walls in Istanbul."
"Istanbul! Is that where you came from?"
"Little girl, if you like you can come with me to visit my friends."
" Pooh! Can you do that? Are you a flying carpet?"
"Indeed I am." "WHAT?"
" Yes, yes, now sit yourself in the middle."
Sasha did so and away they went. Sasha felt herself wobbling a bit and then the carpet lifted itself up and flew slowly round the salon and then whoosh, it flew out of the window. This is really good thought Sasha, wait till I tell my friends at school tomorrow.
She sat comfortably and felt the wind rush by. Sasha liked the wind gushing on her face. There was a blue scene under and above. Guess, it's the sea and sky. Soon there was a yellow scene. Wow! It must be the desert. How could it have come so quickly thought Sasha. She heard the carpet chuckle as if reading her thoughts. Sasha bent on adventure, thought let's see what will happen next.
Then in the distance she saw some blurred buildings. Then, quickly she saw that the outlines were dome shaped and minaret like. "I can't believe but is that Istanbul? Yes, there it is lying beautiful and shimmering in the sun."
The carpet came above the buildings and it went round in a wave-like motion and then it dipped and dipped again
and went swoosh in through a high doorway.
The carpet gently lay on the ground. Sasha got up and walked in the room. It was full of carpets. There were the most magnificent carpets hanging on the walls and they looked like tapestries.
The green carpet was flying low from room to room with Sasha running behind and then he started talking to another blue carpet just like him except for the colour. The green carpet told the blue carpet where he was staying in Colombo, Sri Lanka, with coconut trees fringing the beach and the coconut fronds swaying like ballerinas in the wind.
"It must be a delightful place," said the Blue carpet, "though I can't see the date palms swaying thus. They are rather stiff in their stance." "Heh heh," chuckled the green carpet. Then seeing Sasha listening introduced her as a friend. "Hello, you live among beautiful carpets," Sasha said.
"Sasha, let me tell you that women in villages have been weaving for centuries all over the Middle East and each woman passes down her techniques and designs to her daughters. These carpets were not only for floor coverings, they were ornate works of art that indicated the status and wealth of their owners. Ornamented ones were used as wall hangings and some used as prayer mats too. They were presented as impressive gifts to other rulers by emperors and sultans." Sasha went round looking at the carpets with more interest.
"Why don't you show Sasha the
Blue Mosque and the Hagia Sophia?"
"Yes that a good idea."
"Why don't you come along?" asked Sasha. "I am tied securely here."
"Oh I will loosen you," said Sasha and immediately loosened the strings that tied the blue carpet to the wall. She had to get on a ladder to do the top strings. "Hop on Sasha," said the green carpet. The two friends with Sasha clutching her book flew through a large window to the sky. Then, they circled a dome shaped building with minarets and went through a high archway into the Blue Mosque. Sasha saw the decorative tiles on the wall and floor and the mosaic paintings of this round building.
The blue interior made the place cool.
All the while the two friendly carpets were talking of the Ottoman Empire and how it began and when Istanbul was conquered, what an important and strong empire it was.
Next, they went to the Hagia Sophia
which was an orthodox church originally, then made a mosque by the Ottoman Empire and now it served as a museum. Later, they saw the Topkapi Palace which was built as a place of grandeur for the emperors of long ago and now a grand museum.
Before flying home they went to the carpet house and Sasha helped tie up the friendly blue carpet as it was, on the wall. Next stop was home and they landed in the upstairs salon. She heard her mother calling. She stood up. "Funny I feel as if I never left this place," spoke Sasha to herself. "Good heavens. Was it all a dream?" She ran down the stairs and told her mom that she had been to Istanbul on the green carpet.
"Alright dear, we will talk about it another time." said mother. "Get ready as your cousins are coming over for tea and dinner and I need you to help me to do much in the house too." There was no more chance to tell her mom about her travels.
However, in class Sasha got the best essay marks and won the history prize at term's end. Her friends said "Congratulations, Sasha the Pasha."