Measuring the Maturity of the Sri Lankan electorate
View(s):

If Sri Lanka's political and legal history since independence demonstrates one fact, it is the fundamental dishonesty of those whom we elect to serve us. Even the rare exceptions to this rule have failed to emulate an Ambedkar, a Gandhi or a Nehru whose visions and dreams lifted Indian society from its depths and fashioned an inimitable national spirit which carried that country through decades of communal turmoil. This has been our singular loss.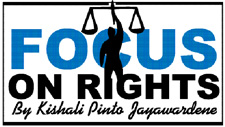 Lofty sentiments and ugly realities
Insisting on a rights discourse when drafting salient paragraphs of India's Constitution for instance, Dr Ambedkar warned that 'for a successful revolution, it is not enough that there is discontent.' As this bespectacled advocate of the underprivileged observed, there needs to be a profound conviction of precisely what changes we seek, what rights we demand from politicians and collective determination to ensure their outcome. India has done relatively well in that regard. Not so, Sri Lanka.
This month marks the barbaric massacring of ordinary Tamil civilians more than three decades ago even as we still vainly struggle with ensuring rudimentary norms of democratic rule, let alone addressing far more complex questions of justice. The nation witnesses this week, the ugly sight of former President Mahinda Rajapaksa behaving much like a common street thug in attempting to pummel an over-enthusiastic supporter grasping his famous (or rather, infamous) ring finger during a campaign meeting. As these images are beamed across the world, one can only shudder at the impression that is conveyed of the country.
To these bizarre happenings, one must add much needed comic relief as an ex-Chief Justice of Sri Lanka mounts the political stage of the former President quite irrespective of his own apology issued not so many months ago in regard to freeing that very same worthy from alleged financial misconduct in the Helping Hambantota case. Indeed, the coming together of Sarath Silva and Mahinda Rajapaksa was quite predictable in many respects. The one wonder was why it took so long. Let us rest with that pungent observation for the time being.
The choices before us
Essentially the choices before Sri Lankan voters come August 17th are simple. Will we applaud the political cunning of the former President in seemingly triumphing over President Sirisena, now party leader only in name, whose idealistic belief in compromise was twisted to engineer a Rajapaksa return? Certain economic and institutional ruin can only follow if so.
Or will we hold our noses and vote for the United National Party (UNP) believing even uneasily that its leaders may have learnt from their 'yahapalanaya' mistakes? Yet the alleged Central Bank bond scandal continues to haunt the UNP campaign and raise questions of financial accountability. This is quite apart from the antics of former UPFA Ministers who stayed deathly quiet when the Rajapaksa daylight robbery of public funds occurred over the years but now wax eloquent on this matter.
In fact, the over-enthusiastic attempt by the UNP to prevent discussion and discussion of the documentation placed before the COPE committee first by threatening privilege of a 'dead' Parliament and then dizzyingly applying for but thereafter withdrawing an application for an injunction in court has only aggravated the dispute. Certainly these are ham handed tactics not worthy of a party once known for its deft political maneuvering.
The dangers in constitutional compromises
Between these uninspiring choices, the strength demonstrated by President Sirisena in exercising the powers of his Office in accordance with his January mandate is crucial. Rather than personalizing the problem as a simplistic question of Rajapaksa evils, the President's recent identification of systemic failures of the political system is welcome. His assertion that he was reluctantly amenable (a better word is hopelessly vulnerable) to the cross play of political currents in order to get his Bills passed during the 100-day period of the transitional government is well and good.
But the fact remains that the 19th Amendment was an emasculated creature, agreed to in the best Sri Lankan traditions of compromised constitutional amendments that deceptively appear as if they are a great advance on what existed before. Quite apart from discarding the earlier apolitical majority of the Constitutional Council and refusal to strip away Presidential immunity wholesale, it completely bypassed the prohibition on the distasteful practice of parliamentarians crossing over the floor for gain. In fact, even the mild prohibition that such questions should only be decided by the Supreme Court was discarded after pro-Rajapaksa parliamentarians of little ethics and even less shame objected. No doubt we will see the same old games defeating the electoral outcome in the coming Parliament as well. Public agitation must ensure that this is not the case.
Sri Lankan voters will, of course, have the third alternative of preferring the Janatha Vimukthi Peramuna, which, to give the party due credit, has engaged in a bold transformation of itself. This must assuredly be in the hope that it will act as a buffer to the misdeeds of both major parties.
Grateful for small mercies
In the meantime, we may note that state resources and the state media are not being ruthlessly abused for electioneering. In that salutary spirit of being grateful for small mercies, we need not turn away from drunk and boisterous 'Nil Balakaya' revelers arriving in hundreds of state buses to election venues to worship in veneration before a ruling family cabal. The Commissioner of Elections has asserted himself to the extent of prohibiting repeated telecasts of President Sirisena's address to the media which was fiercely critical of the former President now contesting for an ordinary MP's seat.
Granted, these are changes that would have been unthinkable during the Rajapkasa era. In the final result, the President's request to elect individual parliamentarians capable of taking the peoples' verdict in January 2015 forward (regardless of divisive party politics) must remain as the single most important deciding factor as each and every citizen traipses to the polling booth on August 17th. The way the vote turns on that day will be a true test of the maturity of the Sri Lankan electorate.