Sri Lanka: Twenty one million dreams. One planet, consume with care
View(s):

The British Council celebrated World Environment Day on June 5 and 6 with activities for every age group. In Colombo, the events commenced with an evening talk for adults. Deputy Country Director David Maynard touched on the importance of green initiatives at the British Council and guest speaker Anosha Koralage discussed 'many small ways of contributing to save the environment'.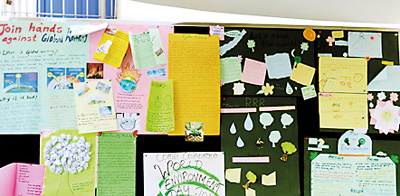 Anosha focused mostly on practical measures that could be easily done at home such as reducing font sizes by 1 point leading to saving pages, as well as being a vegetarian for a day. She outlined the concept of the 7Rs being for example Reduce, Reuse, Recycle and explained in detail the importance of each of these words.
Young learners had storytelling sessions with the main theme being 'saving trees the next day followed by paper making demonstrations using old paper, a blender and interesting wooden tools. In a craft workshop children made plastic bottle gardens, where the concept Reuse was really illustrated.
The event ended with Country Director Keith Davies planting a Kohomba tree in front of the British Council.
British Council Kandy organised two main events -a poster competition and a quiz which was held on June 5.