'Sooriya -Namaskar' at Galle Face Green
By Vinusha Paulraj
Yoga enthusiasts, veterans and curious first-timers take part in the inaugural Yoga Day celebrations
View(s):

Palms joined, pointed skywards, Galle Face Green was speckled with Yoga enthusiasts, veterans and curious first-timers engaging in the 'Sooriya -Namaskar' last Sunday. June 21 was named the official Day of Yoga by a record number of 177 co-sponsors by the United Nations last year, celebrating India's historical contribution to holistic health and Colombo was an enthusiastic participant at the inaugural Yoga Day celebrations across the world.
The declaration of the International Day of Yoga followed a convincing address to the United Nations General Assembly last year, on the benefits of Yoga by Indian Prime Minister Narendra Modi. Meditation sessions to the sound of the waves left High Commissioner of India to Sri Lanka, Y. K .Sinha feeling there couldn't have been a better backdrop to venerate the "ancient discipline", on the shores of the Indian Ocean." Paying homage to Pathanjali and the texts which have preserved the Pre-Vedic lifestyle, he said that the pronounced awareness of oneself is the vital contribution Yoga has to offer.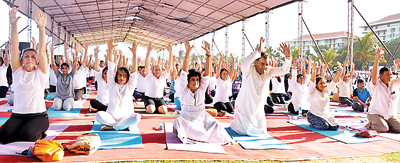 All 13 recognised institutions dispensing the benefits of Yoga in Colombo were on board with the celebrations. Offering those gathered a taste of the various different aspects of Yoga, workshops ranged from the calming meditation, self administered cleansing massages to the empowering awakening of inner energy.
Last Sunday's event was only the start – more events have been lined-up through out the course of the month. More information is available at the Indian Cultural Centre.