Pavement vendors have their way while pedestrians, shopkeepers have no say
By Leon Berenger
View(s):
Road users, mainly pedestrians in the city centre such as Pettah and Fort, will now be forced to share the pavements with hundreds of hawkers who were this week permitted to return to the area after they were evicted some two years ago.
Colombo Mayor M. Muzammil gave the green light to these traders for a limited period owing to the oncoming Ramadan festive season in certain areas in Pettah and Fort, but there are fears that the hawkers have come to stay and would spread elsewhere as well.
Some of the road users both pedestrians and others shared their thoughts with the Sunday Times on this festering issue. "With the hawkers taking up much of the space on the pavements, we will be forced to use the road that is already choked with vehicular traffic, thereby risking life and limb," says Michael Ranasinghe a clerk at a private computer software firm. We had this problem earlier and heaved a sigh of relief when the hawkers were evicted, and it should have stayed that way, whatever government is in power.
His views were endorsed by S. Kaviratne who said that the worst affected areas will be locations close to the Fort Railway Station, Pettah Bus Stand and other busy junctions in and around the city. "It is these particular areas where thousands of people rush to catch a train or whatever to their workplace or homes, and with congested pavements it will restrict the movements of an individual.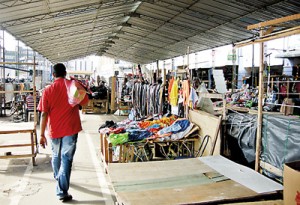 A.P.A. Anura who travels to the city from Weligama, sells mosquito nets for a living, and was fuming at the sight that greeted him this week, as he made his way past the horde of pavement hawkers to purchase fresh material from a shop. "These pavement hawkers are everywhere and it was with a great effort that I was able to reach my destination owing to the congestion on the streets, and the language used by some of the vendors is offending, it even embarrassed by daughter who was accompanying me," he said.
Businesswoman Priyani Silva trades in readymade garments which she supplies to the shops in Pettah and Fort. But now the situation has changed for her with the re-entry of the pavement hawkers. She said that some of her known buyers had put on hold further purchases, explaining they would now have to compete with the traders on the pavement, and did not want to risk more investments.
"This is terrible news because I have been doing this business for more than a decade, and now this latest development. If this trend continues I will have to look for an alternative small-time business, or even seek work elsewhere," she told the Sunday Times. Three-wheeler driver K.K.D. Nuwan is also having a hard time these days, because there is no space to park his vehicle while waiting for a customer.
"Earlier I used to park the vehicle alongside the pavement, but this cannot be done anymore owing to the traders," he said.
Meanwhile, shop owners and other registered outlets are fuming at the unfolding developments which they fear is a threat to their individual businesses.
Already having to pay heavy taxes and other fees to the relevant authorities, they now are forced to face the possibility of a drop in their own sales. "Look at it this way. Our customers are provided a receipt for every purchase according to the required regulations, and furthermore the products are priced and guaranteed for a period of time.
Sadly though, this is not the case on the pavement, as cheap look-alike items whether they are mobile phones, laptops or any other item are smuggled into the country through various channels, and therefore, not documented. These items are sold at rock-bottom prices, and the unsuspecting buyer is taken to the cleaners. The only person to gain is the pavement hawker," said Ismeth Jubail who operates a mobile phone accessory outlet in the Fort.
Among the new wave of pavement hawkers that re-settled in the city this week are those who had been provided alternative spaces earlier in certain locations in the city. They claim that the spaces provided by the authorities were situated in the city's interior with few customers and poor business, and therefore, the reason to get back to the pavements where the people are.
One such person is Leelananda Somaratne who was provided such a space along Malwatte Road in Fort along with 250 others some three years ago but the pickings were poor-or so he claims.
"Business is better on the pavements because many people are moving in a hurry either to get to their workplaces, home or other appointments and, therefore, they have very little time for bargaining and the sale is completed in quick time," said Somaratne who deals in colourful and cheap Chinese made wristwatches.
His claims are echoed by several others situated at the same location, and they have no intention of going."The pavement is where will stay in the future, and towards this end we have received the nod from the relevant authorities, although some have other thoughts," several of them stressed.
For their part, the authorities are in conflict over the new developments with different statements being put out from either side of the political divide. Colombo Mayor M. Muzammil insisted in a statement issued this week that the CMC as a policy has not allowed any pavement hawking in the city.
However, exceptions were made during festive seasons to allow pavement hawkers to operate on one part of Main Street, 1st Cross Street, 2nd Cross Street and 3rd Cross Street in Pettah only. It is important to emphasise the fact that these pavement hawkers will only be in Pettah in the said areas, and will not be allowed to filter out into other parts of the city, he said.
Meanwhile, Western Province Chief Minister Prasanna Ranatunga has called for an immediate re-think on the matter and is reported to have taken the matter up with President Maithripala Sirisena.