Now in Lanka: Heart Panel the heart disease detector
By Kumudini Hettiarachchi
It can predict 95 percent of all known heart ailments due to a person's genes
View(s):
It is the wonder organ around the size of a fist that keeps us alive and even though sometimes we feel it thudding, its functioning is mostly taken for granted. The 'amazing' heart beats about 75 times a minute and moves around 5.5 litres of blood at a given moment around the body. This ultra-efficient 'pump', working in tandem with the lungs, has the onerous double-task of sending blood through the circulatory system to provide oxygen and nutrients to the body, while removing carbon dioxide and waste.
However, if the heart is diseased, the consequences are dire and the diseases which affect the heart could either be genetic or non-genetic. For the first time in Sri Lanka, a 'Heart Panel' has been introduced by Credence Genomics to identify the culprit genes which could create heart problems.
"All of the 79 genes linked to heart disease can be identified by the Heart Panel," says the Joint Managing Director of Credence Genomics, Raj K. Omprasadham, explaining that while it is a first in Sri Lanka, even in Southeast Asia there are only a "few" places engaging in this type of genetic testing.
It is cutting-edge technology in the form of Next Generation Sequencing (NGS) which can predict 95 percent of all known heart diseases due to a person's genes, the Sunday Times learns. Explaining that in Sri Lanka, people go to the doctor only when something goes wrong with their hearts, Credence Genomics Joint Managing Director Dr. Vaz S.S. Gnanam points out that then there is only treatment of the symptoms.
However, in the interim there could be cardiac death, he says, reiterating that in the case of heart disease due to one's genes, now there is accurate testing to take stock and prevent such a scenario. Dr. Gnanam then explains that the three areas where people can get a heads-up whether they are genetically-vulnerable to heart disease are aortopathy, arrhythmia and cardiomyopathy.
Going into detail, he says:
Aortopathy — With the aorta being the main artery that circulates oxygen-rich blood to all parts of the body, these are a group of complex, related disorders which are characterised by defects in the aorta, which can be caused by inherited gene mutations.
These defects include aneurysms and dilation or tortuosity (twisting) of the aorta linked to connective tissues and the aorta's structure and function.
More than 15 genes have been implicated in aortopathy with diverse mutations leading to a variety of syndromes or disorders such as Marfan Syndrome (FBN1), thoracic aortic aneurysms, Dissections Syndrome (MYH11, ACTA2) and Patent Ductus Arteriosus (MYH11).
Arrhythmia – All to do with the heartbeat, an arrhythmia is any change from the normal sequence, resulting in abnormal heart rhythms. Although they may be harmless, if they last long, the heart rate may become too fast, too slow or have an erratic rhythm leading to a life-threatening situation. Some arrhythmias could be due to genetically-inherited mutations. These 'genetic arrhythmias' could lead to Brugada Syndrome, Long QT Syndrome, Catecholaminergic Polymorphic Ventricular Tachycardia (CPVT) and Cardiac Conduction Disease (CCD).
Cardiomyopathy – Defects in the heart muscle could cause this condition resulting in the muscle becoming enlarged, thick or rigid. As the condition worsens, the heart becomes weaker and less able to pump blood, leading to irregular heartbeats or heart failure.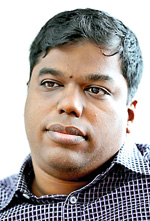 A gene mutation may cause cardiomyopathy in addition to other factors. More than 1,000 mutations are associated with this disease and could cause Arrhythmogenic Right-Ventricular Cardiomyopathy (ARVC), Dilated Cardiomyopathy (DCM), Hypotrophic Cardiomyopathy (HCM) and congenital heart defects.
Credence Genomics has been into research and development since 2011, going public in February this year with its breast and colorectal cancer testing and tumour hotspot testing which supports personalised medicine. Its laboratory also screens for genetic disorders, carries out newborn screening and also performs analytical testing to identify both infection-causing bacteria and fungi.
Building on these is its latest addition which is the Heart Panel which includes 'HeartFlow', 'HeartBeat' and 'HeartMuscle'.
"In Sri Lanka, currently what is happening is that people seek medical help when symptoms arise. Sometimes, these symptoms are quickly followed by complications. The Heart Panel for genetic heart disease is an early warning system to arm people with knowledge," says Dr. Gnanam, adding that even though one cannot change one's genes, there are numerous measures that can be taken to pre-empt the heart from becoming diseased.