35 dead as Syria forces repel attack on airport-monitor
View(s):

BEIRUT, April 11, 2015 (AFP) – Pro-government forces repelled an attack on a key Syrian airport during a fierce battle in which they lost 20 fighters but killed almost as many militants, a monitor said Saturday.
"There was an attack on the outskirts of the Khalkhalah military airport in Sweida province on Friday," said Rami Abdel Rahman, the head of the Syrian Observatory for Human Rights.

The forces loyal to President Bashar al-Assad had been able to maintain control over the airport and its surrounding areas despite losing 20 fighters. At least 15 militants were killed.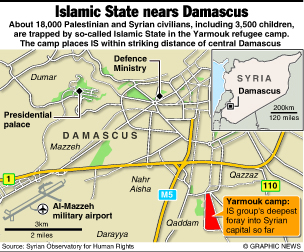 Although the Observatory was awaiting confirmation on the identity of the attackers, Abdel Rahman told AFP they were likely to have been jihadists from the Islamic State (IS) group.
Khalkhalah airport lies along a major highway that links the regime-held provincial capital of Sweida to Damascus.
"The area is important because it's Druze and borders Damascus province," Abdel Rahman told AFP, referring to the minority sect that considers Sweida its stronghold.
"The red lines that had been in place about attacking these areas have been broken." The regime of President Assad claims to protect Syria's minorities against foreign-backed Islamists.
But attacks on minority communities have increased with the rise of IS, which regularly targets such sects in Syria, as well as Sunnis who it alleges have violated its interpretation of Islam.
On March 25, Syrian rebels and Islamist fighters seized control of the town of Bosra al-Sham, which is south of Sweida but located along the same highway as Khalkhalah airport.
More than 215,000 people have been killed in Syria's four-year war, which is increasingly dominated by jihadist groups.
IS in Egypt claims soldier'sexecution-style killing
CAIRO, April 11 (AFP) -Egyptian jihadists who pledged allegiance to the Islamic State group have posted a video online appearing to show them shooting dead an Egyptian soldier and beheading another captive.
The video, uploaded overnight on social networks, shows an individual telling the camera that he is an Egyptian soldier who was captured in an ambush on an army outpost in North Sinai on April 2.
Attacks claimed by jihadists that day killed 15 soldiers and two civilians near the regional capital of El-Arish, the deadliest assault for months despite a massive army campaign against insurgents on the Sinai Peninsula.
The video then shows the soldier being shot in the head by a masked militant after another unidentified captive is beheaded.
A security official said the soldier's body was retrieved a day after the El-Arish attack.
The Egyptian IS affiliate Ansar Beit al-Maqdis has in the past carried out similar execution-style killings in Sinai of people it accused of spying for Israel.
The group changed its name last year to the Sinai Province after pledging allegiance to IS, which controls territory in Iraq and Syria.
The group, which has claimed several sophisticated attacks in Sinai and the Nile valley, now wants to establish a province of the self-declared IS "caliphate".
After the army ousted Islamist president Mohamed Morsi in July 2013, militants claimed a string of deadly attacks against security forces which they claimed were in retaliation for a deadly government crackdown against Islamists.