Just question their motives, maama
View(s):

My dear Mahinda maama,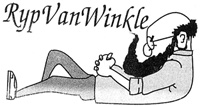 I thought I must write to you again because, after losing your job and going home to Medamulana, people are still talking about you, especially after what happened at Nugegoda this week. Honestly, Mahinda maama, I am not really sure whether I should be happy or sad about your plight.
When Wimal, Vasu, Dinesh and that young upstart Udaya said they were organising a meeting at Nugegoda, no one took any notice. After all, the noise that these people or their parties make is clearly out of proportion to the support they command among the people.
When you were visiting poor Tissa in prison, you were asked about the Nugegoda rally. You then repeated Duminda's famous words, 'mama danne nehe' and appeared as if you knew nothing about it. Why, Mahinda maama, don't you watch TV or read the newspapers when you are at Medamulana?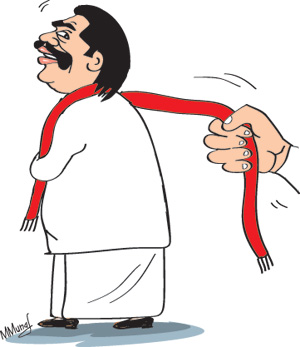 Then, when the Blues held an important meeting to decide who their office bearers would be, they too were asked about this meeting. They said they had nothing to do with it and would not attend it. Yet, some of the Blues were there, although they were not the real big names in the Blue camp.
Anyway, what has got the whole country talking is the large number of people who attended the rally. Rajitha has said that twenty-two buses were used to transport people to the rally but then he is also the person who said that the Chief Justice has agreed to resign, so we can't really take his word for it.
What intrigued me was the letter you had sent to the meeting, Mahinda maama. If I correctly heard what that chap who thinks he is a political scientist read out, it said something to the effect that you wouldn't ignore the invitation that is being extended to you by the people!
But pardon me, Mahinda maama, I thought you had only a few days earlier written to the Blues, promising your full support to them and their new leadership. So, I am wondering whether this 'letter' was also something like Tissa's 'hora givisuma' which was found in a file lying on a table?
Anyway, why so many people are excited is because the rally was a success. In their minds, some have already made you the prime ministerial candidate for the general elections. Others have already appointed you the next Prime Minister. Never mind Ranil, imagine how poor Nimal must be feeling!
I don't know whether you realise it, Mahinda maama, but I foresee a small problem here. If you want to be the prime ministerial candidate you need to contest from the Blues, don't you? And, the way things are now, it is difficult to see how Maithri, Nimal (or Satellite for that matter!) will allow that.
Some Blues — like a few of them who turned up at Nugegoda the other day — would want to see you back in action but it would take much more than one rally and Wimal sahodaraya shouting at the top of his voice to convince the Blues that you are still their best hope — when they have only just got rid of you!
You have been in this game for a long time now, Mahinda maama, and no matter what your faults are, no one could accuse you of not being a smart politician — except, of course, when you listened to that Sumanadasa chap and called for elections, when you could have carried on for two more years.
You must also know that without you as their leader, Wimal, Dinesh, Vasu and Udaya have a following that could be collectively accommodated in the twenty two buses they are supposed to have brought — and no more. So, to try and win an election and become Prime Minister with them is silly.
Besides, that would also split the votes of the Blue votes right down the middle as some of them would want to vote for you. That would have the Greens laughing all the way to the next Parliament because they will then be able to win the contest — and Ranil will again be Prime Minister!
I know you must be thinking about all this, Mahinda maama. Instead of thinking what Wimal, Vasu, Dinesh and Udaya want you to do, you should think about why they want you to do that. Maybe you should also ask yourself whether they would have invited you, if they could win the race on their own.
We hope you will arrive at the most appropriate decision, Mahinda maama. We believe that you did your duty to the nation by eliminating terrorism and that is what we want you to be remembered for — not as someone who overstayed his welcome, and then became a distant third in a two-horse race.
Yours truly,
Punchi Putha
PS: At Nugegoda, Wimal sahodaraya was bragging about how his spouse had not been arrested despite the allegations against her and said she was waiting to respond to those charges, but now it seems her whereabouts are unknown. Mahinda maama, with friends like these, who needs enemies?