House unites to approve legislation for the people's benefit
By Chandani Kirinde,our Lobby Correspondent
View(s):
Government gained Parliament approval this week for two vital Legislations that would, to some extent, help overcome its challenges in the international arena, both from the UN Human Rights Council (UNHRC) as well as the European Union (EU).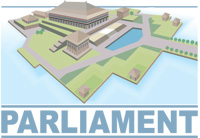 The long pending Bill to provide protection to victims and witnesses of crime, a key demand of, both the UNHRC as well as activists in the field, was approved by Parliament on Wednesday. The previous Government's pledges to introduce the Bill goes as far back as 2008, which it reneged on getting it passed by Parliament.
Justice Minister Wijeyadasa Rajapakshe who introduced the Bill, said it is was long felt need of the country, and would ensure justice for both victims of crime as well as witnesses, while safeguarding them from threats, harassment and intimidation. The Bill was passed unanimously, with members from all parties stating it is a progressive move that would serve the public well.
The Government also gained approval for amendments to the Fisheries and Aquatic Resources Act, to impose heavy fines on Sri Lankan fishing vessels that violate international regulations, in a bid to reverse the EU ban that has been in place since January this year, on the import of fisheries products from Sri Lanka.
Foreign Minister Mangala Samaraweera who visited Brussels recently to hold discussions on the matter, told Parliament that it was vital for the country's economy to get this ban reversed. "This Bill amply demonstrates the political will of the new administration to get this ban reversed as early as possible," the Minister said.
Parliament also approved the National Authority on Tobacco and Alcohol (Amendment) Bill which makes it mandatory for pictorial warnings to be displayed covering 80 per cent on either side of cigarette packets sold in the country.
The Legislation was introduced as an Urgent Bill in keeping with the 100-Day programme of the Government, and also in keeping with a personal pledge made by President Maithripala Sirisena to introduce tough anti-tobacco legislation. The President, during his tenure as Minister of Health, repeatedly attempted to bring about the 80 per cent pictorial warnings on cigarettes packets, to no avail.
While co-existence between the different political parties in Parliament worked well this week, questions about some of the dealings by those in the previous regime brought to light how colossal amounts of public funds had been used for various purposes, at the whim and fancy of officials and their political masters, with complete disregard for laid down procedures for use of State funds.
Millions had been spent to pay foreign public relations agencies to bolster the image of the country abroad, with selections of these companies being done randomly. Details of the vast sums of money spent on the Commonwealth Heads of Government Meeting (CHOGM) 2013. held in Colombo, also came to light.
A matter of interest in Parliament this week was Leader of the Opposition Nimal Siripala de Silva moving a motion seeking three months leave of absence for MP Basil Rajapaksa, a powerful minister of the old regime. When the motion was moved, JVP MP Anura Dissanayake queried the reason given for taking several months off from Parliament. "Does he want study leave or medical leave," he asked?
The Opposition Leader said no reason had been given by Mr Rajapaksa, saying, if anyone opposed it they could object to the motion. However, there was no objections and leave was approved.