Rs. 400 m spent on foreign advisors for domestic HR inquiry
View(s):

Central Bank makes payments without Cabinet sanction for the past seven months
Mangala requests Kerry and Ban Ki-moon to delay UNHRC report
NPC 'hardliners' bring 'genocide' resolution; growing  pressure to book those who plundered public funds

The National Unity Government is exploring ways and means of delaying the investigation report on alleged war crimes in Sri Lanka being presented at the United Nations Human Rights Council (UNHRC) next month. The Government wants it taken up only in September. The investigation led by three experts, Marti Ahtisaari, former President of Finland, Sylvia Cartwright, former High Court Judge of New Zealand and Asma Jehangir, former President of the Human Rights Commission of Pakistan, has been going on since June last year. The report on their findings is due at the sessions that begin on March 2.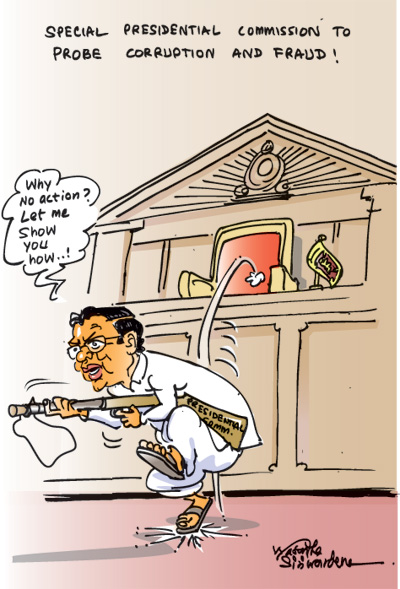 On a visit to Washington DC this week, Foreign Minister Mangala Samaraweera, a Government source said yesterday, "explored" the issue when he met US Secretary of State, John Kerry last Thursday. The idea, the source said, is to put in place a "credible domestic mechanism" to carry out a probe. The US, the source said, is extending its "fullest support." Samaraweera told Secretary Kerry that the National Unity Government had won a mandate from the people and needed time to put in place the pledges made to the people. Kerry had acknowledged that the focus should be to move forward and restore full relationship between the two countries.
According to the State Department website, Kerry in a welcome speech from the Treaty Room said, "This is an exciting moment for all of us here because Sri Lanka on January 8 had an historic election in which there has been, really a vote for change, a vote to move Sri Lanka in a new direction, to open up greater accountability and possibility for the preservation of human rights, for democracy, for fighting corruption and putting together a government that will speak for and to the people. And we're particularly excited about the 100-day plan that the new government has put forward…." In his response Samaraweera was quoted as saying "….I come here at a time when Sri Lanka is going through a democratic revival and we have embarked on a very ambitious programme …. We are giving pride of place to the reconciliation programme because we believe in a new Sri Lanka based on the principle of unity in diversity….And my job I feel is to ensure that we put back our relations to an irreversible state of excellence in the coming months…"
Samaraweera travelled from Washington DC to New York by express train. There he met Samantha Power, the US Ambassador to the United Nations, her deputy (former US Ambassador to Sri Lanka) Michele Sison and Kenneth Ross, head of the Human Rights Watch (HRW). The highlight of the New York visit was the meeting with UN Secretary General Ban Ki-moon on Friday. Here again, Samaraweera discussed with Ban the possibility of delaying the presentation of the report on Sri Lanka at the Human Rights Council. Ahead of that meeting, from Washington DC, Samaraweera telephoned Zeid Ra'ad Al Hussein, the UN High Commissioner for Human Rights. It was to apprise him of his impending meeting with the UN Secretary General. After the meeting ended, he made a second telephone call to Zeid from New York to give him details of the meeting he had with the UN Chief. Samaraweera is due to meet Zeid in Geneva next month. Upon his return to Colombo, he will fly to Beijing for a two-day visit beginning February 27. Thereafter, he will fly direct from the Chinese capital to Geneva. The UNHRC sessions there begin on March 2.
Millions spent
While these efforts were under way this week, elsewhere a different aspect on the same matter was playing out. A "domestic inquiry" of sorts former President Rajapaksa initiated last year has become the focal point of attention. Such an inquiry came about when he extended the mandate of the Commission of Inquiry probing (from August 2013) thousands of persons who have gone missing. On July 17 last year the Commission was additionally tasked to investigate and report on the principal facts and circumstances that led to the "loss of civilian life during the internal armed conflict that ended on May 19, 2009."
For this purpose Rajapaksa issued a proclamation appointing a team of international advisors. The first four to be named were Sir Desmond de Silva, QC Sir Geoffrey Nice, QC, Rodney Dickson, QC, all three from the UK and David M. Crane from the United States.
For just seven months — from July 7, 2014 to February 7, 2015 — a staggering amount of more than Rs. 135 million has been paid out to them as well as others who were connected with this exercise, according to documents obtained by the Sunday Times. These payments, as well as others revealed today, have been made directly by the Central Bank without approval from the Cabinet of Ministers. These experts, together with others named later, have been in Sri Lanka only on three different occasions, according to Maxwell Paranagama, Chairman of the Commission. He told the Sunday Times that he had met only these four Advisors, and that too in Colombo. "They did not take part in the Commission sittings," he said.
On their own, they had travelled to Kilinochchi and Mullaitivu, he added. He said the Commission's term has been extended till August 15 this year. Their next sittings will be in Trincomalee on March 29. The travel to these two districts, according to documents available with the Sunday Times involved an expenditure of Rs. 598,686 for "meals and accommodation." The travel took place on just two days, December 8 and 9 last year.
Sir Desmond de Silva, QC received GBP 357,336, equivalent to over Rs. 79 million or exactly Rs 79,154,691.13. The other payments for the seven month period are:
Rodney Dixon, QC Sterling Pounds 27,000 or Rs. 5,727,522.84
David M. Crane – US$ 60,000 or Rs 7,814,261.50.
In addition to the above, during the foursome's visit US$ 22,500 (or Rs. 982,537.50) was spent as "Foreign Currency Expenses." A further Rs 4,418,214.73 was spent as "Local Currency Expenses." Other payments:
P.P. Mylvaganam who was not on the Advisory team was paid Sterling Pounds 100,000 or Rs. 20,705,542, Major General J.T. Holmes Sterling Pounds 21,500 or Rs 4,332,910.50, Michael A. Newton US$ 5,000 or Rs 651,730.50. The latter is an expert in accountability, transnational justice and conduct of hostilities issues. The Consortium of Humanitarian Agencies, a local outfit, was paid Rs. 3,735,000. This consortium is headed by NGO wallah Jeevan Thiagarajah. Petty cash to the office has been listed as Rs. 124,285.95.
That is not all. Payments made after the seven month period ended are also colossal. Here are the details of further payments up to February 12 this year:
Sir Desmond de Silva, QC – Sterling Pounds 407,336.00 or Rs. 85,550,666.37. Thus he has been paid a total of exactly Sterling Pounds 764,672 or over Rs. 164 million (or precisely Rs. 164,705,357.50) so far.
Sir Geoffrey Nice, QC and Lady Nice – Sterling Pounds 86,358 or Rs. 18,060,558.98. Thus, he has been paid a total of Sterling Pounds 122,358 or Rs. 25,697,251.08 so far.
David M. Crane – US$ 67,500 or Rs 8,796,799. Thus, he has been paid a total of US$ 127,500 or Rs. 16,611,060.50.
The payments revealed today appear to be only a fraction of what has been found out so far. The fuller magnitude of the expenditure, which would have been enough to build houses for hundreds, instal electricity schemes for villages, provide medical assistance to the North, or to build and equip a few schools, will unfold only when investigations now under way are complete. Even the few disclosures today raise a number of important questions. The role of foreign advisers and eminent persons, in their own way, remains an important question. Since they did not sit at the sessions of the Disappearances Commission, and visited the one time battle areas on their own, were they involved in a process of formulating their own report to counter the one due at the UN Human Rights Council next month?
Is that effort credible and worth more Rs. 400 million that has already been spent on the exercise and more large amounts surfacing as the investigations continue? Was such a project formulated after careful study of its acceptability by the international community, more so since public funds are involved? This was particularly at a time when living costs soared and the public were deprived of relief during the previous UPFA regime. To make matters worse, would the present Government accept any report prepared by the foreign advisors hired at great cost? This is particularly in the light of the new Government's position that it is in favour of a 'credible domestic mechanism' to conduct a probe. Quite clearly, in its efforts to re-build credibility abroad for Sri Lanka, the Government will not want the international community to believe in the previous government's efforts to pay colossal amounts of money and obtain a report seemingly to its advantage? Even to the most dim-witted, it is clear; it would pose issues of credibility.
NPC's 'genocide' claim
There was equal disbelief on another front. The Northern Provincial Council (NPC) headed by Chief Minister, C.V. Wigneswaran, unanimously adopted a strongly worded resolution last Tuesday. There was little doubt that it was a highly mischievous gimmick prompted entirely by internecine issues within the Tamil National Alliance (TNA). Yet, its timing was well calibrated. Firstly, President Maithripala Sirisena is undertaking today a four-day official visit to India. Secondly, the findings of the UNHRC-initiated resolution which led to the probe on alleged war crimes in Sri Lanka are scheduled to be presented at the 28th sessions next month. First to the preamble to the Northern Provincial Council resolution:
"This resolution provides an overview of the evidence demonstrating successive Sri Lankan governments' genocide against Tamils, and respectfully requests the ongoing United Nations Office of the High Commissioner for Human Rights Investigation on Sri Lanka (OISL) to investigate the claim of genocide and recommend appropriate investigations and prosecutions by the International Criminal Court.
"The Convention on the Prevention and Punishment of Genocide (Genocide Convention) was adopted by the United Nations General Assembly on 9th December, 1948, and acceded to by Sri Lanka in 1950, and provides: In the present Convention, genocide means any of the following acts committed with intent to destroy, in whole or in part, a national, ethnical, racial or religious group, as such: (a) Killing members of the group; (b) Causing serious bodily or mental harm to members of the group; (c) Deliberately inflicting on the group conditions of life calculated to bring about its physical destruction in whole or in part; (d) Imposing measures intended to prevent births within the group; (e) Forcibly transferring children of the group to another group.
"Although the OISL investigation is a time-bound effort focused on February 2002 – November 2011, Sri Lanka's genocide against Tamils began with the island's independence. Since then, Tamils across Sri Lanka, particularly in the historical Tamil homeland of the North East, have been subject to gross and systematic human rights violations, culminating in the mass atrocities committed in 2009. Sri Lanka's historic violations include over 60 years of state sponsored anti-Tamil pogroms, massacres, sexual violence, and acts of cultural and linguistic destruction perpetrated by the state.
"These atrocities have been perpetrated with the intent to destroy the Tamil people, and therefore constitute genocide. This Council is of opinion that during the period extending from 1948, when the Citizenship Act was passed to strip citizenship from a segment of the Tamil community and render them stateless, and continuing through the present day, successive Sri Lankan governments have perpetrated genocide against Tamils. Extensive evidence demonstrates that acts have been committed that constitute four of the five enumerated genocidal acts in the Genocide Convention…."
Firstly the word "genocide," has been used, and that too barely a month after the TNA urged voters in the North and East to vote for Maithripala Sirisena as President. It is known that most of them did. Why then is this volte face? And so soon after. The answer came from TNA sources.  There were two matters that incensed hardliners within the alliance. One was the participation of TNA leader Rajavarothayam Sampanthan at the National Day celebrations in Sri Jayawardenapura-Kotte on February 4.  After 1985, this was the first time that a TNA dignitary was taking part in a national event. The other was a visit to London by M.A. Sumanthiran, TNA parliamentarian and close confidant of Sampanthan. He was there at the same time as Foreign Minister Mangala Samaraweera. The latter had broken journey to take part in the CIMAG (Commonwealth Inter Ministerial Action Group) meeting en route to Washington DC. Reports reached the TNA hard line faction with whom Sumanthiran is not so popular in view of him being a Colombo Tamil that he was in favour of the findings on the Sri Lanka war crimes inquiry being delayed. It was claimed he had travelled to London to help Samaraweera in this regard.
The resolution moved by Councillor M.K. Shivajilingam has been on the NPC agenda for months. Once when the NPC was in session, he tried to run away with the mace in protest against his resolution not being taken up for discussion. Last Tuesday, however, the Tamil text of the resolution was adopted at the meeting. In what seemed a shocking if not surprise move, Chief Minister Wigneswaran who endorsed the resolution declared the NPC wanted an "impartial probe into large scale genocide." He also castigated Prime Minister Ranil Wickremesinghe in his speech. Shivajilingam told his associates that the word "genocide" in Sri Lanka was first used by the late Indian Prime Minister Indira Gandhi when she addressed the Lok Sabha. This was after the ethnic violence in 1983. However, as matter of virtual policy, the TNA had avoided using this inflammatory word — one that unambiguously suggested that the Sri Lankan troops were engaged in the deliberate killing of members of the Tamil race. That was furthest from reality. The troops were engaging the secessionist Liberation Tigers of Tamil Eelam (LTTE) who had taken to arms to achieve their ends. On Wednesday, controversy over the issue grew after the TNA began circulating via email the English translation of the resolution. Copies were also issued to websites.
Northern Provincial Councillor Ananthi Sashitharan was in Tamil Nadu last week meeting groups there to seek their support to "carry forward our struggle." She is a strong backer of the resolution. Ananthi is the widow of slain LTTE Political Wing leader for Trincomalee, who went by the nom de guerre Elilan. His real name was Sinnathurai Sasheetharan. Ananthi remains suspended from the Ilankai Tamil Arasu Katchi (ITAK), a partner in the TNA for allegedly criticising the party and calling for a boycott of the Presidential election. She is, however, permitted to attend NPC meetings.  The Indian Government in New Delhi was incensed. It declared that India would not support any such international probe. In fact India refrained from voting for an international investigation when the matter came up for discussion at the UNHRC in March last year.
New Tamil political front
Another related move is to form a political grouping comprising 'rehabilitated' cadres of the outlawed Liberation Tigers of Tamil Eelam (LTTE). The man behind the project is Nadesapillai Vithyatharan, a former Editor of the Uthayan newspaper. He is now Editor of a Tamil website read widely by the Tamil diaspora. Some of the diaspora websites have made appeals seeking support for Vithyatharan's efforts. The latter has explained that his act was similar to the Janatha Vimukthi Peramuna (JVP) which transitioned from militancy to become a political grouping.
Now, both Sampanthan and Sumanthiran, who were earlier opposed strongly to the use of the word "genocide," seem to have changed their mind. Sampanthan told the Sunday Times, "There is a general need that the truth must come out. There has been an independent investigation. After March 2015 all should become aware of the truth during the various stages of the war. Otherwise it would be an impediment to genuine reconciliation. Land taken from our people must be returned. Sinhala people in the south must be told the truth. There is a desire of the Tamil people to get to know the whole truth." He, however, avoided any reference to the use of the word "genocide" in the resolution but evidently addressed only one of the underlying concerns of TNA hardliners.
President's India visit
On Thursday Chief Minister Wigneswaran was in Colombo for a meeting with President Sirisena over the fishermen's issue in the Palk Strait. When the talks ended, he is learnt to have had a one-on-one with Sirisena but no details were immediately available. President Sirisena leaves today on a four day visit to India, two days more than earlier planned. The visit was the subject of discussion at Wednesday's weekly ministerial meeting. Premier Wickremesinghe said that President Sirisena should travel without a large ministerial entourage, much the same way the late President J.R. Jayewardene undertook foreign visits. The remarks were to raise a query from Minister Rajitha Senaratne whether he was suggesting that he should not go. Wickremesinghe was all smiles as he declared that he could go if he wished but he was only citing an example. Besides Senaratne Minister Patali Champika Ranawaka and Minister D.M. Swaminathan will accompany Sirisena.
Ministers learnt at their weekly meeting that there would be no joint communiqué after Sirisena's visit since it is more a "getting to know each other" trip. Such a communiqué is to be issued only after next month's visit to Sri Lanka by Indian Prime Minister Narendra Modi. He is scheduled to travel to both Jaffna and Kandy. India is expected to pledge financial assistance for the construction of 24,000 houses to those in the plantation sector. Each housing unit is to cost some Rs 1.2 million. The funds will come as a soft loan.
Official level talks between President Sirisena and Premier Modi will take place on February 16. Six different agreements/Memoranda of Understanding will be signed between Sri Lanka and India. They are (1) Visa exemption for Sri Lankan diplomats and officials visiting that country, (2) An MoU on cooperation between the two countries on atomic energy, (3) An MoU to facilitate the enrolment of members of Sri Lanka's Buddhist clergy at the Nalanda University in India, (4) A joint work plan in the field of agriculture, (5) An agreement on enhanced cultural cooperation, and (6) Mutual Assistance on different fields of activity.
Compared to the near hundred strong delegations former President Mahinda Rajapaksa took during travel abroad, his successor's entourage will be made up of only 17 persons including the personal security detail. The President will visit Buddha Gaya and Tirupathi temple and then return to Sri Lanka on Wednesday.
With the help of the United States, the mover of the resolution on Sri Lanka at the UNHRC, it is almost likely that Foreign Minister Samaraweera will succeed in his efforts to delay the report on the alleged war crimes probe findings until September. There are sections within the international community who argue that a domestic probe by the new Government would also be less credible because General Sarath Fonseka, who led troops to victory against Tiger guerrillas, is part of the new Government. However, Government leaders have argued that there should be no barrier to the domestic inquiry since the one time Commander of the Army would willingly testify to the events and to his own role.
As for the previous Government's squandering spree of public money, there is no gainsaying that the culprits will have to be brought to book. It is clear from many an unfolding investigation that the Cabinet of Ministers had been bypassed by the former regime in most financial transactions. Playing the role of a virtual parallel government has been the Central Bank of Sri Lanka, remitting directly to foreign parties' funds and spending local money. Those responsible for such actions should be held accountable and dealt with according to the law. Otherwise the malaise would only recur and does not bode well for good governance.
President asserting himself in Defence portfolio
President Maithripala Sirisena has appointed his son-in-law Thilina Suranjith as Public Relations Officer in the Ministry of Defence. Suranjith is married to the eldest of his two daughters, Chathurika and was closely associated in the presidential election campaign in January. He has also appointed Rakitha Rajapakshe as Media Secretary in the MoD. He is the son of Justice Minister, Wijeyadasa Rajapakshe. A junior counsel in Rajapakshe's chambers, he worked in the propaganda team from Siri Kotha, the headquarters of the United National Party (UNP).
A room for the President is being prepared at the Defence Ministry.  Sirisena leaves today on a four-day official visit to India.  These moves come in the backdrop of a number of developments. Just a week ago, Ruwan Wijewardene, Minister of State for Defence, undertook a tour of the North and East to meet troops, a part of his official responsibilities. Since the advent of the National Unity Government, this is the first time a Minister overlooking the subject of defence has undertaken the task.
The fact that he visited to see for himself, officers and men in the camps opined, was not only salutary but established the new image of the Government and President Sirisena,
There has been some criticism on the United National Party (UNP) leaders for downplaying or not being enthusiastic about investigations concerning former President Mahinda Rajapaksa and his family made matters worse. Some partners of the Government alleged that UNP leaders were "shielding" members of the Rajapaksa family — a charge strongly refuted by the UNPers. The conduct of a UNP cabinet minister who gave instructions to the Police over an ongoing high-profile investigation and to show some leniency to one of the suspects was also a focal point. Whether such accusations are credible remains a question.
The President is seen as asserting himself and delivering the twin message — he is in command and the SLFP, of which he is now the leader, is in the majority. At last Wednesday's weekly meeting of ministers, Ministers Rajitha Senaratne and Champika Ranawaka were vociferous against those who they claim were trying to "protect" the Rajapaksas. Though not directed at a particular person, Senaratne also ruffled feathers by remarking that the cause could be a "deal" that has been worked out. He, however, did not say who had worked out the deal or what the deal was all about. While this went on, some members of the Sri Lanka Freedom Party (SLFP) charged that the UNP leaders were engaged in what they called a conspiracy to destroy their party.
Despite the change of Government, it is well known that no major changes have taken place in the Ministry of Defence other than the appointment of H.M.U.D. Basnayake as Secretary.