Politically, he is precious Muthu
View(s):

My dear Muthu,
I thought I must write to you because the entire country is talking about you these days even though you are only a mere deputy minister in a government that has nearly seventy ministers and most people hadn't even heard of you until a few days ago. I also hope this letter reaches you because there is some confusion about your whereabouts. I am told you are in Singapore even though you should really be in prison because there is a warrant out for your arrest for allegedly abducting from Police custody some suspects charged with election offences .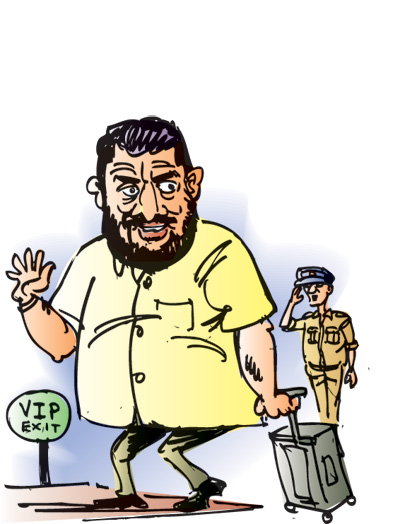 Muthu, you must be an important man. Here we are, in the thick of a presidential election campaign. We should be talking about the two main candidates or getting them to debate each other in public — although I think Mahinda maama has chickened out on that. Instead, we are talking about you.  Honestly Muthu, I can't understand what all the fuss is about. Remember that chap Duminda? He was accused of a far greater crime — murder, in fact — and yet he was spirited away to Singapore without a big hullabaloo. Some questions were asked, of course, but it wasn't a national issue as far as I can recall.
Makes you wonder too, Muthu, why everyone takes wing to Singapore. I know there are raffle draws and competitions where the first prize is a return air ticket to Singapore but now everyone who is either a suspected criminal or is planning to switch sides takes a trip to that country! I heard questions being asked about why you were allowed to leave the country when there was an arrest warrant on you. We were wondering whether our policemen didn't read the newspapers or watch television because apparently the entire country knew that a manhunt was on for you.
The explanation is quite simple, isn't it? As that Police spokesman chap tells us, there was no court order to stop you from leaving the country even though there was an arrest warrant! And a man of your proportions is hard to miss anyway! Even he couldn't quite explain how you could go on stage and sing 'apey ratey minissu, kelinney pissu' without being arrested. I admire your choice of songs, Muthu, but this spokesman chap has assured us that there will be an inquiry about that and I'm sure that will be an impartial inquiry!
So, you flew away, from the VVIP lounge, no less. This spokesman's suggestion can be taken a step further, Muthu. Why not open a special gate at the airport which people who have arrest warrants can use to fly out? If we do that at Mattala, we might even increase the number of flights from there!
This spokesman chap tells us that, had there been Policemen at the airport, you would have been arrested but apparently there were none at all at that time. So, tell me Muthu, did one of those famous astrologers advise you about an auspicious time to leave the country, so you wouldn't be arrested?
I do really admire this Police spokesman chap, Muthu. He is able to explain anything and everything. He is a national treasure and we should do all we can to protect him because one day, if we can get police spokesmen to compete at the Olympics, I am sure we can win our first ever gold medal!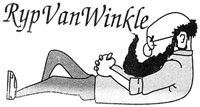 Why, he even tells us that the Policeman from Wanduramba who resigned because of political interference in his duties, doesn't have a backbone. I must admit that my first thoughts on hearing the news of the resignation was that he was the only Policeman with a backbone, but what do I know?
What I learnt from this spokesman chap is that this 'backbone' also impairs your vision. That is why those policemen with backbones looked the other way when you were singing on stage despite having a warrant for your arrest. That is also why they looked away when Wimal's mob attacked Sirikotha!
Anyway, the latest we have heard is that you will be returning to the country in a few days and that you would be probably be arrested at that time. I am sure you would appreciate that because, like Mervyn, you must be thinking that any publicity is better than no publicity.
So, best of luck, Muthu. You wouldn't need much luck though because justice works in mysterious ways in this beautiful country of ours and you may well be rewarded for your efforts with a ministerial portfolio-unless, of course, a 'compassionate' era dawns in a few days!
Yours truly
Punchi Putha
PS: Just in case you find yourself in trouble, Muthu, why don't you consider switching sides to the 'other' side? After all, it is people like you, Mervyn, Duminda and Sajin who have helped Maithree's campaign the most, so why not make it official?