The slow evolution of a constitutional monstrosity
View(s):

A mere two years before a doomed United National Party administration staggering under accumulated burdens of long drawn out rule was destined to fall, opposition parliamentarian Mahinda Rajapaksa was in the forefront of an imaginative challenge on the afternoon of a characteristically hot day in 1992.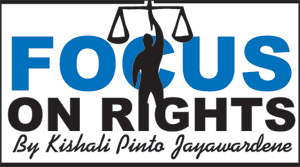 Engaging in legitimate dissent
In issue was a litany of grievances which seems unbearably familiar now; unprecedentedly increased cost of living, privatisation of public enterprises and consequent retrenchment, wasteful expenditure, soaring corruption, the suppression of discussion on certain matters of public interest, escalating abductions and killings and the state of unrest in the North and the East.
The Sri Lanka Freedom Party (SLFP) decided on a novel form of protest; to ring temple and church bells, toot motor vehicle horns, beat drums and bang saucepans. The authorities took strong exception, cracking down hard on protestors. One such enterprising gentleman merrily beating his drum at a bus stand in suburban Colombo was stopped forthwith by police officers and his drum broken by a rice pounder.  When he persisted undauntedly in clapping his hands, he was arrested.
Distinguishing factors then and now
Up to this point, one may be forgiven for confusing the time periods in question. For the grievances put forward by opposition parliamentarians at that time are uncannily reflected in dismal realities under the Rajapaksa Presidency now. As noted French critic and satirist Alphonse Karr deadpanned close to two centuries ago, 'the more things change, the more they remain the same.'
But similarities can be drawn only to an extent. The stark difference between then and now is the absence of militaristic authoritarianism that is the cornerstone of the current regime, stifling legitimate protest as well as even the possibility of legal redress.
In 1992, the drum beating protestor who was arrested went before the Supreme Court pleading a violation of his rights. His plea was accepted. In warning that 'stifling the peaceful expression of legitimate dissent today can only result, inexorably, in the catastrophic explosion of violence some other day', the late Justice Mark Fernando delivered one of the Court's most resounding opinions as to why legitimate dissent is so fundamentally important, (see the Jana Ghosha case, 1993, 1 SLR, 264). In 2014, would such a judicial intervention be possible at every level of capacity? This is what Sri Lanka has lost, perhaps irreparably.
And it is not only the judiciary which is in issue. Our institutions, our governance processes and virtually every sphere of administration, from health to education are in a degenerative state, not comparable to even a decade ago.
Responsibility rests in the Presidency
For this, the monstrous extent to which all power has been consolidated in the Office of the Executive Presidency is directly responsible regardless of the dishonest differentiation sought to be made by propagandists between the Presidency and the Government. Following the 18th Amendment to the Constitution, these have merged into one entity. The cry for the abolition of the Executive Presidency has acquired formidable public resonance. This may not be an automatic remedy for all our ills. However, the restoring of essential checks and balances to the political system is imperative.
At the very minimum, the immunity attaching to the Office must be dispensed with. It is no answer to merely say that a President may be brought to account after leaving office. We saw this when President Rajapaksa's refusal to appoint nominated members to the Constitutional Council under the 17th Amendment left the Court impotent, resulting in the dismissal of applications that had challenged the Presidential refusal. The enactment of the retrogressive 18th Amendment by the Government was only consequential.
These are dangerous lessons that need to be taken to heart. The President should not be above the Constitution. The law must reach Presidential actions when the Constitution is intentionally violated. There can be no compromise on this.
Colossal waste of public funds
And the absence of constitutional checks and balances is no mere legal abstract. On the contrary, this impacts most on financial controls. At almost every session of Parliament, we are informed of one colossal waste of public money after another. This week, the Government admitted that it had spent Rs. 272 million on Commissions of Inquiry appointed by the President from 2005 to 2013. This is wholly unacceptable.
There is wide public consensus that Commissions of Inquiry are a useless expenditure of time and resources. Where Commission reports have been useful in rare exceptions, they have not been properly implemented as in the case of the 2011 Lessons Learnt and Reconciliation Commission. In other instances such as the Udalagama Commission which inquired into serious human rights abuses but was wound up prematurely, the report has been shrouded in mystery.
Currently we have the Paranagama Commission inquiring into war-time conduct of state agents which is advised by yet another group of experts on whom potentially, huge sums of money will be spent. State entities lavishly expend money on foreign lobbying firms entrusted with work that should be the responsibility of the diplomatic service. How much longer are we prepared to go on like this?
What option for protestors now?
As we turn and look back a trifle yearningly towards instances like the Jana Ghosha case, there is no denying the poignancy. The Court's terse warning as to the stifling of legitimate dissent reverberates with stronger force now.
In 1992, protestors including opposition parliamentarian Mahinda Rajapaksa beat their drums without significant fear of their lives. In 2014, President Rajapaksa should ask himself as to what option he has allowed for dissenters in the same shoes that he occupied decades ago when under his Presidential watch, innocuous protests are disrupted, Church premises in Colombo are invaded and dissent is crushed.
And Sri Lankans should ask themselves the singularly important question as to why the freedoms that they enjoyed then despite ongoing conflict were immeasurably greater than now, in this much heralded post-war existence.