President daubs green on FCA portrait
View(s):

Wamey inney Premadasa. Dakuney Inney Ranil or on the left is (Sajith Ranasinghe) Premadasa and on the right is Ranil (Wickremesinghe), guffawed President Mahinda Rajapaksa last Tuesday. It was after the Foreign Correspondents' Association (FCA) gave a large, framed picture (seen here) of two elephants fighting at the Yala National Park. The occasion was a breakfast meeting the FCA held with him at Temple Trees.
Interjected a member of the FCA: "Sir, this is gifted to you since you are a wildlife enthusiast. But you have the Presidential prerogative to give them any name you wish."  What inspired the FCA to give Mr. Rajapaksa a portrait of fighting elephants, with just months before a Presidential election, is a photo release from the President's media unit. That showed the picture of a leopard photographed by Mr. Rajapaksa at Yala and the caption said he was a wildlife enthusiast.
Even if it was not meant, there was still a message in the picture. The elephant is the symbol of the main opposition United National Party (UNP).
---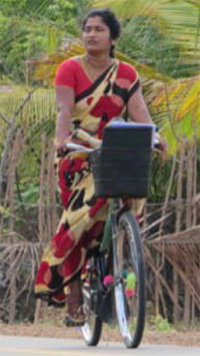 Shashi in Babi Achchi protest
Northern Provincial Councillor Ananthi Shasheetharan, wife of slain Tiger guerrilla's Trincomalee political wing leader who went by the non de guerre Elilan has gone into protest mode.
Last Thursday, she came to the NPC meeting at its office in Kaithady in two different modes of travel from Chulipuram. The first leg was by her car. Just a little distance away from the NPC office, she alighted and rode a bicycle. This was how she was showing her protest against the Council's travel allowance for Councillors. She says the monthly allowance of Rs. 10,000 is inadequate.
---
Gota to measure how high is high
How many storeys should high rise buildings in the City of Colombo and other major towns have? Ministers discussed the question during their weekly meeting but were unable to arrive at a decision. They have therefore asked Gotabaya Rajapaksa, Secretary to the Ministry of Defence and Urban Development, to conduct a study in consultation with experts in the field of urban architecture.  He has been advised to take into consideration the scenic beauty, environment, security and other concerns in arriving at a decision.
---
Miracle of Asia: Devil dancing at ICU
The words ICU or Intensive Care Unit in any hospital make one react with an element of nervousness.  As is known, it is all because those undergoing treatment there, as the word goes, are under close care.  What happened at the ICU at the National Hospital, Sri Lanka's premier medical institution, even to the most physically robust who do not need any care, leave alone being intensive, was devilry.
The mood inside the unit was dull and sombre. The machines that supported the lives of those seriously ill beeped whilst the other patients were either asleep or turning from one side to another on their beds. Breaking the serene silence that kept the men and women alive inside the ICU was something unusual, if not appalling.
Of all things, it was a bali thovil ceremony. The hospital staff was gyrating to the rhythms of the kattadiyas who were performing the rituals whilst dancing. Of all places, it was right outside the Cardiac Intensive Care Unit. Must one say that the bizarre event left the patients disturbed and sleepless? Well, they needed more medical care.
As one patient noted, such things could only happen in the greatest wonder of Asia, Sri Lanka where health services including thovil ceremonies and devil dancing are all free. Even when one is fighting for life.
---
Top minister shut out of home base
Has Minister Nimal Siripala de Silva, a leading Badulla District politician and Leader of the House, been side-lined?
UPFA circles were talking in whispers after reports some weeks ago that he had a one-on-one with an opposition leader. Days after this reportedly fell on the ears of the leadership, de Silva's colleague Minister Dilan Perera made a bitter attack on him at a public meeting. Now, sections of the UPFA say that remarks made by Minister Susil Premajayantha at a news conference at the Sri Lanka Freedom Party (SLFP) headquarters in Colombo are adding credence.
Mr. Premajayantha gave the names of the ministers who will oversee the UPFA campaigns in Badulla and Moneragala Districts for the Uva Provincial Council polls. He said Minister Anura Priyadarhsana Yapa will oversee the electorates of Hali Ella, Badulla and Passara while Minister S.B. Dissanayake will be in charge of the campaign in Mahiyangana and Wiyaluwa while he himself will be in charge of the campaign in Bandarawela, Uva Paranagama, Welimada and Haputale electorates.
Mr. Premajayantha said his ministerial colleague John Seneviratne would be in charge of the campaign in the Moneragala District. He made no mention of Minister de Silva.
Last Wednesday, Minister de Silva wanted to officially hand over a booklet illustrating development activities in the Badulla district to the clergy.
He visited the Muthiyangaya Rajamaha Vihara in Badulla and found that the chief incumbent or his deputy were not present. He had to leave a copy behind with a monk. He could not hand over copies to a Catholic church, Hindu kovil or the mosque. Copies were thereafter distributed in the town area.
---
Kick for critics: Another political niece gets DPL post
One more political appointment, this time Cabinet minister, has been made to the Sri Lanka Embassy in Washington D.C. The move comes on the recommendation of External Affairs Minister G.L. Peiris. The posting for two years will take effect from the day she assumes duties. Minister Peiris has said he was making the recommendation "taking into consideration her educational qualifications and the possibility of utilising the special skills and experience mentioned in her bio-data in an effective manner for the Mission and the shortage of officers in the Foreign Service."
---
Uproar over Namal's letter to SB
It has become rather routine for Ministers and MPs to give chits to their supporters who come to them seeking their intervention to either secure jobs or to have a child admitted to a school, etc. But when a student is admitted to a state university with none other than MP Namal Rajapaksa sending a note to Higher Education Minister S.B. Dissanayake, it is bound to cause uproar.
That is what exactly happened in Parliament on Thursday when Opposition Leader Ranil Wickremesinghe queried how a female student was admitted to the Arts Faculty of the Ruhuna University on an appeal sent along with a note from the MP to back her up. However Minister Dissanayake said that it was routine for MPs from the opposition and government to forward such appeals to him with a note attached. He then forwarded this to the University Grants Commission (UGC) so that the UGC could consider it.
"Like MP Namal Rajapaksa, many others also send such notes to me. In this case, the girl could not send in her university entrance application on time as both her parents had to be hospitalised .She had sent an appeal to the UGC and it is possible that as it was getting delayed she approached MP Namal Rajapaksa and asked him to forward it to me. This is what many other MPs including those from the UNP, and the TNA also do," he said.
However the Opposition Leader said MP Rajapaksa had forwarded the student's letter saying "meka kerala denna' (do this) which sounded more like an order and not a request. Minister Dissanayake said most MPs sent in notes with similar wording. "The student had the required cut off marks to gain admission to the university. The UGC appeals committee accepted her appeal on humanitarian grounds as she had forwarded a valid medical certificate to show her parents were hospitalised owing to which she could not submit the application on time," he added.
---
MP wants cover for coffins
Cowards die many times before their deaths, William Shakespeare wrote famously.
It's hard to say if this bizarre suggestion made by UNP Kurunegela District MP Akila Viraj Kariyawasam was prompted by fear of dying. However, his suggestion to Minister Susil Premajayantha that funeral undertakers should be told to cover the entrances of their establishment as public display of coffins instils fear in passers-by, met with a cold response.
The Minister chose to ignore the suggestion instead laughing it off as did many others present in the House.
---
Sirisena in bustle with beggar
When a man stood in front of Health Minister Maithripala Sirisena's car outside a supermarket in Maharagama, it was not a hold up.
Yet, large crowds rushed to see what was going on with a lonely man shouting away with his hands raised.It turned out that he was a beggar. He had asked for help from Minister Sirisena who was coming out of a supermarket with a bag of fruits.
So he waited till the Minister got in to his car and was being driven off. Then he shouted as loud as he can that Minister Sirisena had not given him anything. The supermarket security had to keep the beggar away. As one funny bystander noted, the beggar caused more than fifty cents worth of damage to Minister Sirisena. If he parted with a small coin, he could have saved all that, he said.