Beauty before Basketball
With two parallel passions in life, a course in modelling soon got the recently crowned Siyatha Lux Miss World Sri Lanka 2014 Chulakshi Ranathunga on the road from where there was no turning back until she won a title
View(s):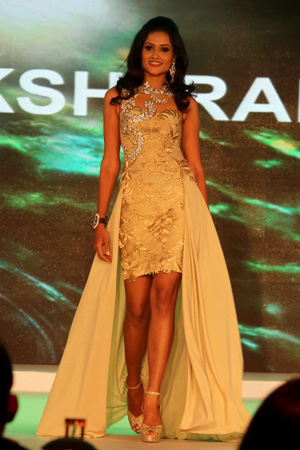 With her radiant smile and charismatic personality, the slim, tall Chulakshi Ranathunga was crowned Siyatha Lux Miss World Sri Lanka 2014 at the grand pageant held at the Colombo Hilton earlier this month.  Still basking in her moment of glory, Chulakshi sat down for an interview with the Sunday Times amidst a hectic schedule, to share her thoughts on the pageant and more importantly to talk of how she is gearing for the Miss World contest to be held in December in England.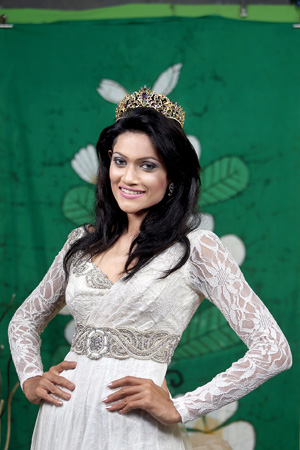 The 25-year-old from Nittambuwa, who is currently living in Kiribathgoda, says her inspiration to take part in the pageant came after she started training at the Rozanne Dias Model Training School in 2011 where she received insight into developing a career in modelling with a focus on personality development, catwalk etc.
As a child, Chulakshi had been interested in fashion, beauty culture and modeling, but those interests ran parallel with her ardent love for basketball. She says her aim was to become a national level basketball player by joining the mercantile sector but as she grew up she started becoming more inspired by fashion and beauty.
"I realised that if you are in the industry, being a title holder is important. So I gradually started taking part in beauty pageants. I took part in the Siyatha Ms. Sri Lanka for Ms. World last year too and became first runner- up. But I did not stop at that, as my target was to win the title. This time I somehow felt I was going to make it," she says.
The final few moments at the pageant, she says, were incredibly tense, the most intense time she had faced throughout the competition.
"I could not control my happiness when I won the title," she says, adding that in the run up to the main title, she was able to secure two mini titles- Miss Personality and Best in Eastern Wear.
Asked how she prepared herself for victory, Chulakshi says, if not for the advice and guidance she received from the professionals in the field, her victory would not have been possible.  "We had only one month to prepare ourselves, so it was performing under lot of pressure. In the meantime, we had eight mini pageants to face. We had a lot of overall personality development.
Learning from professionals in the field like Senaka De Silva, Sangeetha Weerarathne and Shereen Kumaratunge, Channa Wijewardena , Ramani Fernando and Michael Wijesuriya, Athula Mahawalage, Brian Kerkoven, Rozanne Dias and Dhananjaya Bandara was huge," she says adding that with this exposure, what she had to do thereafter was to develop on her last year's pageant experience.
Chulakshi is well aware that the exciting pageant aside, there is much hard work ahead as title-holder.  "A reigning Miss. Sri Lanka has to represent the country, both at the local as well as the international level. You also have to be aware of the responsibilities associated with the title. I cannot consider my career and personal life to be two different things now because for a reigning Miss. Sri Lanka, the image is important," she says.
The title for her represents beauty with a purpose, and the main thing is to serve society, through her accomplishment, she feels, envisaging that she would get more involved in the charity projects that she already is a part of.  Looking ahead to the pageant in England, Chulakshi says her next goal is to make her country proud and she has already started working in that direction doing whatever is necessary to improve herself as she is aware that the international pageant is going to be a major challenge.
"The competition is going to be the cream of the world – a huge challenge. I am targeting the mini title of Sports and Fitness and for that I need to build up my stamina." She also hopes to get advice from former Miss. Sri Lankas who have represented our country at the international level.
It's going to be an exciting and eventful year for the beauty from Nittambuwa.