SL fishermen marooned after release from Indian custody sans their boats
View(s):

Sri Lanka fishermen apprehended by India and released from custody, are facing a new crisis, as they are finding it difficult to make a living without their boats, which were confiscated by the Indian authorities for poaching in Indian waters.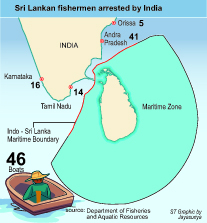 Fisheries Deputy Minister, Sarath Kumara Gunarathna claimed that Indian authorities are not releasing the boats until Indian boats in Sri Lanka's custody are released.
Mr. Gunarathna said the Indians are following the same procedure Sri Lanka authorities follow in arresting and releasing fishermen violating the law."Sri Lanka does not release boats belonging to Indian fishermen taken into custody for entering Sri Lanka's waters, thus Indian authorities follow the same principle,"he said.
M.P.A.B Bruno Appuhami, a fisherman residing in Munnakara, Negombo, said they are facing hardships without their boats.
Mr. Appuhami said their boats and equipment were taken to India with us and kept in jail for 18 days.
"We were taken to Chennai and produced in courts, then set free after a week without our boats. We feel that we are never free from India, because we are helpless with out our boats," he said.
Furthermore, he claimed he and his fellow fishermen are imprisoned in their homes, unable to face the boat owners.
He said his wife started working when he was in custody, and even now, he had to stay home because he has no boat.
"I was working on a big boat owned by another person, and now, because of poverty, I am compelled to fish in small sail boats that are not suited for deep sea fishing," he said.
He revealed that Indians have more Sri Lankan fisherman in custody and assault them if they are Sinhalese. They confiscate the catch claiming it's theirs.
Mr Appuhami's mother-in-law Mary Jenita (54) said Bruno, wife and four children lived off the income from fishing. Hence, the education of their children is in jeopardy due to poverty.
Joshap Nihal Raj Peiris another fisherman who spent over two weeks in an Indian jail, said he can't fish in small boats because of wind, as the catch depends on the wind.
He said the authorities advised their wives to find a job somewhere to support their family, when they were approached for assistance.
He said no authority aided them when they complained of Indians cutting nets, bottom trawling and harassing our fishermen.
Meanwhile, trade unionists demanded the early release of Sri Lanka fishermen, while questioning the reasons for the early release of Indian fishermen.
All Island General Fisheries Association President, Nihal Galapathi said our fishermen now have to chase fish because 2,000 Indian trawlers are fishing in our seas, and when they find fish in an area, unfortunately, it is in Indian waters, which means loss of their boat.
He said our fishermen must be able to pass through foreign seas in order to enter international waters for fishing, which is not a crime.
The Government is not taking action against Indian fisherman who cut and damage our nets.
He claimed that the Fisheries Minister is not taking any action to get their boats back.