Brass Bands at Carey College
View(s):

The boys at Carey College together with their teachers organized a brass band concert, Con Brio-3. After successfully organizing two concerts 'Careyites Con Brio' in 2008 and 2010, this year Carey College celebrates 100 years and Con Brio-3 was one of their many centenary events. 
The Junior and Senior Brass bands of the school along with their Percussion Band  performed beautiful waltzes and polka tunes. Parents, teachers and even former students gathered at the BMICH to watch and support them and all the other schools who also took part. The Chief Guest for the evening was the President of the Carey College OBU, retired DIG police Rohana Abeywardena and the Guest of Honour was Rev. Kingsley B. Perera.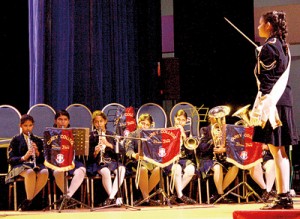 Yasodara Balika Vidyalaya – one of the first schools to start-up a  western band, St. Peter's College, St. Paul's Girls' School, Milagiriya, Holy Cross College, Gampaha, Devi Balika Vidyalaya, and Royal College were some of the schools to give a smashing performance.
Musaeus College performed a few baila numbers and the girls of Bishop's College  staged the theme song of the  FIFA World Cup 1998 –
'The Cup of Life'. The boys of  St. Sebastian's College, Moratuwa were also a part of the concert and played some Caipirinha beats while the boys of Wesley College tossed and twirled about their instruments while performing popular hits.