British Council, Kandy Art Club Award Ceremony and Exhibition On Saturday
View(s):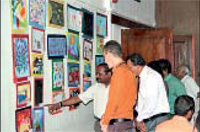 February 15, the members of the British Council Art Club conducted their first exhibition and awards ceremony at the  E. L. Senanayake Children's Library hall.  This occasion was attended by the British Council Kandy Branch Manager, Mr. Ian Cameron and the Assistant Indian High Commissioner in Kandy, Mr. A Natarajan among other dignitaries.
The Art Club,which  boasted 50 members,  was sponsored by  Kandy-based Arts Materials Manufacturers, Pentium 2000.Mr. Mahie Meeriyagalle, the instructor of the Art Club, coached the members in different techniques, using different media and using vibrant colours.  The Art Club was held over a period of 15 weeks and the members were encouraged to display five of their best works of art at the exhibition.
The parents of the young members played a major role in supporting the British Council in this new  venture. It was a day of vibrant and colourful  exhibits where winners received certificates and gifts from Pentium 2000  and all Art Club members were able to display their  artistic talents to an appreciative audience.