Mel: My colleague and friend
View(s):

Mel Gunasekera became AFP's first full-time woman
correspondent in Colombo when she joined in January 2007. She had covered Sri Lanka's Tamil separatist war and its bloody finale in 2009 and was widely respected across the country. On February 2, she was murdered at her Colombo home after confronting a burglar. Her former colleague, AFP's Sri Lanka bureau chief Amal Jayasinghe, pays tribute.

When a caller asked me whether something terrible had happened to my friend Mel, my response was "No, it can't be." If it had, she would have told me. But within minutes, I had the most devastating news in my 32 years as a reporter.

My former AFP colleague Mel Gunasekera, 40, had been murdered at her Colombo home after confronting a burglar whom she had apparently recognised as a painter her family had employed. She was stabbed to death at home on February 2, 2014 as her parents and only brother Dayan were at church.

Dayan said I was one of two people he wanted to immediately inform after finding his sister in a pool of blood, but somehow he could not locate the telephone numbers and it was up to another relative to convey the tragic news.

Mel and I covered Sri Lanka's Tamil separatist war and its bloody finale in 2009, the same year a local newspaper editor was gunned down near Colombo.

That assassination of Sunday Leader Editor Lasantha Wickrematunga stunned us both. It was shocking but it was an occupational hazard that we had come to expect. To fall victim to a senseless killing on a sunny Sunday was something else. Now I know what "chilling" is. I have never felt this terrified, even when under gunfire while driving with colleagues through a violent election campaign in Sri Lanka in 1999.

Just three days earlier, Mel and I were on the phone discussing the health of the country's finances and ended the long conversation with our usual "See you later, take care."

Mel became AFP's first full-time woman correspondent in Colombo when she joined in January 2007. She was regarded as a hard-nosed financial journalist even after she switched to a more lucrative job with Fitch Ratings in December 2012.

Even before formally joining AFP in January 2007, she had helped me and other visiting AFP colleagues cover the aftermath of the December 2004 Asian tsunami, which claimed at least 31,000 lives in the country.

South Asia Bureau Chief Barry Parker who hired Mel was devastated, as were all others at AFP who had known her.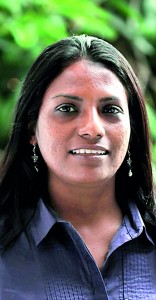 "Mel was blessed with not only strong ability in both science and the arts but also a natural curiosity, happiness and grace, despite the turmoil in Sri Lanka," said Barry, who is now bureau chief in Sydney.
"We were so lucky to know Mel — and I was one of many delighted to stay in touch from however far away and to congratulate her on new ventures," Barry said in a mail to me. "I'll cherish those memories and share in your sadness."
Barry's then deputy, Bryan Pearson, spoke for everyone at AFP who knew her, when he wrote: "Huge shock now being followed by waves of aftershocks — difficult to comprehend it all — you will be HUGELY missed Mel — RIP sweet friend."
Barry's successor, Giles Hewitt, added: "She did some terrific work for AFP — especially towards the end of the grim, gruelling civil war — and was always at her best when talking to ordinary people in extraordinary circumstances and giving them a voice."
South Asia's current bureau chief, Chris Otton, had not worked directly with Mel but was struck by the outpouring of grief of colleagues. "Those who did have the good fortune to work with her have a treasure trove of memories that they will savour for many years to come," Chris wrote.
Mel had a special knack for unobtrusively getting a story from victims of Sri Lanka's drawn-out war. She reported heart-wrenching stories of mothers desperately looking for their missing children.
Colombo was considered safe after the end of the fighting in May 2009 and there had been no attack blamed on Tamil Tiger rebels. Mel's murder, however, has, judging by the newspaper headlines, shocked the entire country.
Mel had a zest for life. Bursting with energy, even while juggling her journalistic work, she sang for Contempo, a choir of her alma mater St. Bridget's Convent in Colombo, and was a concert violinist.
At an exceptionally emotional funeral service, the choir, with whom Mel had once sung, initiated the proceedings with Beethoven's Ode to Joy. My wife Christine and I plucked up the courage to sit in a pew at the front, but not before making preparations for a quick exit if I blacked out, as I feared I would.
I was in tears throughout the service, as was everyone else and Christine reminded me that the Ode to Joy was one of the first songs our sons had learnt to play on the violin and flute. The emotional rush was like never before.
At church, numerous loved ones and friends could only shake hands or hug each other, no words spoken, no one able to speak. But all had one thought: No parent should ever have to bury a child. Her devastated parents spoke to each and every mourner and repeatedly told her friends that they did not know Mel had such a wide circle of friends.
A Sri Lankan colleague Dilrukshi Handunnetti, a senior editor of Ceylon Today may have spoken for all of us when she wrote: "How can you go away so soon?"