Fears for Hong Kong press freedom as China flexes muscle
View(s):

HONG KONG (AFP) -Hong Kong's status as a bastion of press freedom is being eroded by creeping self-censorship under pressure from Beijing and media bosses loath to lose business in China, insiders are warning.

Compared to the tightly-controlled state press on China's mainland, Hong Kong's newsstands and networks offer a noisy jungle of competing outlets from across the political spectrum.

But analysts warn that reputation is now under threat as journalists increasingly steer clear of topics that could anger the Communist Party or jeopardise media tycoons' commercial interests on the mainland.

Two reports this week have highlighted an increasingly restricted media landscape some 17 years after the former British colony was handed back to China, under a deal that supposedly guaranteed media independence and other rights for half a century.
The New York-based Committee to Protect Journalists (CPJ) on Wednesday said media freedom in Hong Kong was currently "at a low point", citing self-censorship among reporters, financial and physical threats against the media and legislative steps that could hinder investigative reporting.

Paris-based Reporters Without Borders also said Hong Kong's media independence "is now in jeopardy" as the world's-second largest economy flexes its muscles to stifle critical coverage.

"The Chinese Communist Party's growing subjugation of the Hong Kong executive and its pressure on the Hong Kong media… is increasingly compromising media pluralism there," it said as it published its annual press freedom index.
Watchdog role in jeopardy

Under a deal struck between London and Beijing in the run-up to Hong Kong's 1997 handover, the semi-autonomous city of seven million is guaranteed free of speech, a liberty China's mainland residents are denied.

But a series of recent incidents have raised concern, including the sacking Wednesday of Li Wei-ling, a prominent talk show host known for her biting criticism of Beijing, from her job at Commercial Radio. No reason has been given for her dismissal.

In January, the leading editor of the respected Ming Pao newspaper was replaced by a pro-Beijing editor from Malaysia, prompting protests by staff who feared the move was an attempt to stifle the paper's strong track record of investigative reporting.

And the same month another liberal paper, AM730, said advertising had been cut from a number of China-affiliated organisations.
The CPJ report said more than half of Hong Kong's media owners have been given roles in China's political assemblies, making them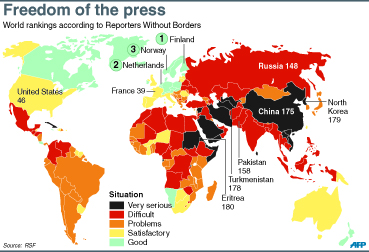 reluctant to anger Beijing and lose their elite status and commercial advantage.
Media outlets in both Hong Kong and Taiwan have "provided comprehensive, independent coverage of China, filling a gap left by the tightly restricted mainland press," it said, adding that interference imperilled that critical watchdog role.
Hong Kong journalist groups have called on authorities to protect the city's media.
"We welcome the organisations' spotlight on a darkening climate of self-censorship, against a backdrop of official and commercial interference as well as physical violence, that threatens to erode Hong Kong's unique position as a bastion of free expression under Chinese rule," the Foreign Correspondents' Club said.
China 'fears Hong Kong spillover'
Fears for press freedom come at a time of fervent debate over political reform.
China has promised the city, whose current chief executive is appointed by a pro-Beijing committee, will see a transition to universal suffrage by 2017, but has ruled out demands that voters should be able to choose which candidates can stand for the top position.
In October, tens of thousands protested over the government's refusal to grant a licence to a new free-to-air television operator, with the demonstrators believing the decision was made at the behest of Beijing.
Meanwhile, public trust in the city's media appears to be decreasing. A study by Hong Kong University interviewing some 1,000 people last October found half of respondents thought the media self-censored, local reports said.
Hong Kong lawmaker Claudia Mo said Beijing is intent on ensuring the media's freewheeling approach doesn't encroach on the mainland.
"Hong Kong is the only runaway spot," the former journalist told AFP. "The Chinese Communist Party needs to impose ideological control so that there is no spillover effect from Hong Kong." Mo said local journalists faced a difficult choice between fighting against censorship and risking their livelihoods.
"At the end of the day, it's a job. How firm can journalists actually stand when it comes to political pressure? You can't expect everyone to be a hero."