Ratnapura District shows the way to eradicate child labour
View(s):

"If a child during his vacation from school accompanies his father to a gem mine and by some chance sifts out a gemstone, the chances of him returning to school are very remote," was the sad reality that Ratnapura District Secretary Sunil Kannangara highlighted during a meeting with the media last month.

The Sri Lanka Child Activity Study carried out with the support of the International Labour Organization (ILO) in 2008 and 2009 revealed that 2.5 percent of children in the country were engaged in child labour. The Ratnapura district was identified as having about 4,000 children engaging in work in gem mines, small scale tea plantations and even being sent out to other districts as domestic help. "We as a district launched a pilot project to completely wipe out child labour by the year 2016," Mr. Kannangara said.

It was brought to light that over 55 percent of child labourers in Ratnapura did not attend school.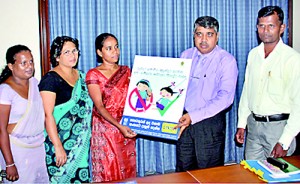 The current laws in the land prohibit children under 14 engaging in any type of labour be it hazardous or otherwise, and children under 18 may only engage in labour termed as "non hazardous." It is also mandatory for children under 18 to receive schooling. "Currently the main reason that propels children to work is the economic struggle the family is undergoing," observes Mr. Kannangara.
The District Secretariat office, the Women and Child Protection Authority, the Police, the Education Authority the Health Authority and even Civil Servants have devised 15 mechanisms to completely eradicate child labour by their target date of June 2016 in Ratnapura.
For the first time in the country a vulnerability study has been launched to assess families with children who would potentially drop out of school. This vulnerability index would be determined by many factors such as economic background, social status and health. Religious leaders and school teachers are involved in determining the index. "We have arranged for career guidance and counselling for children from the age of 14 so that they are encouraged to stay in school," said Assistant Director (Planning) Ratnapura District Secretariat, Ms. A.A. Priyantha Sarojini. The economic wellbeing of these families too will be considered by the welfare banks in providing loans and other financial benefits.
Citizens of Ratnapura are welcome to sign a declaration that they individually stand against child labour and awareness has now enlightened the traders and corporate sector of the area.
This is just one of the few programmes that encourage resistance to child labour. "All the shop keepers will shortly be awarded a sticker if they do not employ children and a stigma of shame is slowly being attached to business owners who are said to hire children," she continued. The local education authority has organised remedial classes for students who have never been schooled before so that they can catch up academically with students of their age.
The awareness programmes are taking place in schools, the District Secretariat's office and even among small tea plantation owners "We use all the opportunity we get to publicise our cause," said Mr. Kannangara.