'Daha Ata Sanniya' comes alive at the Colombo Kamatha at BMICH
View(s):

"It was a rare opportunity for people in the heart of Colombo," said Director General of S.W.R.D. Bandaranaike National Memorial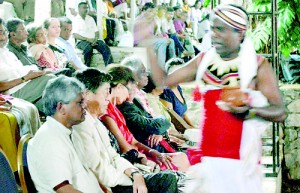 Foundation, Bandhula Ekanayake as the 'Daha Ata Sanniya', a traditional masked dance ritual, was staged on Thursday, January 9 from 8.30 p.m. till 5.30 a.m. the following day, at the open air theatre, the 'Colombo Kamatha' at the BMICH.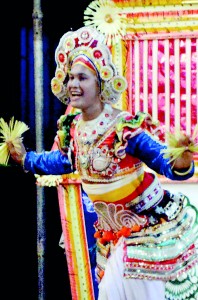 This colourful pageant was organised to celebrate the 40th anniversary of the exhibition complex by invoking blessings on President Mahinda Rajapaksa and the people of the country. Mr. Ekanayake explained the aim of holding this event as "an attempt to create awareness among the people, of an ancient tradition that is now fading away".
The ambassadors of France and Japan were among the many distinguished personalities who were present at this event at which Minister of Culture and Arts, T.B. Ekanayake was the chief guest.
During the time of ancient kings, this traditional dance was staged with the intention of expelling 18 types of diseases from the human body which were said to be caused by devils. According to Mr. Ekanayake, around 750-800 people were present at the open air theatre to watch the event, among them students of the University of Visual and Performing Arts.
This cultural dance was performed by Nevil Priyashantha and his dancers, a well-known traditional dance troupe from Galle. Mr. Ekanayake says the public can expect another traditional event, 'Kohomba Kankariya' at the Kamatha' soon.
Pix by Susantha Liyanawatte