Tennis Trends of 2013
View(s):

Two sports in the world enjoy the status of being the most popular with their presence in over 200 countries. One is Football and the other is Tennis. As an individual sport, arguably Tennis is the most popular in the world. Every sport is unique in character, challenge, intensity and appeal that cannot be matched by others. That is why sports appear in so many forms. To enjoy sport, playing whatever appeals and being good at it should be the pursuit. It will give a good life.

WTA & ATP events and Rankings

This year world events dominated the global interest with its overwhelming exposure capability. The standard of the game, presentation, glamour and entertainment of these events were captivating and reached a large audience. The use of the electronic broadcasting mediums by the global event organisers was phenomenal. Continental and national Tennis events could not match the men's ATP and women's WTA tour presentations. A visit to their web site is well worth to know their influence in modern Tennis. A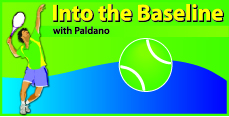 Swiss will know which of their countrymen are in the top 20 of the ATP world ranking but if you ask to name their number 3, you will not get the right answer. It will be so for Sri Lanka too. Many countries have problem figuring out who their number one is. The international bodies recognise only the ATP and WTA 'world-rankings' for Team events, like Davis Cup in their considerations. For this reason many countries do not maintain national ranking anymore but extract their player position from the ATP and WTA rankings.
The annual global Tennis circuit is the ATP and WTA calendar events. The traditional majors of Tennis like the 'Wimbledon' emerging major city championships like 'Shanghai-Open' and 'Dubai-Open' have to fit in or get slots from the ATP and WTA tour calendar. Such slots are franchises with stipulated prize money figures.
This year Novak Djokovic of Serbia had the ATP world's number one position for a while and won the year ending Championships in London. He lives in Monte Carlo. Nadal of Spain had a dramatic year. He lost the year end title to Djokovic but officially ranked as number one for 2013. Among women Serena Williams of USA is the undisputed number one. Her win loss record of 78/4 speaks for itself. She also won the year ending Championships in Istanbul and excess of 12 million dollars in prize money. The only Asian Li Na of China had the best run this year; she is world's number 3. The position from 2 to 5 of women's ranking was not steady this year. Injuries were the main reason for this. Many good players said good bye to competition Tennis and when it came from Marion Bartoli of France just few months after winning her first Wimbledon title, it surprised all. She won matches but never looked comfortable on the court not being a natural mover. What we did not know is that she has been in physical agony when she played. It was the right decision for her.
Doubles getting better
In Doubles Bryan brothers although very deserving could not win the Grand slam of Doubles. They were stopped in their last leg by Leander Paes of India and Radek Stepanek of Czech Republic in the semi finals of the US-Open in New York. However the year ending doubles number one position went to Bryan brothers of the USA and women's number one went to the Italians Sara Errani and Roberta Vinci. Doubles in 2013 gathered momentum and is fast regaining the status of being another attractive spectator event.
Sri Lanka – what is ahead?
We have a very old Tennis Club in Sri Lanka. '1856' is written at the entrance of the Kandy Garden Club and it must be the oldest Tennis club. (The Colombo Club originally at the Galle Face green in Colombo is the oldest Club, 1832 is believed to be the year of inception. It is now at Maitland Crescent as the Colombo Cricket Club). Tennis clubs maintained tennis courts and in the fifties we had as many as 350 tennis courts in the island. The good courts and the player based membership of the clubs in every major town made Tennis very popular in Ceylon. Unfortunately Tennis in Sri Lanka is not rosy anymore. Many clubs have ceased to exist and others with single to double digit playing membership strength are doing the 'last Tango'. Tennis standard improves when the 'game of tennis' with the use of scores is played. This has stopped and our 'Tennis standard' has dropped.
Many under the age of 13 start Tennis. I met three under 18 players who were former under 14 ranked players. The best I heard is 'I play twice a month'. Tennis has become 'school-Trainee-sport'. If there are 6 kids on a court, Tennis is not been played. If two players are on a court playing to a score using tactics and complete a set, then Tennis is been played. When counting the number of Tennis players, please make sure that they are over 20 years of age. If not our statistics will only fool us. A former good player told me 'let us keep whatever possible going and hope something will change soon'. He is right. Having lost most of our options to develop the standard of the game, this is the only path left for Sri Lanka at the moment.
Professional league
Clubs are now catering for the sports which have professional annual leagues. It is a worldwide trend that started with Football in the 1970s'. Cricket, Rugby and Football are the only sports that have professional leagues in Sri Lanka. Clubs have effectively stopped to cater for participatory sport for the simple reason there are too few recreational participators in the society to give membership strength. The ones in participatory sport find the club facilities are not adequate, so their support is not available to the clubs; it is a 'catch 22 situation'.
What Tennis enthusiasts await in 2014 will be the WTA, ATP, Davis Cup and Fed Cup events. These should be good or better in 2014.
- George Paldano, former international player; Accredited Coach of Germany, ITF and USSPTR; National, Davis Cup and Federation Cup Coach –gptennis.ceylon@gmail.com-