An obsession with painting
Amateur artist Selvie Samarajeewa will exhibit her work at the upcoming Bible Society sale
View(s):
"Am a banker by profession,
Art though has been my passion.
Almost nearing obsession,
And now it's part of my daily session."
This is how artist Selvie Samarajeewa introduces herself. A banker, who retired for medical reasons she has been drawing and painting since she was a toddler when she wrote nursery rhymes and drew pictures on bristol-board, her creativity encouraged by her mother and later at school. But she had little time for art during her career and it was only in retirement when she visited her daughter in Australia that she rediscovered her forgotten talent.
Though a relative amateur in the canvas, paint and brush department with only five years experience as a professional artist, she has a great achievement- the Riverside Art Museum in USA exhibits her work and she has found her own clientele in the States through this. Her real satisfaction, though, she says, is gained through giving her paintings to friends and family as gifts and watching as her handiwork goes on the wall to brighten another home.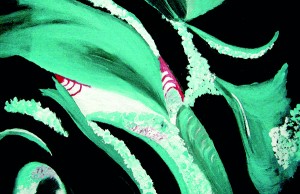 Selvie started off doing pencil sketch portraits, and then moved on to wildlife painting. At present her favourite subject is abstract as she can express herself freely."I felt I had missed my vocation in life, and thought 'better late than never'. I use acrylic and mixed media but my favoured media is oils as I feel it's more refined. I am self-taught but what little I know was mostly perfected by my husband and daughter who are both artists. I'm an admirer of beautiful things. I believe that a thing of beauty is a joy forever," says Selvie who loves to use bright colours such as reds and oranges in her work.
With the encouragement of a close friend Sujatha Samarajeewa, Selvie is exhibiting her work at the Bible Society sale next weekend. "I have a full plate with my religious obligations, cooking and other household work as well as being an independent director at Oriflame, but I always find time for my paintings. If I could paint the whole day without anything else, nothing would make me happier," Selvie says with a smile.
'Handful of Tranquillity Exhibition and  Sale'The 'Handful of Tranquillity Exhibition and Sale' organised by the Ceylon Bible Society to mark Elders' Day and showcase the efforts of elders will be on October 25 and 26 from 9 a.m. to 5 p.m. at the Parish Hall of Christ Church, Dehiwela.

A wide range of items will be on sale including some stalls run by the visually-handicapped.

Elders' identity cards will be issued by the Department of Social Services on October 25 from 10 a.m. to 2 p.m. Senior Citizens (over 60years) who wish to receive the Senior Citizens' identity card should bring three National Identity Card size colour photographs.

While an IT workshop on how to use e-mail and skype will be conducted from 12 noon to 2 p.m. on October 25 for the elderly free of charge, Abans will hold a demonstration on how to cook healthy food for elders from 10 a.m. to 12 noon on Saturday.

For more details, please Phone: 2565583/4 or 2301201/2 Ext 105.

A Gospel Concert, 'Sing for Joy' organised by the Women's Committee of the Ceylon Bible Society will be held on October 26 at 6.30 p.m. at the Bible House Auditorium. There will be performances by Camerati, Inspirations Junior Choir, Cantus and Revelations.
Entrance is by obtaining a programme costing Rs. 500.
Please call the Ceylon Bible Society on Phone: 2575180/2565583/2565584
comments powered by

Disqus