Playing for keeps
View(s):

My Dear Kumar,

I thought I must write to you when I heard that you were having difficulties with your employer, Sri Lanka Cricket, with letters between you and your employer being distributed to the media. Certainly, it provided more entertainment than some of our recent cricket matches!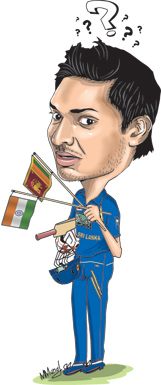 I heard that Sri Lanka Cricket — or at least its Secretary — was querying your loyalty to your country because you had been in two minds about whether to play for a team from Sri Lanka or for your team in the Indian Premier League — in another tournament.
Sri Lanka Cricket told you that they would prefer if you played for a team from your country rather than an Indian team with which you had little connection except being under contract to them. You were upset because they were making it sound as if you were putting money before country. 
Honestly, when I first heard about this controversy, I was reminded of how you appeared on our television screens some years ago promoting a second mobile network, proudly proclaiming "mama ekata maaruwuna…"
Therefore, Kumar, I was wondering why you were having such difficulty in choosing between two teams in this instance. Then, someone told me that had you played for the Sri Lankan team, you would have lost about eighteen million rupees.
That is a large sum of money and I thought it was quite an unreasonable request from Sri Lanka Cricket. And there you were, saying that you and your family would have to bear that loss, just to oblige Sri Lanka Cricket and I almost agreed wholeheartedly with you.
After all, you are not like Malinga who wants the media to mind their own business while he plays T20 cricket in every possible nook and corner of the world for mega bucks but refuses to play Test cricket for his country claiming that the strain will be too much for him!
Nor are you like Sonna Boy, who hung around until he was nearly a pensioner and advertised everything under the sun before trying his hand (or rather, his feet) at Bollywood dancing before choosing the noble profession of politics, to which he is probably more suited.
Just when we were aghast at the treatment meted out to you by Sri Lanka Cricket, someone read the small print and found that while you were complaining about losing eighteen million rupees, you were still earning over seventy million rupees. That changes the picture somewhat, don't you think?
Surely, being the highly intelligent and well-spoken man-of-the world that you are, Kumar, you must know that the vast majority of Sri Lankans can only dream about that kind of money over their lifetime but that is your paycheque for just one year's work at the Indian Premier League.
If that is so, Kumar, they would find it amusing when you say that you and your family will have to bear the loss of eighteen million rupees, if you opt to play for a Sri Lankan side. It is not exactly as if you can't put food on the table or cannot find money to buy exercise books for the kids, is it? 
Cricket fans have also not forgotten that you were among those cricketers who were happy that a Test tour of England four years ago was cancelled to make way for the IPL. We remember Captain Cool fought against it but the cricketers' view prevailed because they wielded more political influence!
Then, two years ago, you were also among those who left late for an England tour because you were keen to keep your commitments to the IPL-and collect your paycheque from them. That didn't quite help the team's preparations and they didn't perform well as we wanted them to.
We all understand that a cricketer's playing days are numbered-especially if they are employed by Sri Lanka cricket!-and that you must make the most of it and as a person who has brought much credit to the country both on and off the field, we wholeheartedly endorse that, Kumar.
But looking at all the evidence before us, I don't think you should be so upset when people question your commitment to your country. Of course, professional cricketers play for money, but should that override every other consideration, especially when today's cricketers are not paupers anymore?
We don't have much respect for the Secretary who suggested that you were playing for money rather than your country. He is a businessman and a politician — and just the other day someone else also quit because of him. but then, two wrongs don't make a right.
Don't get me wrong, Kumar. We greatly appreciate the fame and glory you have brought to our country for which you have been a great ambassador. The manner in which you delivered your Spirit of Cricket lecture at Lord's made us proud to call ourselves Sri Lankan.
That is why it is upsetting when role models like you start complaining about money. That is also why we sometimes feel people like Captain Cool are more patriotic than you are — even if he didn't speak as eloquently as you did at post-match interviews and kept repeating, "Our boys played pretty well!"
Think about all this, Kumar. The cricket fans of this country have placed you on a high pedestal, so high that if you were to fall, it would be devastating. We don't want that to happen. That is why I thought I must write to you because I am sure you would at all times, "honour yet the rule you knew".
Yours truly,
Punchi Putha
PS- Kumar, You can also draw inspiration from perhaps the two most distinguished alumni of your school, Denzil K and Lakshman K. If they wondered for a moment about the money they would have lost serving their country, they would still have been with us, wouldn't they?
comments powered by

Disqus