Amid world pressure, SL 'loans' itself to China
By Our Political Editor
View(s):
Scores of huge contracts given to Chinese firms on "unsolicited project proposals"

EAM comes under heavy firing for mishandling Pillay visit; serious repercussions likely
The External Affairs Ministry (EAM) came in for heavy flak at Thursday's weekly meeting of the Cabinet. 
It was Minister Wimal Weerawansa who raised issue over why the EAM failed to arrange for a Cabinet minister to be on hand when the United Nations Human Rights High Commissioner Navi Pillay addressed an eve-of-departure news conference the previous Saturday, August 30. He argued that such a presence would not only have acted as a moderating factor but also afforded an opportunity to place the Government's point of view. President Mahinda Rajapaksa who chaired the meeting concurred.
External Affairs Minister G.L. Peiris was apologetic. He said he had answered the issues raised by her the very next day. He was of course referring to his whistle stop tour of London this week for a lecture at the Cambridge University. Later, at a reported meeting with the media in Britain, according to the Sri Lanka High Commission there, his usual news release claimed, he had answered the issues Pillay raised. However, there was no reference in any of the British media outlets over what Peiris reportedly said. This was in marked contrast to the display given by them to Pillay's statement.
Just ahead of her news conference at the UN office in Colombo, Pillay distributed a six page text of her opening remarks and later answered questions. The highlight was her remarks that Sri Lanka "is showing signs of heading in an increasingly authoritarian direction." She said "physical reconstruction alone will not bring reconciliation, dignity or lasting peace. Clearly, a more holistic approach is needed to provide truth, justice and reparations for people's suffering during the war, and I have repeated my previous offer of OHCHR (Office of the High Commissioner for Human Rights) assistance in these areas." She also complained of surveillance of people whom she had met.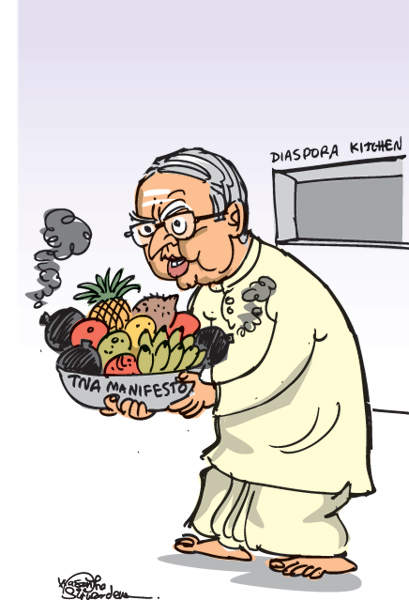 Following Minister Weerawansa's remarks at the weekly cabinet meeting was his colleague Mahinda Samarasinghe, President's Special Envoy on Human Rights. He said it should have been the responsibility of the EAM, which scheduled her official engagements with those on behalf of the Government, to have slotted a place for a Minister to be at the news conference. In this instance it was Minister Peiris. He pointed out an instance where there was a similar high level visit by a UN official to Colombo. In earlier consultations, he had insisted that he (Samarasinghe) should also be present when the visitor addressed a news conference. This suggestion was accepted and he was present. He said that the EAM Secretary should have known. Rajapaksa was to point out that it was the responsibility of the ministers to inform the EAM of such practices. But it is no secret that this Ministry has long ceased to play any role in the conduct of Sri Lanka's foreign policy leaving the Government to take ad hoc measures on different occasions.
Minister Patali Champika Ranawaka was to raise issue about a minister representing minority interests urging UN intervention on matters affecting them during a meeting with Pillay. He did not identify the minister. Rajapaksa asked why such issues could not be raised at ministerial meetings. That prompted Weerawansa to propose the creation of a council of government leaders and representatives of religious dignitaries from different denominations to discuss co-habitation issues. Rajapaksa was to note that it was a good idea. However, no firm decision was made.
Other than Thursday's discussion, the EAM is expected to formulate a written response to the issues raised by Pillay. Quite clearly this exercise is the result of a great opportunity lost with the senior UN diplomat's visit being mishandled at various levels. The written response, the Sunday Times learns, deals mainly with Pillay's views on the need for an investigation into the armed conflict.
The report deals with what it calls "downright falsity" and "contradictions" of Pillay in her earlier calls for an international probe (which she had first called for just weeks after the conclusion of the 'war' in May, 2009), her positions taken up at the UN Human Rights Council sessions in Geneva on the issue, her legitimising the UN Secretary Generals' Panel of Experts report a.k.a. as the 'Darusman Report', and that she had made this call even after the setting up of the LLRC where she "pre-judged" the Commission's work. It says that her present position for a credible independent investigation by Sri Lanka to be given priority was articulated only at the Colombo press conference last week.
Minister Dullas Allahapperuma had to tender a public apology to Pillay on behalf of his colleague Mervyn Silva just after she had left Sri Lanka. The doctor of letters, with an open licence to create chaos, proposed marriage to Pillay. Yet Silva was not repentant. The minister who holds the Public Relations portfolio in the Cabinet declared there was no need for him to offer apologies. He lamented that Allahapperuma should have consulted him before going public with an apology. That a minister continues to shame his own Government and his own country seems lost on the UPFA leadership. While it is unlikely that Allahapperuma would have made the public apology on behalf of the Government sans the approval of the President, Mervyn Silva was seen tagging along with the President when both of them visited the Nawaloka Hospital to see the ailing mother of the SLFP General Secretary Maithripala Sirisena.
Even if Peiris was not at Pillay's news conference, as President Rajapaksa would have wished in hindsight, his own news release after a meeting with the UN diplomat, was pointedly "aggressive and unfriendly" and whilst she was still in the country, had contributed to her detailed response, UPFA leaders learnt. This was why she had formulated a lengthy opening statement. Now, Pillay will make an oral statement on her visit when she addresses the UN Human Rights Council sessions in Geneva on September 20. The 24th sessions of the Council begin tomorrow and will end on September 27. The Sri Lanka delegation to these sessions is yet to be finalised. Other than the rhetoric for the Northern, North Western and Central provincial council election campaigns, issues arising from the second US resolution at the UNHRC seem to have gone to the backburner.
The focus has shifted to the polls campaign once more. That is not to say worries over foreign relations are altogether over for the UPFA Government. Ahead of the Commonwealth summit in Colombo, the Commonwealth Ministerial Action Group (CMAG) is meeting in New York on September 26. Ahead of that event, Commonwealth foreign ministers attending the UN General Assembly sessions are also due to meet there. On Friday, Commonwealth Secretariat spokesperson Richard Uku was one of those conspicuous by his presence at the screening of the controversial Channel 4 film "No Fire Zone." The event was held at Curzon in Shaftsbury Avenue, the venue for screening of documentaries. Others included Bianca Jagger, one time wife of Mick Jagger of Rolling Stones fame. Nicaragua born Bianca is now a human rights activist and David Gladstone, one-time British High Commissioner to Sri Lanka. He had been declared persona non grata by late President Ranasinghe Premadasa for allegedly interfering in Sri Lanka's internal affairs. Gladstone had walked into a polling booth at an election and spoken to officials. It transpired at Friday's screening that moves were afoot to screen the documentary in Colombo during the period the Commonwealth summit is in session.
Another matter related to foreign relations figured in Parliament this week when the Leader of the Opposition, Ranil Wickremesinghe took the unusual step of raising a question over a multi-million dollar water project. The reply in Parliament by Chief Government Whip and Minister of Water Supply, Dinesh Gunawardena that China was awarded a multi-million dollar after an "unsolicited proposal" because "there were no other parties interested" has raised many an eye brow in the country's business circles. The response came after Opposition Leader Ranil Wickremesinghe took the unusual step of raising an issue involving tenders and transactions. He asked why an estimate of US$ 229.5 million (Over Rs. 30 billion) for a water project in the Gampaha District was revised upward. The contract, he said, had been given to China National Machinery & Equipment Import & Export Company now named as China Machinery Engineering Corporation (CMEC). He said it was the same firm that had constructed the Norachcholai Coal Fired power plant, which was not fully operational and had failed four times. "This is one of the reasons for the hike in electricity tariffs," he pointed out. He charged that the Technological Engineers Union had blamed the Chinese firm for the continued breakdowns and the firm merely wanted its maintenance contract extended. The transaction itself is an old one. Minister Gunawardena himself presented it to the Cabinet last year. However, what emerged as significant is his admission that the project was made on "an unsolicited proposal."
Wickremesinghe wanted to know why the Government defied the accepted practice of awarding tenders to a firm that has defaulted. He alleged that the Chinese firm in question has limited experience in regard to water supply schemes. In the light of this, he also asked the reasons for the revision of the cost estimate, the procedure in selecting CMEC, the interested parties, the reason for overlooking reputed water supply contractors and the local agents for the company. "They (CMEC) have done a water project in Angola, one which is over and another one that is pending. They also have another water project in Congo. That is all they have done. They have done some thermal projects in Malaysia, Indonesia and Turkey," Wickremesinghe said. He pointed out that local engineers were of the view that the water scheme could have been done at a lesser cost. 
Responding to the questions, Gunawardena said the "unsolicited project proposal" from CMEC had been studied by a Technical Evaluation Committee appointed by the Treasury. He said "before awarding the contract, the experience and financial stability of the company has been taken into account."
He said that costs were revised taking into "consideration inflation rates" of the revised project period from 2014 to 2017. It was earlier expected that the project would be from 2012 to 2014.
This is a rare occasion where a contract for an "unsolicited project proposal" for a multi-billion rupee venture awarded by the Government, though late, has been bared in Parliament. In other words, no tenders have been called for and no "lowest bidder" was given the award as has been the practice over the years, more so when billions of rupees of the taxpayers' money are involved, Minister Gunawardena's claim that "there were no other parties interested" rings hollow. Several Colombo-based companies which represent leading international firms that deal with water projects told the Sunday Times they would have made a bid, sometimes even lower than the one awarded to the Chinese firm.
"In big deals, there is competitiveness and in a tender that is fair, the lowest suitable bidder wins," said the chairman of one company that was involved in multi-million dollar water projects in collaboration with foreign principals. He did not wish to be named for obvious reasons. It is no secret that in most major deals, influential middlemen rake in millions even if they do not disclose themselves as the local agents. They often have front-men. This practice has lasted through successive governments. "Those days the hunting grounds were military procurements. Many, both in uniform and outside became rich overnight. Now it encompasses all areas one can think of," said a businessman familiar with trade and investment matters. He added "there is a price for everything" and the most "powerful campaigner" wins.
As far back as October 14, 2012, the Sunday Times revealed exclusively in a front-page report headlined "BIG WATER PROJECT ALSO FOR CHINA" details of the water supply scheme. The report said: "A Chinese company will be awarded a US$ 232.5 million (Rs. 30.29 billion) contract for a water supply project for Gampaha, Attanagalla and Minuwangoda areas. The China Machinery Engineering Corporation will, among other things, build a conventional water treatment plant with a transmission length of 100 kilometres and distribution network of 630 kilometres. The existing Basnagoda reservoir will be developed by the Irrigation Department as part of the project. The Cabinet has directed the External Resources Division (ERD) in the Ministry of Finance to negotiate with the Exim Bank of China to secure "Preferential Buyer's Credit" for the implementation of the project………………
"………The cabinet last month approved a proposal by President Mahinda Rajapaksa, as Minister of Ports and Highways, to award two local firms multi-million rupee contracts for consultancy services. The new project follows a recommendation made to the cabinet by Dinesh Gunawardena, Minister of Water Supply and Drainage.
"In a memorandum to his ministerial colleagues, he has noted that there has been a rapid growth in industrial and commercial activities in Gampaha, Attanagalla and Minuwangoda towns and surrounding areas. The generation of employment opportunities due to these activities has resulted in a significant increase in the resident population in these areas, he has pointed out. He has added that "the present water distribution system has limited capacity and it could cater to the drinking water needs of only 18 per cent of the population living mainly in the town areas. This situation has seriously affected the proposed development programme planned for these areas by the government." The proposed new project, Minister Gunawardena has pointed out, will serve about 375,000 people.
"According to Minister Gunawardena, Attanagalu Oya is the main surface water source available to meet the water demand of Gampaha, Attanagalla and Minuwangoda Divisional Secretary areas. He has pointed out that "consequently additional raw water cannot be abstracted directly from Attanagalu Oya to meet the increased demand for water in Yakkala, Gampaha, Nittambuwa-Veyangoda and Raddoluwa areas." 
After the ministers approved the project in April this year, the need arose to extend the water scheme to areas in Rathupaswala, the scene of a riot over water pollution last month. An initiative towards this was taken by Economic Development Minister Basil Rajapaksa. This was after protests by thousands of villagers that a glove factory in the area had allegedly polluted ground water by releasing effluents. The company in question has strongly denied the accusations. The results of independent technical verifications are yet to be made public.
The Gamapaha District water project is not the only multi-billion rupee award made to a Chinese company. An investigation by the Sunday Times has revealed that there are several other ventures given to different Chinese companies which made "unsolicited project proposals." Such proposals have not been subject to tender procedures or any other form of competitive bidding. In addition, some such proposals involving billions of dollars are now pending before the cabinet of ministers.
One such proposal, the Sunday Times learnt, was the construction of the Trincomalee Outer Circular Road. An "unsolicited project proposal" for this was made by Hunan Road and Bridge Construction Group Corporation of the People's Republic of China. It was awarded a contract at a cost of Rs 34,364,502,393.00 (or over Rs 34 billion). The Industrial and Commercial Bank of China has submitted a letter of intent addressed to the Ministry of Finance and Planning expressing willingness to finance 85 per cent of the project on behalf of the Chinese firm. The remaining 15 per cent is to be obtained from the Consolidated Fund. Among other matters, the Trincomalee Outer Circular Road Project will entail the construction of a highway with a four lane carriageway extendable up to six lanes later. The loan component has to be paid back by Sri Lanka for this "unsolicited project proposal."
The Trincomalee Outer Circular Road Project is part of Government plans to develop a metro city. President Rajapaksa has noted that "with the setting up of the coal power plant at Sampur, and also due to the location of heavy industries such as the flour mill, the cement factory, the petroleum tanks in the vicinity of Trincomalee as well as the mineral sand industry in Pulmoddai area, the construction of the outer circular road to the city of Trincomalee is considered essential to provide proper accessibility from various directions." He has added that the proposed road "having a length of 47 kilometres, connects the townships of Nilaveli, Kannai, Sardhapura, Thampalakamam and Sampur in the environs of Trincomalee Bay and Trincomalee City. The Sunday Times in its front-page lead story headlined "US$ 4 b heavy industry zone in Sampur" on June 16 reported exclusively that a special area will be dedicated to heavy industries in Sampur. The award for this venture has been given to the Singapore based Gateway Industries Private Limited, the report said.
Another project, the Sunday Times investigations revealed, is the proposed construction of the High Altitude Sports Complex in Nuwara Eliya. The move to launch this project was revealed exclusively in the front-page lead story in the Sunday Times of August 4. Sports Minister Mahindananda Aluthgamage who made the recommendation told his ministerial colleagues that "The total cost of the project is US$ 115 million and the China Volant Industry State Company is expected to bear US$ 88.25 million (Over Rs 11.649 billion) out of the cost and remaining portion of US$ 26.75 million (Over Rs 3.531 billion) is borne by the Government of Sri Lanka as taxes, service insurance and re-settlement charges."
The amount to be obtained is a loan and has to be repaid to the funding source. Aluthgamage says "this Ministry has been instructed to find out ways and means to obtain foreign assistance for the construction of the High Altitude Sports Complex in Nuwara Eliya. In this endeavour we have received a project proposal from China Volant Industry Company Limited and China Zhonghang International Technical & Economic Company Limited, for the construction of a High Altitude Sports Complex at Nuwara Eliya, by modifying it into a Sports Academy." He does not say who has "instructed" his Ministry underscoring the fact that the transaction lacks the basic element of transparency. Even cabinet ministers are thus unaware of this important detail.
The Sunday Times investigations have revealed that in this instance only the Chinese company's proposal has been sought by someone still officially unidentified. This is whilst no other reputed firms worldwide dealing with similar projects have been invited to make any proposals. How the sums quoted for the project have been worked out is also not clear. No breakdown of the different costs has been given. Thus a determination on how they compare with world market prices is not possible. Formal approval is sought for a lump sum of money. 
Unanswered questions remain with regard to "unsolicited project proposals" made by Chinese companies for different projects in Sri Lanka. In addition, the rationale for unilaterally urging some Chinese companies to provide project proposals leaving out all others in their respective fields also remains an important question. This is the first time that the Government has begun to approve multi-million dollar (or multi-billion rupee) projects on "unsolicited proposals." That the process lacks transparency does raise questions. This is by no means to devalue Sri Lanka's relations with China but to highlight an unsavoury reality.
Throughout the separatist war against Tiger guerrillas, China is one country which has unhesitatingly provided most of Sri Lanka's military requirements, often without demanding money first. One would not be wrong in saying that their supplies of expendable ammunition rounds of different varieties, besides other equipment, kept the troops fully prepared to take on the enemy. With the defeat of the Tiger guerrillas in May 2009, it is known that a special business relationship developed. The UPFA Government entered into different agreements with Chinese financial institutions. Most loans for projects were obtained from the Exim Bank of China and all this money has to be paid back. So is the money obtained under similar arrangements from the China Development Bank Company Limited (CDB). These are two examples amongst many.
The Exim Bank of China has given two separate loans, one after a cost overrun, for the Colombo-Katunayake Expressway Project. Four contract packages for the construction of civil works of the Colombo-Katunayake expressway (CKE), which is 25.8 kilometres long with five interchanges, was awarded to China Metallurgical Group Corporation (MCC) to be implemented as one project. The Exim Bank of China then extended a loan of US$ 248.2 million (over Rs. 32.7 billion) and a balance of US$ 43.8 million (over Rs. 5.7 billion) was raised locally. The project was due to be completed first in December, last year and thereafter in August this year but has been further delayed.
The Government was compelled to approve variations to the value of US$ 44,717,825.54 (over Rs. 5.9 billion). Besides, it was compelled to revise the contract package to China Metallurgical Group Corporation from US$ 292 million (over Rs. 38.5 billion) to US$ 336,717,825.54 (or over Rs. 44.4 billion). When the External Resources Division in Ministry of Finance and Planning approached the Exim Bank of China for the additional funding, it was refused. They agreed during negotiations to consider it as a separate new loan. Sri Lanka accepted this offer. However, Sri Lanka was required to sign a new addendum to the Contract Agreement giving the variation work involved in the project. The variations included an underpass at Dutugemunu Mawatha, Kelaniya, Wingwall foundations and additional box culverts. The size of toll plaza buildings is also being expanded. Though delayed, RDA officials said that the Colombo-Katunayake expressway will be in operation ahead of the November Commonwealth Heads of Government Meeting (CHOGM) in Colombo. 
The cost variations for the CK highway also led to increased costs to be paid to an Australian firm of consultants supervising the project. According to the Department of Public Finance in the Treasury, the variation amounted to US$ 14,430, Australian Dollars 1,155,625 and Sri Lanka Rs. 39,895,251, which are 1.62 per cent, 25.85 per cent and 23.14 per cent of the amount recommended by the Special Cabinet Appointed Procurement Committee (SCAPC).
The Government and the China Development Bank Company Limited (CDB) signed a Memorandum of Understanding to "establish a framework for co-operation and in terms of this MoU the CDB has agreed "to provide credit facilities to finance, inter-alia, infrastructure development projects with great significance, according to the Ministry of Ports and Highways." It has agreed to finance the Priority Roads Project to be implemented by the Road Development Authority (RDA) under the Ministry of Ports and Highways. President Mahinda Rajapaksa is the Minister in charge.
Last year, the CDB said it was providing US$ 500 million for Phase II of the Project and 19 civil works contracts. They are to rehabilitate 504.9 kilometres of roads in Western, Southern, Central, Uva, Sabaragamuwa, North Western and North Central Provinces and 85 kilometres of Provincial roads in the Nuwara Eliya district. Two new flyovers at Hambantota are also being constructed. The RDA has obtained the services of local consultancy firms for construction, supervision and they will be paid from Government funds.
The China Huanqiu Contracting & Engineering Corporation (HQCEC) was awarded the US$ 96 million project to construct a Bunkering Facility and Tank Farm in Hambantota. It was on EPC (Engineering, Procurement and Construction) turnkey basis. The project was completed and handed over to the Sri Lanka Ports Authority (SLPA). The Exim Bank of China bore 85 per cent of the cost which has to be repaid by Sri Lanka. There are a number of other projects in Hambantota itself, including the Mattala Rajapaksa International Airport (costing around 281 million dollars or Rs. 35.7 billion obtained on loan from Exim Bank) and the seaport costing over a US$ 500 million or more than Rs. 66.5 billion for the first phase. The Exim Bank of China provided 85 per cent of the cost. 
One fact that is clear from the numerous deals Sri Lanka has entered into with Chinese firms on "unsolicited proposals" and others on loans is that in almost every instance huge amounts of money have been obtained from Chinese lending institutions. As a result, China has become the largest lender to Sri Lanka in recent years. Most projects also have provision in the agreements that require Sri Lanka to insure (also with a Chinese state owned insurance company) against repayment of the loans in question.
Thus, with China as a strong ally and lender, Sri Lanka looks to Beijing's support in the pursuit of the country's faltering foreign policy and economic development. With the EAM in the doldrums, in less than two weeks, Pillay will tell the UN Human Rights Council the outcome of her visit to Sri Lanka. Like during her visit where there was an onslaught more on her than on issues by some UPFA leaders, there does not appear to be any preparation or strategy for countermeasures. If that too ends up in more salvos against Pillay and the UN, the Government which has bent backwards to heed the contents of the second US resolution will have only itself to blame. Then no amount of accusations of conspiracies will convince members of the UNHRC. That is the hard reality.
comments powered by

Disqus