Letters to the editor
View(s):

Redraw provincial boundaries

The election to the Northern Provincial Council is to be held soon and parties are gearing for it. The Provincial Council was a concept of the then Indian Prime Minister Rajiv Gandhi who was not familiar with the demography and other features of Sri Lanka. He imposed India's regional devolution concept on us.

Although India which armed and financed the LTTE promised to disarm the militant group following the signing of the Indo-Lanka agreement, it never happened. I don't think we should honour that agreement.

The Provincial Councils are a white elephant that serves no purpose. There are nine Provincial Councils which are a drain on the economy. The provinces as at present were a creation of the colonialists and are not sacrosanct. I think the solution is to move the goal posts. That way we will have PCs as suggested by India but on our own divisions. We can go back to the age-old divisions of Ruhunu, Maya and Pihitarata. The Ruhunu rata extended from the Bentota River to the Mahaveli in the East. The Pihitarata included the Jaffna peninsula and extended to include Anuradhapura and its environs.

In the days of old we had a 'Yuvaraja' or deputy to the king in Jaffna. So we can have Provincial Councils but different land areas and the problem with the Northern Council will automatically be solved.

A fact that everybody seems to have forgotten is that some 53,000 Sinhalese who lived in the Jaffna district were evicted by the LTTE. Some had been born there and had no relatives in the South.

Dr. Chandra Weeraratne

Jean honoured in US; ignored by Lankan media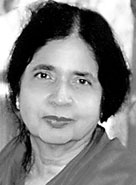 Why are writers, like prophets not honoured or given the recognition due to them in their own country?
That a prolific writer and poet of the calibre of Jean Arasanayagam was recognised and awarded a doctorate by Boudoin College, one of the top ten liberal Arts colleges in the United States, was not even mentioned in the Sri Lankan media. Isn't it strange?
Among the six other distinguished recipients of this award at the ceremony on May 25 was the former US Secretary of State, Madeleine Albright.
At the ceremony, Jean was described as one of Sri Lanka's most talented, prolific and well-known contemporary writers of English language, poetry and prose for more than 40 years. In the citation for her award, her writing is described as "being beyond simple categories of race, ethnicity and gender".
Barry Mills, the President of Bowdoin College, on inviting Jean to receive the honorary doctorate, comments on the "breadth and depth of her contribution to literature". He adds that "through your poetry, novels, short stories and plays, you have awakened the world to the cultural and historical circumstances of the ethnic conflict in Sri Lanka and its aftermath. Yours is a voice of conscience, of experience, of wisdom and of hope."
How true is the axiom that prophets/writers are least recognised in their own country!
Rita Perera, Via email
Pot bellies belie underlying malaise
Sri Lanka is going to pot! I see pot bellies everywhere. They hang over pants, burst out of fitted shirts or hide under loose kurtas. Almost every male except for the young and the impoverished display them.  Some smart aleck who reads this may very well ask me 'what is it to you if a man wishes to sport a pot belly? To him it may be a symbol of prosperity. Besides, his pot belly should be his own business and no concern of yours.'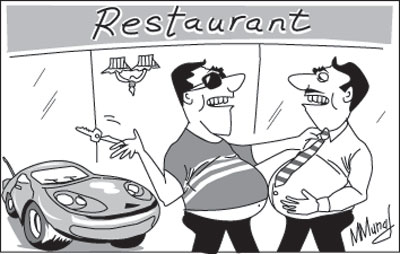 Ay there's the rub as Shakespeare may have put it. Pot bellies in such epidemic proportions belie some deeper troubling issues. They reflect a severe lack of discipline; an avid pursuit of money and power; greed at lavish buffets and an overall addiction to high living, without sparing a thought for less privileged fellow beings with caved-in bellies. Extravagance and excess are the norms. Luxury hotels and fancy shopping complexes, entertainment ranging from fashion shows and musical extravaganzas to superstar contests on TV and sports car racing; grand weddings at exclusive venues are all signs of decadence.
The Sri Lankan Government boasts of probably the largest cabinet in the whole world (a boon or a bane for a small country?). Millions are spent on mega projects like airports and harbours while not enough is spent on raising the living standards of the desperately poor.
Even Buddhism as practised in contemporary Sri Lanka has not escaped this addiction to excess. Pirith nool has become thicker and more ostentatious often seen on the well-padded wrists of VIPs marking them as very devout Buddhists. Disturbing extremist elements have crept in violating the spirit of tolerance and the practice of moderation advocated by the Buddha.
Alas! Sri Lanka seems to be straying from the Middle Path.
Chitra Premaratne – Stuiver, Mount Lavinia
Follow @timesonlinelk
comments powered by

Disqus