The Lantern
By Manoshi de Silva
View(s):
Sandun was looking forward to Poson day mostly because he wanted to make a lantern. This time for Vesak he didn't get to make a lantern and hang it. He postponed making a lantern for the very last moment and unexpectedly he caught fever and fell ill. His father brought some buckets and hanged them hoping it would cheer up Sandun, but it didn't. Every year there was his own special lantern hanging outside. Having buckets was not quite the same thing. "This time I will not make the same mistake by keeping things till the very last minute!" he thought. So soon after Vesak and as soon as he got better, he started making a lantern for Poson.
Sandun remembered what happened to his lantern the previous year. He took a lot of trouble and made a beautiful lantern but the candle tilted and it caught fire.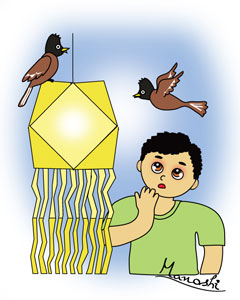 "Not this time!" he promised himself. So he made a strong base and fixed a square piece of flat wood at the center to support the candle. This time the base was broad enough even to place a clay lamp on it. He pasted tissue paper as neatly as he could. Finally when he finished fixing the frills he stepped back and took a good look at it. It was simple yet elegant. He couldn't wait to hang it outside. He loved to hear flattering remarks from his neighbours and friends who always admired his lanterns.
Sandun didn't want anyone to see his lantern till Poson day and he didn't want to take any risk of it being damaged or discoloured. The outside shed was the best place to hang and keep the lantern safely till Poson. Sandun took the lantern to the shed. When he opened the door he saw two small brown coloured birds flying around the shed. "They seem busy looking for something, probably food. They must have entered through the broken window," thought Sandun. He carefully hanged the lantern. The birds looked at the lantern with curiosity. 'Even they seem to admire it!' Sandun thought happily.
A few weeks later, on the Poson day, Sandun went to the shed to check on his lantern. As he entered the shed he noticed some dirt which has fallen under the lantern. He went near, stood under it and looked up. To his horror he could see pieces of twig and coir on the base. "Oh-no!" he shouted as he ran out looking for his father.
Sandun's father climbed on top of an old table in the shed and peeped into the lantern. "You are right!" he said. "They've built a nest inside your lantern. There are three small eggs in it!" Sandun hugged his head with misery. "Of all the places on earth, why did they choose my lantern? Thaththa, can we place the nest somewhere else in the shed?" "No, we shouldn't do that putha. If we interfere they might not return to the nest. We don't have an option!" Sandun's father replied. "Do you remember these are the kind of birds that once built a nest on our chandelier?" "Yes and we couldn't switch on that light for a long time!" Sandun replied sounding very annoyed. "Some birds like to live close to humans. That's because they trust that we wouldn't harm them.
We should maintain that trust!" his father said. Sandun just sulked. "This is just not fair!" Sandun sat in the corner of his room and thought. "First I fall sick during Vesak and end up without a lantern. Since I didn't make one on time, I guess that was my fault. But this time I made one much earlier than I should and the result is still the same. I end up without a lantern.
It's the birds who ruined it this time. If I could I'd just chase them away!" he thought burning in anger.  That night Sandun looked at his garden which was decorated with buckets. "It looks so empty compared to the neighbours' gardens. If only my lantern was here!" he sighed.
He felt very angry with the birds.
Sandun's father took him out sightseeing but he didn't feel happy or enjoy it at all. The only thought on his mind was the lantern he never got to hang and the continuous anger he had towards the birds. On his way back home it started to rain. It rained for a while and when he reached home he looked around. All the lanterns in the neighbourhood were tattered and torn. Sandun's father came near him and smiled. "If your lantern was out it would have ended up the same way. At least it's serving a better purpose now, don't you agree?" A soft breeze blew across the garden swaying the trees. "After all nothing in this world is permanent, just like these torn lanterns! You must also remember that things don't always happen as we expect. We must face life with courage and accept what we cannot change." Sandun's father said touching Sandun's shoulder.
Sandun felt the anger he had towards the birds melt away. "That's alright thaththa, I don't feel sad or angry anymore. I think we did a very good deed by letting the birds stay in the lantern." His father smiled and patted him, nodding his head. "Next year let's make some new lanterns for Vesak and Poson." Sandun looked up at the sky. The Poson moon peeped out of the clouds brighter than ever, spreading a feeling of contentment in Sandun's heart and a smile across his lips.
Follow @timesonlinelk
comments powered by

Disqus