Travails of travel and tourism as a GDP contributor
By Upul Arunajith
View(s):
I was pleased to see the wide media coverage of the "one millionth" arrival in Sri Lanka thus reaching the long awaited magic number, in our tourism statistic. I was pleased because, tourism as an economic sector has been wishing for one million arrivals ever since 1981, when the Tourist Board Chairman of the day made a surprise visit to one of the resort hotels in Little Rome- Negombo where I used to work in 1981.
He introduced himself and said he was visiting to check out the facilities as they were expecting one million arrivals in the near future. This target never materialized for almost three decades.
As an economic sector, tourism was yet another victim of circumstance. The prolonging war did have an impact on arrivals. By the same token if we turn to other destinations as Israel or Egypt where violence is rampant the arrivals were on the increase. It was sustained growth. Unfortunately though, in Sri Lanka we are swift to find excuses as opposed to finding pragmatic counter measures based on well researched studies and introduce a policy frame work to meet challenges. While acknowledging the meaningless war did contribute to a drop in arrivals it was not the only contributing factor for the industry to fail.
Among a long list of contributing factors, continued sector politicization over the years, total absence of a structured advertising campaign and incompetence at a policy making level drove the industry to the abyss. We were focusing on our Sri Lankan smile and our beaches as a tool that will attract a large number of tourists. Not stopping at that we were wasting time on frivolous debates on tag lines and not on strategies. At one time there was debate at a policy making level on some tag line whether it is a "small miracle" or a "big miracle"! How prudent is this endeavour.? Most certainly I will not choose a holiday destination based on some catchy tag line. On a more serious note these English tag lines when translated into other languages tend to lose its dynamism. This is a clear demonstration of what happens when incompetent policy makers are appointed to key positions of the economy. They lack the drive and lose sight of the long term mission.
Since tourism was first introduced, the industry has undergone many a change, locally and internationally. The Tourism Development Master Plan must take into account these changes. Any plan done in isolation is bound to crash.
There are three sectors in the economy that must be run at optimum level for economic value addition: Port, tea industry and tourism sans politicization.
This is an achievable target and will result in a sustained GDP growth of 7.5 per cent annually. The Central Bank (CB) need not keep adjusting the GDP numbers every quarter and we don't have to send our village girls to the Middle East as nannies working for $150 a month.
Who is a Tourist?
I go back to 1979 to the old Colombo Club (Samudra Hotel) where I was taking up hospitality management. I have a vivid recollection of my lecturer asking the class who a tourist was. Garrulous and a veteran in the school, Wijewardena (holding a key position in the industry today) seated in the back row next to me sprang up with the definition. "a female in a bikini and sun-glasses having a sunbath on the Mount Lavinia beach sipping a Thambili".
He sure entertained the class and the definition was correct by the standards of the day.
Tourist by definition is a person who travels for pleasure and stays at a hotel. This was the conventional meaning. This tourist has now come of age.
The tourist will travel, but is "frugal". This tourist will still sip a Thambili but will want to know if it is "fair trade" and more importantly stay in a hotel that is "affordable". Now the definition has to change to keep with other external changes. The old definition does not hold true.
Global financial crisis and disposable income
Going back in history, in the world of finance we have all heard of a 'major" financial crisis in 1929. Many millionaires saw their fortunes vanish overnight and a few took their own life. But was it the first and the last of its kind? An empirical study done in 2009 revealed these financial crises are recurrent where the markets crash every 10 years in the minimum in various degrees. Be it commodity-driven or financial instrument-driven or due to market manipulation these are crises. The more manipulative the policies in place becomes the entire structure becomes vulnerable. Recently we saw the gold prices tumble. This was manipulated by leveraging and short selling gold (more than the inventory in the global market) to stabilize the US currency.
Key point being, these recurrent financial market manipulations and engineered crises will wipe out retirement savings of these Thambili-sipping bikini clad, sunbathing tourist and that compels them to take austerity measures. That has a bearing on disposable incomes and travel budgeting.
Tourism model development paying no heed to these shifts in the demand side is a recipe for disaster.
Frugal tourist and disposable income
The financially savvy tourist is frugal. Before the next financial crisis can potential wipe out retirement savings they make pragmatic financial decisions. In the grand scheme of affairs what ends happens is that their "disposable income" becomes limited and the budget for travel gets reduced.
It's a vicious cycle. Based on empirical data, they are getting ready for contingencies while they do travel on a limited budget. As they save more for retirement the disposable income drops. With a drop in disposable income they will go for a destination where they get "value for money" and that decision is not driven by whether it's a small or a big miracle guided by some advertising slogan.
Now they seek value for money. They will make the dollars walk further, as the system compels them to become leaner and meaner. The contemporary traveller will stay away from branded hotels. This trend will be on the rise. Already the room night statistic published reveals a sustained growth in the non-traditional accommodation sector i.e. guest houses and a drop in brand name hotel.
Thambili-sipping Tourist
As a concept, tourism must be seen as a movement of people to experience other cultures and a way of live and in the process enrich the lives of everyone involved. This thinking gave birth to the concept of 'community based tourism'. Tourism as a sector should not be commercialized.
To take you back to Wijewardena's Thambili sipping tourist at the Mount Lavinia Beach, today this tourist is going to ask if this Thambili is 'fair-trade' certified. In 1979, I am sure fair trade was a non-issue but today it is mainstream. As a producer of tea, the tourist will always be eager to know whether Sri Lanka's "World's Best Ceylon Tea" is based on fair trade.
Value and affordability
The bikini-clad tourist is now savvy, frugal and seeks value. They seek optimum value for the money they spend. This is not the same tourist sipping that Thambili. The tourism product must change with the needs. The tourist has changed and then the industry must change.
The industry focus must be on offering value to the tourist and not focus on how much they spend per day in Sri Lanka. That is commercialized tourism.
Revenue per tourist will increase with the provision of value.
New tourism business model: Its Optimisation vs Maximisation Optimisation is to reach the best within given constraints and parameters recognised. It's about reaching full potential and delivery of quality in a given situation without compromising quality and value. Maximising is increasing the numbers compromising value and quality. Maximising over time is not sustainable when value and quality gets affected. It's vitally important that model development pay attention to factors driving optimisations and not maximisation. Optimisation is sustainable growth and maximization is not: Maximisation is boom and bust approach!
The relationship is inversed between optimisation and maximisation. Higher room rates will facilitate capacity development but will result in drop in patronage. This leads to the entry of alternatives non-traditional cheap guest houses. Such entrants are noted to be detrimental to the proper development of the tourism product especially in developing countries.
More importantly, from a supply side, manpower development must converge with optimisation. Tourism as an industry cannot have servers who would stab a guest with a folk! Education is fundamental. Gone are the days when hotels were managed by planters. The product has to change and move in tandem with the demand.
The tourism master plan should be set on a solid foundation for the ultimate goal of giving value to a discerning tourist thus making 'Sri Lanka – a memorable experience'! Haphazard capacity development is detrimental when the model is developed based on false assumptions. The day we offer value and make Sri Lanka an unforgettable experience, we achieved our mission.
The present drop in hotel occupancy is time to take the model back to the drawing board. The end of war is no seamless transition to an utopian Riviera. The present arrival maximisation will be short lived at the current trend with over capacity development and lack of trained staff. No proper facility is in place for human resources development at a craft level. Most of the facilities are geared towards management level training.
This human resources development model has all the hallmarks of creating an inverted triangle where there will be too many chiefs and no Indians. When quality veteran trainers with a track record are turned away by recognised training facilities, that should be a wake-up call to the policy makers. In the absence of skilled and disciplined trainers why turn quality trainers away?
Tourism model development must not be done in isolation based on some wishful thinking. The crucial point being identifying the market we are catering to and the disposable income in this market segment. We should go further and validate the sustainability of this disposable income in this market and do a comprehensive competitor analysis as would apply to the target market. Once we have the basic building blocks then we do our model development. Factor in external and internal variables. Developed model must be regressed against contingencies. The model needs constant innovation and reforms to keep pace with the ever changing landscape.
Notwithstanding an announcement made few years ago by the Central Bank (CB) Chief that tourism as a contributor to the GDP is insignificant; with a surge in arrivals, it is of paramount importance that the CB has proper policies to manage exchange rates. Proper mechanism should be in place to manage inflation, exchange rate and rupee liquidity if we are targeting 2.5 million arrivals and annually pumping extra foreign exchange to our GDP.
Can Sri Lanka manage 2.5 million arrivals annually? To cater to this projection we have to have an investment on infrastructure development of US $ 5 billion. Raising this on a short term leads to inflation. Cost of living gets further increased. A prudent question then is do we need to have 2.5 million arrivals. Is this a sustainable number? We will not want to have whiplashed where we have a surge in arrivals and the following year to see a significant drop due to external factors or may be due to over pricing. With so much invested in the sector what potentially will happen to such investments is a crash and no contingency plans. Over capacity and unplanned production is detrimental to the progress of the industry.
The other side of the equation is, with over 2 million Sri Lankans living outside Sri Lanka why limit projections to 2.5 million arrivals annually.
Should we project and be targeting more than our original target of 2.5 million arrivals. This segment of the market is sustainable contribution, provided the correct conditions are in place.
Tourism is a growth industry. While we were debating whether it's a big or small miracle, other war ravaged countries in the region got a tourism development master plan and in a systematic way have been able to attract millions of tourists. Countries like Vietnam and Cambodia with nothing to offer were able to attract a record number of tourists. The accent is on offering value and an unforgettable experience. Sri Lanka as a tourist destination has unlimited potential provided the product is developed in a systematic manner. The entire island is a resort, but has always under performed. Ostensibly the war was the cause for not performing at its optimum potential. Regrettably, I see no proper plan to operate at optimum potential yet.
The only visible development in tourism in the post conflict era is, increased room rates and unplanned capacity building. Both are counter-productive as already demonstrated. In Sri Lanka anything and everything progressive gets quashed.
Power situation
With an unprecedented shift in the cost of power generation and the media attention the power generation has received there are ways how the resort hotels can provide a solution to the problem. As opposed to net consumers of power, the resorts can generate solar power and provide the regional grids.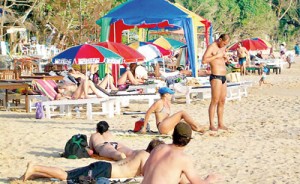 Every challenge is a stepping stone to innovation and the current power crisis is no exception. There has to be new infrastructure that facilitates resort cluster hotels to generate solar power during peak consumption and provide to the grid.
Price control vs market economy
Study after study has validated that price control in any sector is a failed model. The world is shifting to more progressive market economies where the market fundamentals determine the price. Basic building blocks of the pricing structure should be a function of supply and demand. Policies have to recognize this fundamental and stay clear of introducing counter-productive pricing regimes.
All forms of price control are detrimental on the long run. Controls above and below the market driven natural price level has devastating effects on any industry. Lower prices will discourage new entrants to the industry and high prices while attracting investors will drive away the tourist to other destination where they get value.
What we need is not increasing or controlling the price. We need to manage our yields. Yield management is a new development in response to challenges the industry faced. Yield management potentially benefits both the supply side and the demand side of the equation.
Tenets of market
Management Guru Peter Drucker once said innovation is the key to sustained progress. Treading along this path as we look back, as a sector, tourism in Sri Lanka has not been innovative. Sri Lanka Tourism, as we re-launch our product, must offer product differentiation. We should offer a product that gives the tourist a different experience at a low cost.
The master plan should factor in community-based tourism. Community based-tourism is becoming a global trend and we must approach it systematically. Education is vital for the sector to grow. Education will create innovation. Education will facilitate low-cost production.
Collectively this will contribute to a sustainable growth of the sector.
We should not commercialise our once proud heritage. As a nation with a civilisation of more than 2000 years we should take pride and invite other cultures to visit us and enrich lives. The sooner we stop commercialised tourism, the better it is for the very growth of the sector. In all my visits to Sri Lanka I make it a point to have a dialogue with the tourist.
The consensus view is having widely travelled they were not overly impressed with the product. In particular Kandy as a tourist hub was a total disaster as it was over-priced and the majority rejected commercialised tourism and a revisit is a remote proposition.
Recently one of my friends shared his experience with me of a tour he made on an air balloon. Upon landing in a remote village off Kandalama, the villagers welcomed them with Lotus flowers. No money was expected and this was done for no commercial purpose. This is what Sri Lanka hospitality is all about in its true sense and we should make every endeavour to promote this un-commercialised tourism as a concept. It is all about community based-living and experiencing the Sri Lankan way of life. This is what Sri Lanka Tourism should develop and not treat tourist as mere statistics and look for growth in revenue and head on beds.
Innovation – showcase Sri Lanka
The tourism cess fund or destination promotion fund should have a programme to "Showcase Sri Lanka" in various markets that we target. This must be done in collaboration with the respective consulate offices on various countries and show the uniqueness of our product. We must promote our Sinhala ayurveda, tea, folk life.that all go to make a visit to Sri Lanka a unique experience. The opportunities can be created provided they are harnessed.
(The writer, formerly in Sri Lanka's tourism industry, is now a Chartered Marketer and Derivatives Markets' Specialist based in Toronto).
Follow @timesonlinelk
comments powered by

Disqus