Lankan plantations struggle to survive amidst high production costs
By Bandula Sirimanna
Eternal lament of high wage costs surfaces again this year
View(s):
With the recent 20 per cent wage hike given to plantation sector workers, Sri Lanka's once lucrative tea industry is facing a threat of collapse due to the inability to increase labour productivity and declining yields in high grown, mid grown and Uva tea sectors, senior plantation sector officials said in Colombo on Tuesday.
As a result, the cost of production of these Regional Plantation Companies( RPC'S) would rise by Rs. 40 to Rs. 50 per kg. Each company would have to pay in excess of Rs. 10 billion on wages, EPF/ETF and gratuity, they disclosed.
The cost of production now ranges from about Rs.360 to Rs. 380 a kg.
The daily basic wage package of a plantation worker has been increased from Rs. 515 to Rs. 620, a 20 per cent increase up front for a period of two years and this will add to cost of production of a kg in tea companies which are labour intensive, said Planters Association (PA) Chairman Lalith Obeyesekere at a media conference in Colombo.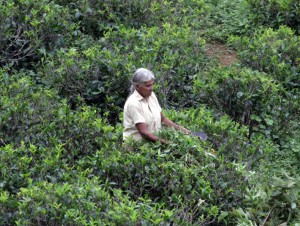 The daily labour wage of around US$ 4.90 has surpassed the average auction price of tea of US$ 3.39 per kg, he disclosed.
Mr. Obeyesekera added that the PA anticipates productivity increases of at least 2 kg per worker on par with higher wages.
Wages of Sri Lankan plantation workers are almost double that of India and Kenya, he added. Agreeing to a Business Times journalist's argument that this comparison is not relevant due to the difference of cost of living between Sri Lanka and those countries, he said that unless the workers increase productivity, this wage increase could not be sustained
The trade unions should also extend their support towards increasing productivity, he added. Mr. Obeyesekere noted that the Middle Eastern crisis especially the US economic embargo against Iran and Sri Lanka's high cost of production due to the heavy wage bill were the main reasons behind the current decline in the tea industry.
He pointed out that there is a positive co-relation between profitability and productivity and increase in productivity is fundamental to increase profitability in the RPCs and that losses experienced by the high grown, mid grown and Uva sectors are due to the sectors' inability to increase productivity sufficiently to offset high costs relative to those of the competitors. He was of the view that that wage hike would be unaffordable under the present loss-making conditions.
PA Deputy Chairman and Managing Director, Kelani Valley Plantations and Talawakelle Tea Estates Roshan Rajadurai highlighted the pressure on employers in the plantation sector to grant wage increases due to the nature of the industry.
"This is not just an employer—employee relationship, it is an employer—community relationship and the employers have to think of wage negotiations under this highly politicised set up," he said.
"It may be necessary to consider wage negotiations based on the capacities of companies as they faced different issues, although that approach itself was complicated," he said.
The plantation industry is Sri Lanka's biggest employer with over 250,000 workers involving one million residents.
"Sri Lanka's cost of production is already the highest in the world and this is a very challenging position to sustain without the support of all stakeholders," he added.
"RPC's have been struggling with high labour costs with several companies finding the wage revision a challenge to sustain. We look to all stakeholders, workers, trade unions, etc to join hands in sustaining the viability of the tea industry," Mr. Obeyesekere summed up.
Follow @timesonlinelk
comments powered by

Disqus