Bank of Ceylon is 'The Home of Savings' in Sri Lanka
View(s):

Save your hard-earned money with the Utmost Security of a State Bank with BOC: Sri Lanka's No: 1 Bank

The bank is synonymous in being the nation's 'Home of Savings' and it caters to the saving requirement for the whole family, beginning from children's savings accounts, teenage and youth savings accounts; NRFC accounts, saving accounts for adults and senior citizens as well as retirement planning accounts.

Ran Kekulu Children's Savings Account

Ran Kekulu is a children's savings account from Bank of Ceylon. It offers the widest range of benefits among children's accounts. Parents can get a number of financial and non-financial benefits through Ran Kekulu accounts, which can be operated without any risk.

This account presents an additional 1% interest, offers the account holder a medical insurance/hospitalization for charges up to Rs. 100,000/- that covers 10 critical illnesses. A further insurance cover at a maximum value of Rs. 500,000/- is available for the depositor who opens the account.The depositor becomes eligible for an insurance cover maximum value of Rs. 1 million if he/she maintains multiple Ran Kekulu accounts depending on the account balance.

Furthermore, 2,000 scholarships worth Rs. 10,000/- each are granted annually to Ran Kekulu account holders that emerge successful at the grade 5 scholarship examination. A minimum balance of Rs. 5,000/- maintained in a Ran Kekulu account qualifies the account holder for most of the privileges mentioned here.

14+ Teenage Account

This is the innovative savings account introduced by BOC for teenagers between the ages of 14-18. The account was conceptualized to inculcate the habit of saving amongst teenagers and draw attention away from unwanted spending sprees that are common to this age group. A voluntary savings of pocket money is encouraged here at an early age and account holders are entitled to a BOC Debit Card to access their accounts from 451 ATM's island wide.

18+ Young Adults Account

This account targets youth that take an active stance in planning for their future development. Existing especially for those within the age group of 18-25, it offers benefits that could be enjoyed even until the age of 35. This account carries a number of financial and non-financial benefits: A medical insurance cover to the maximum value Rs. 100,000/- that covers 10 critical illnesses and a life insurance cover to a maximum value of Rs. 500,000/-. In addition, a 24 carat gold coin is gifted to eligible 18+ account holders on the day of marriage. Account holders are also entitled to an additional interest of 0.5%, internet and SMS banking; debit cards for shopping and ATM withdrawals, instant loans up to 90% of account balance, scholarships and a concessionary opening of a Ran Kekulu Children's Account with just Rs. 500/- for first baby.

Kantha Ran Ginum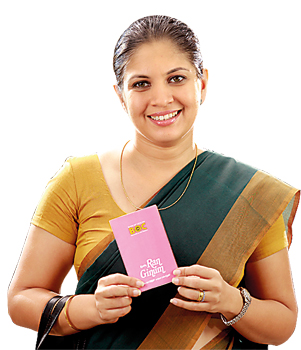 Bank of Ceylon recognizes the role that the Sri Lankan woman plays directly and indirectly shapes the nation's economy. Looking back over the years, it is evident that it is in fact the woman – the heart of the home – that exercised the habit of thrift and engaged the hait of saving for the future. A savings account that pays special tribute to her, titled 'Kantha Ran Ginum' was therefore launched by Bank of Ceylon. A number of privileges are offered with this account: Eligible account holder receive a complimentary life insurance cover up to Rs. 500,000/-, a debit card for shopping and ATM withdrawals, instant loan facilities up to 90% of balance, SMS and internet banking. 
'BOC Ran Ulpatha' for Regular Savers
Especially dedicated to customers serious and disciplined in the habit of saving and are within the age bracket of 18-60, 'BOC Ran Ulpatha' is a savings account that is fast gaining popularity amongst both male and female customers. This account can be opened with just Rs. 1,000/- The benefits offered with this account can be enjoyed by depositing an amount to suit one's income on a monthly basis. The account holder gets an opportunity to claim for a life insurance cover up to the value of Rs. 500,000 with 'BOC Ran Ulpatha'. An additional 2% interest is offered to customers that uncompromisingly save on a monthly basis to face future challenges in life. Account holders become eligible for an insurance cover in the event of deathfor a minimum balance of Rs 10,000/- maintained over a period of 6 months prior to the incident. The maximum cover offered here is Rs. 500,000/-.
BOC Savings Account
BOC savings accountscan be opened bySri Lankansover 18 years of age. The accounts cater to the savings requirement of customers that incorporate savings as a general practice into their lifestyle. Account holders are presented with the benefits of internet banking, a debit card for shopping/ATM withdrawals, SMS banking and instant loans up to 90% of account balance.
Non Residents Foreign Currency Accounts (NRFC)
Bank of Ceylon offers a value-packed NRFC facility to those who work beyond the shores of our country. NRFC accounts at Bank of Ceylon addresses the requirements of those who are interested in saving in foreign currency. BOC has added more value to these accounts by offering many financial and non-financial benefits: A life insurance cover from Rs. 100,000 – Rs.1.0 million, a BOC Sarani Housing loan at concessionary interest rate, attractive interest rate free of taxes, instant loan and overdraft facilities up to 90% of account balance, facility of withdrawing cash through local and overseas ATM machines, and an opportunity to win millions of prizes in the BOC 'NRFC Wasana' Raffle Draw. Sri Lankans employed abroad, those who have returned home within 90 days after foreign employment and Sri Lankans proceeding overseas on scholarships are eligible to open this account. 
Senior Citizens Account
BOC dedicates two accounts for senior citizens titled 'Senior Citizens Savings Account' and 'Senior Citizens Fixed Deposit. Sri Lankan citizens above the age of 55 are eligible to open these accounts. Senior Citizens Fixed Deposit accounts offer an attractive interest rate higher than the normal Fixed Deposit rate while Senior Citizens Savings Accounts offer an interest rate 1% above the normal savings rate.
BOC Retirement Plan
BOC Retirement Plan is an account that can be opened by any professional or any other person who is at present engaged in one's own economic activity but possesses the intention of spending one's retirement more comfortably. This is designed in such a way that the benefits of this account can be enjoyed at the age of 55 by simply depositing a stipulated amount of money within a decided period of time, on a monthly basis.
In order to facilitate customer convenience, the bank's main office now offers a 24-hour banking service that is available 365 days of the year. Its customer touch points include 601 branches; 451 ATM's, 861 foreign correspondent agents to remit money to Sri Lanka, 10 SME dedicated centres for entrepreneurs and premier banking services. Bank of Ceylon recently launched the facility of Night Banking at its Wellawatte Branch and also offers Saturday/Sunday banking at selected locations as well as a 24 hour multilingual call centre facility.
By saving with the Bank of Ceylon you will have a security of a state bank. In addition, you will become a strategic partner in national development with the bank that is in true essence, the Bankers to the Nation.
Follow @timesonlinelk
comments powered by

Disqus