'Vidanes' distributed all over the land
By Halaliye Karunathilake Edited and translated by Kamala Silva Illustrated by Saman Kalubowila
This article is part of a continuing series on the 'Mahavamsa,' the recorded chronicle of Sri Lankan history
View(s):
Those days 'Vidanes' were appointed even to the villages. 'Mahabadda' , the 'Vidane' in charge of the cinnamon department and the 'Vidane' in charge of the provinces which supplied gems are examples. Vidanes were also appointed to see to the cultivation of betel and to oversee fields. For those posts both Sinhala and Tamil people were appointed.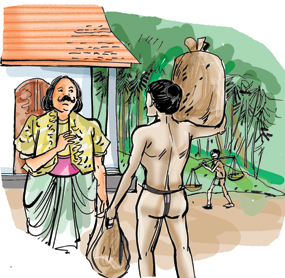 These were well recognized post which were quite profitable too. As such, all were keen to get into such a post. In every village there were junior officers like 'Mohottala', 'Kangani' and Secretary. A number of junior officers named 'Majorals' were also functioning in all the villages.
The 'Majorals' duties were to repair roads, bridges and bunds of tanks, supply food to the soldiers who go past the village and to the government officers who visit the villages on duty. They also had to supply the work-force needed by the 'Disapati' and the 'Vidane' and to supply food to these workers. These officers were not paid wages but they were granted government land as remuneration. In short, none of these officers received any salaries in the form of cash. It was all grants of land. Out of these lands too they had to pay a tax as usual.
All the land in the country belonged to the king. But there were lands set apart for special services. 'Viharagam' and 'Devalagam' were for the sasana, 'Nindagam' were for the officers, 'Kuruwegam' and 'Agragam' were for the soldiers in service.
Those who occupied 'Gabadagam', had to cultivate that land for the king. They were set apart for the use of high officers of the state and high-ranking military officers. Those who occupied 'Viharagam', cultivated those lands and made a payment to the temples, priests and the 'pirivenas'.
Those farmers served those institutions too. For the services done to the Portuguese officers, Portuguese settlers too were given land.
'Mutthettu' those days meant a land that belonged to the chief of the village. They were cultivated by the villagers. Very often, the chief of the village settled down there and enjoyed both the service and the income. There were times when he decided that someone else live there in his place.
Follow @timesonlinelk
comments powered by

Disqus