HNB Credit Cards, offer superior value additions!!!
View(s):

The Sunday Times Advertising Desk spoke to The Chief Manager – Card Centre Mr. Upali Elapata, Mr. M.R. Jaleel, Junior Executive Card Acquisition & Business Development and Mr. Asiri Gamage from Hatton National Bank (HNB), to find out more details on what the bank offers to its credit cardholders.

HNB is a premier private commercial bank in Sri Lanka which specializes in issuing VISA and MasterCard brands. The Bank continues its convenient customer services by offering superior value additions, thus ensuring a better life style for their customers, The Chief Manager – Card Centre said.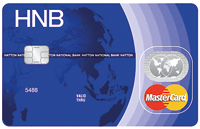 The Bank offers significant discounts and benefits on special promotions for its Classic, Gold, Platinum, Signature and Infinite cardholders at several shopping centers', luxury/ boutique hotels and fine dining restaurants.     Mr. Upali Elapata said that they are continuing their on going promotion campaign by providing value to the current cardholders through innovative value additions.
He also revealed that their year round discount booklet promotion benefits many card holders when they make purchases at over 100 selected merchant partner outlets. Different types of partner merchants that range from hotel & restaurants, fashion and healthcare, where varied discounts are offered throughout the year, he revealed.  HNB Credit Cards have become the preferred Card when customers do their shopping and this is why we've introduced all these features and so far the response has been excellent" he further added.
Apart from the fabulous savings, HNB Credit Cards offer to their cardholders, the joining fee being waived off, free supplementary cards, free SMS Alerts and free travel & health insurance, are just a few features that make HNB Credit Cards even more popular amongst the competition
Further, all HNB Credit Cards are embedded with a CHIP, which provides additional security on Cards. One of the main advantages of CHIP technology is that it helps combat fraud. This initiative has the support of the Central Bank, who is keen that all financial institutions take a more active role in reducing the risk of fraud. Thus, HNB Credit Cards with its CHIP technology ensures that our customers receive a high level of security while they are in Sri Lanka and overseas, he added. "We are proud to consistently present our clients with the highest quality of services available in the global market.
The launch of the 'VISA Infinite' and 'VISA Signature' credit cards reflect our bank's commitment to provide our loyal and valued customers, smart luxury, signature benefits and the latest in Card technology, with an opportunity to make their mark on the global stage" Mr. Jaleel said.    "With Christmas around the corner, HNB Credit Cards position themselves as the most rewarding card of the season, by presenting benefits to customers without complex or unreasonable conditions", The Chief Manager – Card Centre said.
"Our valued Cardholders should also take the opportunity to do their Christmas and New Year shopping during the festive period, with the HNB Credit Card". "The Bank's credit cardholders can celebrate Christmas and New Year in grand style, awaiting attractive discounts negotiated by the Bank with their merchant network", he added.
"All HNB VISA and MasterCards will be eligible to receive these discounts", he said, "This value addition will provide a compelling reason for our cardholders to use HNB Credit Cards for shopping". The Bank has always introduced special discounts during festive seasons to help customers save on their purchases, at a time when their expenses are high." He added.
Follow @timesonlinelk
comments powered by

Disqus