Ramani Fernando Total Care Battaramulla launched
View(s):

The 'TOTAL CARE' concept provides almost everything a customer requires in hair, beauty and spa services,  under one roof.
A Ramani Fernando-  Total Care Salon opened its doors at 169, Pannapitiya Road, Battaramulla recently.
The Ramani Fernando team of Hair and Beauty experts, mingled with the guests showing the stylishly laid out salon, in this very accessible area.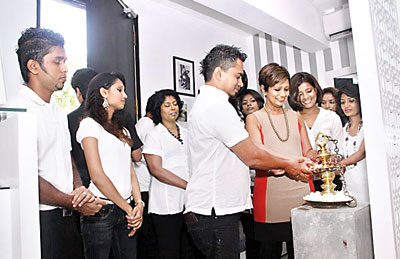 'in a day and age where time is limited and the traffic is maddening, clients are looking at convenience, and we need to go closer to them' said Marshan who has just returned from an overseas stint, and manages the salon.People come to a place like this not only  to be cared for, and leave looking good, but also for complete relaxation, and to shed away their stress. 'Total Care' lends itself wonderfully to this.
"It's great to have world class services brought to your doorstep' was the comment of Shanika, a longstanding resident in Jayawardenapura.Battaramulla and the towns around it, have now become the home to a vast cross section of the middle class, and the salon has already started buzzing.
Picture (1) Shows Ramani Fernando lighting the traditional oil lamp at the opening. Also in the picture is the Manager of the Battaramulla branch Marshan Stouter and the rest of the Ramani Fernando Salon Battaramulla team
comments powered by

Disqus